Investigations are underway after sightseers in London had to be rescued from a blaze on an amphibious "duck" tour boat on the River Thames, in the third such emergency incident this year.
The fire, which broke out near the Houses of Parliament just before midday, resulted in 15 people reportedly jumping overboard from the London Duck Tours boat into the Thames, to escape the billowing smoke and flames.
Emergency services rushed to the scene and passengers were hauled to safety from the vessel by crews on passing tour barges. A woman and child were taken to hospital after it was suspected they inhaled smoke, as well as a man who suffered a minor head injury. Children as young as six had to be scooped from the water. The majority of those on board were tourists, and were warmed up after the incident with cups of tea at the riverside this afternoon.
The damaged tour vessel has since been pulled away and fire officials are investigating into how the fire, which engulfed 33 per cent of the boat, started. The Port of London Authority is also expected to investigate the blaze.
A spokesman for the Metropolitan Police said all passengers and crew had been accounted for. But the incident compounds safety concerns over the use of amphibious buses used as tourist attractions following two major incidents earlier this year.
In June, 22 people were taken to hospital after the Yellow Duckmarine amphibious tour bus sunk in Liverpool. Another Yellow Duckmarine tour bus sank in the city dock in March. Nobody was injured in that incident.
But pressure has been mounting for a review of the safety of the craft, which are based on a design used to ferry troops onto the beaches during the D-Day landings. In July the Marine and Coastguard Agency grounded seven such boats for safety inspections, with calls being led by Jim Fitzpatrick, Labour's former shipping spokesman among other critics of the transport.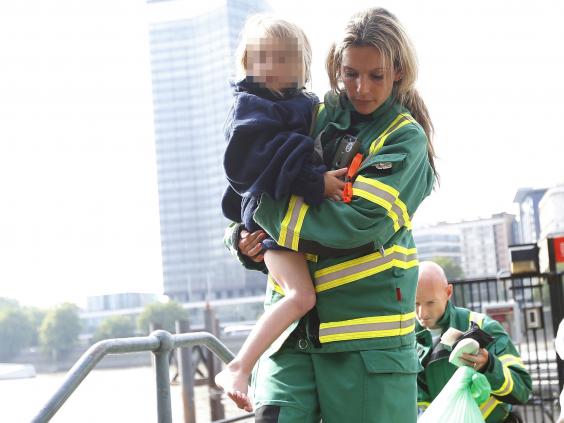 London Duck Tours touts itself as the "antidote to the usual bus tours" and promises to offer families an "adventure on both road and river". The vehicles are six wheel amphibious craft. A number of companies have since bought and refurbished the craft and in many cases painting them bright colours before using them to carry tourists on land and water.
Each seats 30 passengers, has a public address system and is said to be fitted with full safety equipment.
According to the company, each boat is modified to meet "stringent" safety regulations set by road and river authorities.