"He's only 17, how can he be dead?"
For once, Big Gay Mick wasn't saying much. "I don't know. We just seen his stepdad getting out of a taxi at the top of the street and he told us." 
There was no getting any other details out of him; he was in shock. Big Gay Mick was not normally lost for words. Stick-thin, with a baseball cap permanently pulled down over his eyes and a gold chain around his neck, you might have mistaken him for one of the neighbourhood hard men until you heard his voice: shrill, camp and a fair bit higher than what it should have been post-puberty. In our little teenage gang, he was the only one brave enough to be openly gay. 
We grew up just off Murder Mile, a stretch of the Antrim Road so called because of the number of casualties there during the Troubles. On the street where Big Gay Mick lived, beside a "peace wall" that separated us from the Protestants, loyalist paramilitaries would drive down, single out a target and pull the trigger. In an area where murder and mayhem created hardened men, it was not easy to be as camp as Christmas. He managed, though, all the while smirking at a member of the local paramilitary who would shout homophobic abuse at us as we walked by. 
The swagger was gone today. 
"How can he be dead?"
"He killed himself. Apparently he escaped from the hospital. They found him in the grounds."
I don't remember much of what happened after that, other than walking upstairs, kicking something in the bathroom, and cursing Jonny for dying. 
---
The Ceasefire Babies was what they called us. Those too young to remember the worst of the terror because we were either in nappies or just out of them when the Provisional IRA ceasefire was called. I was four, Jonny was three. We were the Good Friday Agreement generation, destined to reap the spoils of peace. The spoils just never seemed to reach us.
The first time Jonny tried to kill himself, the ambulance was parked just beyond his front door, as if the paramedics were mindful of drawing attention to the house. Despite the fact that the local papers brought news of suicides every week there was still an element of Catholic shame about it all. When they carted him off to hospital to pump the tablets out of his stomach, his mother didn't go with him. He was 16.
UK news in pictures
UK news in pictures
1/30 27 September 2016

The JS Ineon Insight ship carrying the first shipment of shale gas from the United States arrives to dock at Grangemouth in Scotland. The carrier, transporting 27,500 cubic metres of ethane, was given a traditional Scottish welcome, passing under the Forths iconic 19th century steel rail bridge as a lone bagpiper played from the ship. A £2 billion (2.3 billion euros, $2.6 billion) investment by Ineos, the world's third largest chemical company, will create a "virtual pipeline" with eight tankers transporting regular shipments across the Atlantic to Britain and Norway / AFP / Andy Buchanan (Photo credit should read ANDY BUCHANAN/AFP/Getty Images)

AFP/Getty Images

2/30 26 September 2016

Labour Leader Jeremy Corbyn talks with Shadow Chancellor John McDonnell during the Labour Party Conference in Liverpool

Getty Images

3/30 25 September 2016

A young pearly princess (2R) looks toward her aunt Charlotte Bennett (L), the Pearly Princess of Woolwich, during the Pearly Kings and Queens Harvest Festival service at Guildhall in the City of London. Pearly kings and queens are a working-class charitable tradition in London. The "pearly" tradition was started by a 19th century street sweeper who decorated his suit with "pearl" buttons to draw attention to his charity fund raising activities. Since then many groups and associations were formed to carry forward the charitable "pearly" tradition with each London borough having its own pearly king or queen to act as a focal point for fund raising and charitable giving. The harvest festival celebrates the autumn harvest and is a major date in the pearly calendar

AFP/Getty Images

4/30 25 September 2016

Victorian re-enactors Vicky and Keith Biddlecombe arrive at the Guildhall for the Pearly Kings and Queens Harvest Festival in the City of London

AFP/Getty Images

5/30 25 September 2016

Participants in the annual North East Skinny Dip run into the sea at Druridge Bay. About 500 people swam naked in the North Sea in aid of charity

REUTERS

6/30 24 September 2016

A Manchester United fan embraces the side of Old Trafford stadium ahead of the English Premier League football match between Manchester United and Leicester City at Old Trafford in Manchester

AFP/Getty Images

7/30 23 September 2016

Fiona MacKeown, the mother of murdered British schoolgirl Scarlett Keeling, is escorted as she leaves the Childrens Court in Panaji. A court in India cleared two men accused of the rape and homicide of 15-year-old British schoolgirl Scarlett Keeling whose bruised and semi-nude body was found on a Goa beach eight years ago. Friends and relatives of the two accused, Samson D'Souza and Placido Carvalho, cheered as the verdict was read out in the state capital Panaji

AFP/Getty Images

8/30 22 September 2016

A stag calls out at Richmond Park in London. Today marks the first day of autumn, also known as the autumn equinox, where night and day are equal

Getty Images

9/30 21 September 2016

An activist adjusts US flag bunting attached to a "Stop Trump" battle bus in London in a campaign run by campaign group Avaaz to mobilise US expatriots in the UK to register to vote in the US presidential election

AFP/Getty Images

10/30 20 September 2016

Prince Harry does 'the dab' with children from the Streetsport initiative during a visit to Robert Gordon University in Aberdeen, Scotland

11/30 19 September 2016

Some 2500 life jackets worn by refugees who made the sea crossing from Turkey to the Greek island of Chios are displayed in what the organisers called a "Lifejacket Graveyard" in Parliament Square, London, backdropped by the Houses of Parliament. The display was organised by Snappin' Turtle Productions and supported by refugee charities to coincide with the first ever United Nations Summit for Refugees and Migrants taking place in New York

AP

12/30 18 September 2016

The Reverend Stephen Mason (L) mounts a horse before leading a church service during the Hyde Park Horseman's Sunday in London. The 49th annual Hyde Park Horseman's Sunday event sees around 60 horses and riders join a congregation for a church service outside St John's Church in Hyde Park, complete with members of the clergy mounted on horses. The annual event began as a way to raise awareness of the local stables situated along Hyde Park and of working horses in central London

Getty Images

13/30 17 September 2016

Members of the public gather to watch a giant peach as it is moved through the centre of Cardiff as part of a street performance to mark the start of City of the Unexpected, a celebration of the author Roald Dahl in Cardiff. The celebrated author was born in Cardiff 100 years ago this month and to celebrate the Welsh capital is hosting a series of events this weekend

Getty Images

14/30 16 September 2016

Judges manouvere giant cabbages to be weighed in the Giant Vegetable Competition on the first day of the Harrogate Autumn Flower Show at the Great Yorkshire Showground, in Harrogate

AFP/Getty Images

15/30 15 September 2016

NCP is renaming one of its carparks to the Sarah multi-Storey Car Park to honour the sporting achievement of one of Britain's true #superhumans after her record breaking endeavours at the Paralympic Games in Rio

16/30 14 September 2016

Swimmers enjoy an early morning dip shortly before sunrise in the Serpentine in Hyde Park in London. Areas in the South East of England continue to enjoy seasonable weather

Getty Images

17/30 13 September 2016

British Labour party Leader Jeremy Corbyn stands with campaigners outside the Houses of Parliament in central London, during a protest calling for an inquiry into the Battle of Orgreave and the policing of the miners strikes. The campaigners are calling for an inquiry into the way that police handled events outside the Orgreave coking plant, near Sheffield, north-east England, in 1984

AFP/Getty Images

18/30 12 September 2016

President of the Zoroastrian Trust Funds of Europe Malcolm Deboo addresses guests during an appeal by senior faith representatives at the Liberal Jewish Synagogue for more action to be taken by the Government on the issue of refugees, in London. Over 200 leaders of the UK's major religions and faiths have signed a letter to British Prime Minister Theresa May, asking to unblock the rules that currently prevent families from being reunited

Getty Images

19/30 11 September 2016

Athletes enter the water at the swim start during Ironman Weymouth in Weymouth

Getty Images

20/30 11 September 2016

People dressed in vintage clothes attend the Goodwood Revival at Goodwood in Chichester

Getty Images

21/30 10 September 2016

Artem Silchenko of Russia dives from the 27.5 metre platform at the Blue Lagoon during the sixth stop of the Red Bull Cliff Diving World Series, Pembrokeshire, Wales

Red Bull via Getty Images

22/30 10 September 2016

Debutantes and their escorts rehearse ahead of the Queen Charlotte's Ball at 'One Whitehall Place, The Royal Horseguards Hotel' in London. Queen Charlotte's Ball is the pinnacle event in the London Season. The London Season is rich in history and was formed over two hundred years ago when the custom of returning to London at the end of the hunting season was celebrated with glittering balls and high society events. The modern group of meticulously selected debutantes continue the tradition and celebrate their year of charity fund raising, etiquette classes and debut at The Queen Charlotte's Ball

Getty Images

23/30 9 September 2016

Farmers buy and sell at Kelso Ram Sale in Kelso, Scotland. Kelso is the biggest on day sale of Rams in the world, with between five and six hundred consignors attending the event, which dates back to 1836. 5,145 rams will be sold today and last year's sale total reached over two and a half million pounds, with the average ram fetching £610. The last few years has seen rams being exported to countries including Eire, Germany and Holland

Getty Images

24/30 8 September 2016

Britain's Prime Minister Theresa May (L) greets European Council President Donald Tusk in Downing Street in London

REUTERS

25/30 7 September 2016

The tower of Grain Power Chimney comes down in Isle of Grain. The 244m (801ft) chimney of Grain Power Station, a former oil-fired power station and the second tallest chimney in the UK was demolished by experts Brown and Mason at 11 am

Getty Images

26/30 6 September 2016

'The Faraway Treehouse' in Norwich has been titled the UK's Top Treehouse, as judge and adventurer Steve Backshall has revealed the winner found as part of Center Parcs' nationwide search. The winning treehouse was built by the Jennings' family, from Norwich, as a joint project between dad Matthew and his six-year-old daughter Ruby, who got inspired by an Enid Blyton classic 'The Faraway Treehouse'

PA

27/30 5 September 2016

Runners covered in coloured powder enjoy themselves as they ran through the streets of London during the anticipated mass 'Color Throw'. The Color Run Presented by Skittles is an untimed 5k fun run, aiming to bring together fitness and fun, with the ultimate goal being that participants cross the line with a huge smile on their face

28/30 4 September 2016

A replica of 17th-century London on a barge floating on the river Thames burns in an event to mark the 350th anniversary of the Great Fire of London

AFP/Getty Images

29/30 3 September 2016

Enthusiasts in vintage clothing take a stroll in the rain along Morecambe promenade during Vintage By The Sea event in Morecambe. Vintage By The Sea is a celebration of 20th century design, fashion and entertainment. Now in it's fourth year Vintage By The Sea is hosted in the seaside resort of Morecambe

Getty Images

30/30 2 September 2016

Scottish First Minister Nicola Sturgeon and leader of the Scottish National Party (SNP) speaks at a press conference in Stirling. Sturgeon launched a new survey on independence, saying the Brexit vote had changed the conditions that existed when Scotland voted against secession in 2014

AFP/Getty Images
Jonny was my best mate. We'd met three years before when his family had moved into the street. We matched in several ways: dark hair, dark eyes and glasses. People mistook us for siblings. But one thing that didn't match was our ability to sing. While I could be outdone on a harmony by a choir of alley cats, Jonny had a voice like velvet. Every day, he'd rehearse in front of the mirror, trying to reach higher and higher notes. With a tough home life, the thought of being on stage was what got him out of bed every day. 
One day, we were standing at his end of the street. I had a secret to tell him.
"I'm gay," I said.
"Guess what? I am too!" he replied.
It was a relief to find someone else "not normal". We were the neighbourhood's resident freaks – or so we thought. 
There were five of us: me, Jonny, Jonny's brother Jimmy, Big Gay Mick and Tanya, a sweet-natured English girl with long fair hair and blue eyes. But, as childhood friends do, we grew apart. Maybe we'd have grown together again if another ambulance hadn't come and taken Jonny away. 
I lived in the street for three more years. When I left, Jonny's house had been boarded up, the windows barricaded with sheets of rusted metal. The only window left untouched was the one at the top, the one through which the neighbours used to hear him sing. 
---
When someone dies by suicide, they leave behind questions. Attend a wake or a funeral in such circumstances and you'll hear them, posed by family members tortured by the big "Why?". Why did she do it? Why didn't he talk to me? Why didn't she say goodbye?
Those were not the sorts of questions that Mike Tomlinson, a professor of sociology at Queen's University Belfast, could answer. What he could do, though, was talk about the broader picture. "Essentially, the story since 1998, which just so happens to be the [year of the] Peace Agreement, is that our suicide rate almost doubles in the space of 10 years." From the beginning of the Troubles in 1969 to the historic Peace Agreement in 1998, more than 3,600 people were killed. In the 16 years after that, until the end of 2014, 3,709 people died by suicide. Contrast this with the 32 years from 1965 to 1997, when 3,983 deaths by suicide were recorded. Over the last few years, Tomlinson's research has mainly focused on one question – why?
It's not that suicide didn't happen before 1998; it did, although researchers caution that it may not have always been recorded as such, due to religious norms and relatives' shame. Yet during his research, Tomlinson discovered that of all suicides registered in Northern Ireland between 1965 and 2012 (7,271 in total), 45 per cent were recorded from 1998 onwards. It's the oddest of anomalies: if the official statistics can be taken at face value, more people are killing themselves in peacetime than in war.
In a paper published in 2013, Tomlinson wrote: "Since 1998 the suicide rate in Northern Ireland has almost doubled, following a decade during which the rate declined from a low level of 10 per 100,000 of the population to 8.6." The overall rate is now 16.25 per 100,000: 25.24 per 100,000 men and 7.58 per 100,000 women (2012 figures based on three-year rolling averages). In global terms, this places Northern Ireland in the top quarter of the international league table of suicide rates.
Tomlinson identified adults who as children had lived through the worst period of Troubles-related violence (from 1970 to 1977) as the age group that experienced the most rapid rise in suicides in the decade after 1998. It seems obvious that this group, the middle-aged who'd seen the worst of the Troubles, would be affected. But what about teenagers, people like Jonny?
---
31 July 1972. The day three bombs went off in Claudy, a small village in the Faughan Valley, six miles south-east of Derry City. That day, Siobhan O'Neill's mother left her shop in the village, turning left to walk down the street. If she'd turned right, O'Neill may never have been born.
O'Neill never witnessed the carnage of the Troubles directly. But she saw its effects on people's everyday lives. 
Today, her job largely involves examining the legacy of that violence. O'Neill is a professor of mental health sciences at the University of Ulster's School of Psychology. Last year, she led a team of researchers who established that there is a direct link between suicidal behaviour and having experienced a traumatic event, including those related to conflict.
It was confirmation of what many had long suspected. Of the sample interviewed for the study, just 3.8 per cent of those who'd never experienced a traumatic event had seriously considered suicide. If they'd experienced a non-conflict-related traumatic event (such as a car crash or a loved one dying from cancer), that number jumped to 10.5 per cent. And for those who'd experienced conflict-related traumatic events? The number increased further still – to 14.2 per cent.
What shocked O'Neill even more was her discovery that, out of the 28 countries that participated in the World Mental Health Survey Initiative – including Israel and Lebanon, places with ongoing conflicts – Northern Ireland was the one whose population had the highest rates of post-traumatic stress disorder (PTSD).
Some 39 per cent of Northern Ireland's population, she says, have experienced a traumatic event related to the conflict. While suicide rates among the middle-aged could, in part, be explained by the trauma of the Troubles, how could the deaths of young people who'd never seen the war be accounted for?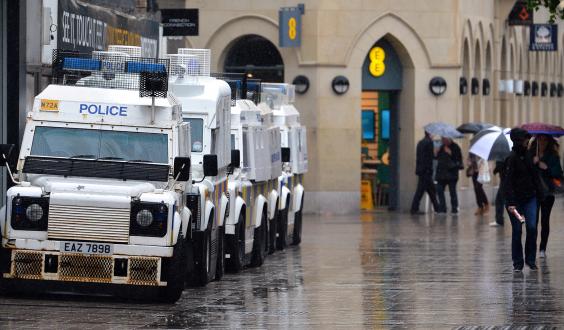 There is no single common factor in suicides among young people, according to O'Neill. Many things can be involved: educational underachievement, poverty, poor parenting. But the Ceasefire Babies are also dealing with the added stress of the conflict – even though most of them never witnessed it directly. "When one person sees something awful, when one person is traumatised, it will affect how they relate to everybody else, including how they relate to their children, their grandchildren," says O'Neill.
"People who've been affected by the Troubles live in areas where there's high rates of crime and poverty. When you're a child growing up in poverty, being parented by people who've been traumatised and everyone around you has been traumatised, you are going to be affected by that, even if you've never seen anything. Even if they never tell you the stories."
---
At the University of Haifa in Israel, students can take a course called Memory of the Holocaust: Psychological Aspects. Taught by Professor Hadas Wiseman, it outlines how the traumatic experiences of Holocaust survivors have been passed down through a phenomenon known as "intergenerational transmission of trauma".
Much research has been published on the subject. In 1980, a husband-and-wife team, Stuart and Perihan Aral Rosenthal, presented their research in the American Journal of Psychotherapy. Titled "Holocaust effect in the third generation: child of another time", it examined how the trauma of Holocaust survivors had travelled down the generations. It should have been a red flag to governments and policy-makers across the globe: the effects of war did not stop with the murdered, the injured and the traumatised.
In 2012, another study that looked at the Holocaust, published by researchers at the University of Haifa, confirmed what many academics had argued for years: that trauma survivors pass their behaviours down to their children. A report in the Israeli newspaper Haaretz said: "Survivor parents were perceived by some second-generation children as being inaccessible, cold and distant. And even though these second-generation participants described their parents' inaccessibility as being problematic, some of them were perceived by their own children as being remote and cold."
Researchers, including Professor Rachel Yehuda at Mount Sinai Hospital in New York, are exploring how the effects of trauma and stress could be passed down to offspring biologically. Epigenetic changes – alteration of genes in terms of their activity, rather than their DNA sequence – can be inherited, and it's thought these may explain how intergenerational transmission of trauma occurs. In August 2015, Yehuda and colleagues published a study of Holocaust survivors that showed, for the first time in humans, that parental trauma experienced before conception can cause epigenetic changes in both parent and child.
These findings are among the latest in an increasing body of research showing that intergenerational transmission of trauma is not just a sociological or psychological problem, but also a biological one. Could this explain why so many young people in Northern Ireland are taking their lives? As Tomlinson pointed out, the problem with answering that question is a lack of data. Who are these young people? What are their backgrounds? Where are they from?
Tomlinson recounted a time he was interviewed on the BBC World Service about his research. At the end of the interview, a fellow interviewee from the US asked him: "Where is the evidence from other countries?" The problem is, there's very little. In war, the ruling government usually collapses – and with it any form of meaningful record-keeping. Northern Ireland was unique: the Troubles was an internal conflict throughout which the state remained strong, even when the mainland was being bombed.
After one presentation, Tomlinson was surrounded by people from different countries affected by conflict. "This is exactly what we see," they told him. "But again," he says, "it was anecdotal, it wasn't well-documented."
---
The Sunflower is a tiny little pub perched on a corner in the alleyways that sit between the edge of north Belfast and the city centre. With bright green paintwork, it's known for attracting a genteel crowd of writers, journalists, poets and musicians, a smattering of post-conflict hipsters who wear tight jeans and tweed jackets and Converse shoes. There are poetry readings and concerts by local indie bands. A sign outside on the wall says: "No Topless Sunbathing – Ulster Has Suffered Enough." For tourists, it's an introduction to the natives' quirky black humour, our way of dealing with all that's happened.
For those of us who grew up in north Belfast and know the area, the sign calls to mind the suffering experienced on those very streets when a loyalist murder gang, the Shankill Butchers, drove around looking for Catholic victims to torture and kill. Yet one night, I end up there, drinking, at a table with my Protestant best friend, at least two republicans and a group of Corbynite socialists. Times have changed. 
It was there that I went to meet Jonny. 
We never figured out why Jonny's stepdad told Big Gay Mick that Jonny was dead. We found out within a day that he was still alive. Now he was sitting in front of me, toned and muscular, with his dark hair swept over his eyes, the glasses replaced by contact lenses. 
We'd grown up together but there was so much he'd kept hidden from us. Between arguments with his stepfather and mother, things had been getting tougher at home. The first time he'd tried to kill himself, he'd walked down to his mum's, picked up a box of pills, swallowed a load and passed out while vomiting. 
He'd had depression for a while. "All I understand it being was sheer despair – a constant sort of feeling hanging over you, of just pure 'anti-ness', hopelessness."
After a second attempt, he was taken to a mental health facility. Several more attempts followed. Since then, though, his life has changed. With the help of medication to keep him stabilised, he has his own flat and is going back to school. He still sings. Next year, he plans to try out for a televised singing competition.
I was grateful to be drinking with Jonny instead of visiting his grave. Then I thought of all those who should have been sat there with us. We could have filled The Sunflower with them. The problem hasn't gone away. On Christmas night in 2015 in Ardoyne – an area in north Belfast that saw 13 young people kill themselves over a six-week period in 2004 – a young woman called Colleen Lagan was the third member of her family to take their own life in the past 10 months.
Those who survived the Troubles could assume that we didn't have dead to mourn like they did. Yet we did. Sometimes, I count their names on my fingers, quickly running out of digits. Friends, friends of friends, kids whose faces I knew but whose names I learned only from the obituary column. The tragic irony of life in Northern Ireland today is that peace seems to have claimed more lives than war ever did.
This is an edited version of an article that first appeared on Mosaicscience.com and is republished here under a Creative Commons licence. Some names have been changed.
In the UK and Republic of Ireland, the Samaritans can be contacted on 116 123
Reuse content