In the shadow of London's Shard, City consultants Daniel Hawkyard and Daniel Sammler are getting to grips with the latest must-have skill for time‑pressed urbanites – dry‑stone walling.
Along with colleagues, the two management experts have swapped their suits for masonry hammers in the heart of the bustling metropolis to learn how to build the jigsaw-slabbed walls more closely associated with the windswept uplands of the British Isles.
The corporate volunteers are fashioning walls from Cotswold limestone under the eye of master craftsman John Holt as part of the restoration of the Cross Bones Garden, a former unconsecrated graveyard close to Borough Market where many of those buried were female sex workers. To preserve the dignity of the remains, dry-stone wall raised beds are being fashioned to ensure the ground is not disturbed. The project is part of a renaissance in the ancient art of building barriers from stone which has led to a boom in demand from this week's Chelsea Flower Show to the restoration of existing walls in areas such as North-west England. The fresh interest is being driven as much from the cities as the countryside.
Some 200 volunteers from the corporate world and public sector have taken part in day-long courses at the Cross Bones Garden run by Mr Holt's London School of Dry-Stone Walling.
Wielding a slab of honey-coloured limestone, Mr Hawkyard, 22, who normally spends his time sourcing advisers for the Corporate Executive Board, said: "You take dry-stone walls for granted but it's only when you get down on your knees and try to build one that you realise the craft and art that goes into it."
His German colleague, Mr Sammler, added: "It's not something we see much in Germany. It's wonderful, the way it uses natural materials and encourages wildlife."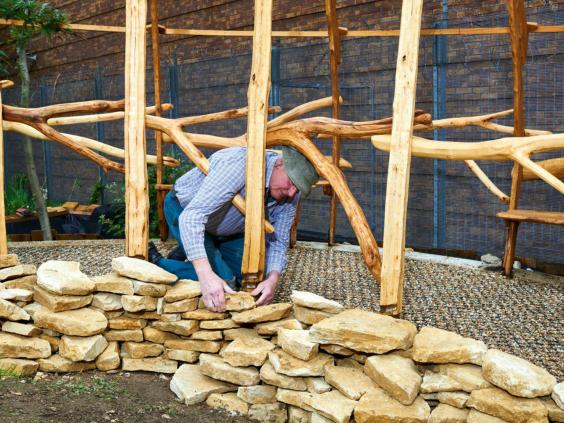 Mr Holt, a life-long stone-waller, is cheered by the enthusiasm generated by his courses, not least since he set up his school to spread a basic understanding of the craft. Alongside a number of community projects, he has an increasing number of commissions to build showpiece walls in gardens across London and the Home Counties. 
He said: "I was helping to rebuild the walls on the family farm since the age of eight. One of the problems was hikers or walkers from the towns clambering over the walls and dislodging stones, which creates a gap for sheep to go at and eventually damages the wall.
"I wanted to help visitors to countryside to better understand the walls and how they are built – to see that you're looking at something that is anything up to 400 years old and has stood the test of time. I like to think of it as an art form. Certainly I encourage people to think about it in that way."
Originally built out of necessity from the most abundant material that lay to hand on impoverished upland farms, dry stone walls are in fact two walls of interlocking slabs gently sloping towards each other and infilled with smaller stones. The structure is given strength by using "tie" stones which straddle both walls, to lock them together. Crucially, the structure uses no mortar, allowing it to shift and flex with the seasons. There are estimated to be some 125,000 miles of dry stone wall in the United Kingdom, with much of it in need of repair. But guardians of the tradition feel that after decades of neglect, in which many farmers have turned to fencing rather than undertake the labour-intensive work of restoring walls, there is a new respect for the craft.
Alison Shaw of the Dry-Stone Walling Association of Great Britain said: "The decline in walls being repaired was primarily because the labour force dwindled. But that is now changing, with grants for upkeep and people realising once more it's a sustainable product – a wall will outlast a fence several times over as well as offering a vital habitat.
"But we are also seeing a wider appreciation of dry stone walls. People want them in their gardens. Dry-stone walls are no longer something you just find on a windswept hillside somewhere."
Reuse content