The panda who sparked the biggest pre-natal excitement since the Royal Baby arrived may be set for twins, according to the zoo where she lives.
Tian Tian - who has also given birth to twins before - is thought to be pregnant, it was announced last week.
Workers at Edinburgh Zoo said protein analysis of her urine suggest they might be welcoming cubs around the end of this month.
According to The Sunday Times, Iain Valentine, director of the zoo's giant panda programme, said that though the tests were not considered definitive, there was also an increased chance of twins. This is also because tests indicated Tian Tian had more than one ovarian follicle ready to ovulate when artificially inseminated earlier this year.
He said: "If we take all these things together it would be silly for us not to think she'll give birth to twins — or at least not to count it in."
Brought together after negotiations between the Chinese and British governments, then expected to mate as the world watched, Tian Tian and her prospective mate Yang Guang have had a turbulent relationship.
While Tian Tian has two children from previous partners, Yang Guang was untested in the reproductive field when they were paired together earlier this year. After failed mating attempts when Tian Tian spurned Yang Guang, keepers at the zoo decided artificially to inseminate Tian Tian. In a blow to Yang Guang's pride, they also used semen from a German interloper, Bao Bao from Berlin Zoo.
Tian Tian was also said to have been inseminated with Yang Guang's semen, but the male bear will not be confirmed as the father of any cub until conservation geneticists test blood samples from a newborn to establish its paternity.
In a further complication, if Tian Tian has twins, they could be brothers with different fathers.
In late June, eight weeks after she was artificially inseminated – shortly after the visit of Scotland's First Minister Alex Salmond, coincidentally – the zoo revealed Tian Tian had displayed the first sign of pregnancy – her urine showed a first increase in progesterone.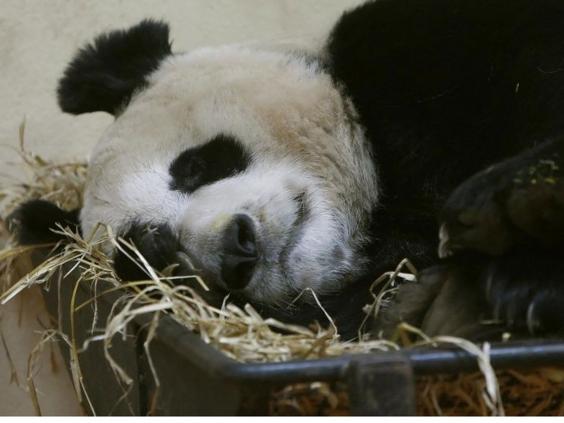 But any cub, or cubs, born to Tian Tian would not be British. According to the agreement thrashed out between the two governments in 2011, they would officially be the property of China and an expert from the country would be present before, during and after the birth.
Her offspring would be named 100 days after the birth, in keeping with Chinese tradition.
Tian Tian and Yang Guang are rented from the Chinese government for a period of 10 years at an annual cost of around £600,000. Visitor numbers at the zoo are said to have doubled since their arrival.