How do you define goodness? What makes someone a good person? Trenton Oldfield isn't sure. He is sitting with his wife, Deepa Naik, and their baby daughter in the family's small East London flat. Until last year, Oldfield's life here was one that even the most cynical would begrudgingly label as good, even if the precise term might be "do-gooder"; since he arrived in the UK from his native Australia in his early 20s, he had devoted his professional (and voluntary) life to community work and politics.
Then, in April 2012, he did something that seemed to wipe the slate clean. In the name of protest, he put on a wetsuit, swam out into the middle of the Thames and ruined the Boat Race. The idea was to make a point about the cultural dominance of Oxbridge and the perils of elitism, but that seemed to get lost in the fuss. The consequences were clear enough, though: Oldfield's actions earned him seven weeks in prison.
Oldfield, 37, is not seen as wicked, exactly, but he is often portrayed as a fool: thoughtless, selfish, helplessly puffed-up and vain. He also has a bit of a habit of saying and doing things that make his enemies' work easier. A Movemberish moustache worn all year round may not help. He is, accordingly, cautious about describing himself as good. "I've never thought about it that way," he shrugs. "You just do that work because that's who you are. Especially coming from a privileged background like I do. What else would I be doing?"
The question of Trenton Oldfield's character is not an abstract one. In fact, it will decide his fate. Earlier this year, the Home Office examined his application for a spousal visa, and ruled that his presence in the country was "not conducive to the public good", thereby consigning him to deportation. In 10 days' time a tribunal will hear his appeal against that decision. And if the judge agrees with the Home Office, Oldfield will be separated from his British wife and daughter and sent back to Australia.
"Us being separated…" Oldfield says, his eyes flicking to his wife, who is feeding their daughter on the sofa next to him. Their little girl is, ironically, one of the few good things to have come out of the whole saga. "My daughter wouldn't exist, probably, if it weren't for the trial," he says, before suddenly turning bashful as Naik breaks into peals of scandalised laughter. "Well, it's true!" he goes on. "You know, the trial, the stress or whatever, the closeness…"
If Oldfield were sent home, his criminal record would mean that his prospects of successfully sponsoring his family for a visa would be slim. At pains though he is to point out that the situation is far worse for others without his access to legal support or publicity, he is nonetheless plainly shell-shocked. "When we got the news, I thought, 'It's a technical error. They'll find out we have a baby, they'll fix it.' But that hasn't happened. It's really big. You only have one life, right? It's not like resitting an exam. You only get one shot."
Having previously been advised by Border Agency officials that his case did not meet the threshold for deportation, Oldfield and Naik are braced for the worst. "The whole process has taught us not to be optimistic," Naik says. "They told him there was nothing to worry about. And then this came."
It is a turn of events that has struck others, too, as draconian and, amid the UK's regular complaints about human rights abuses overseas, not without irony. Stephanie Harrison, the QC who will represent Oldfield at his tribunal hearing, points to the much-maligned Article 8 of the European Convention on Human Rights, on the right to family life – not of a foreign national but of two British citizens, one of them not born when the offence took place.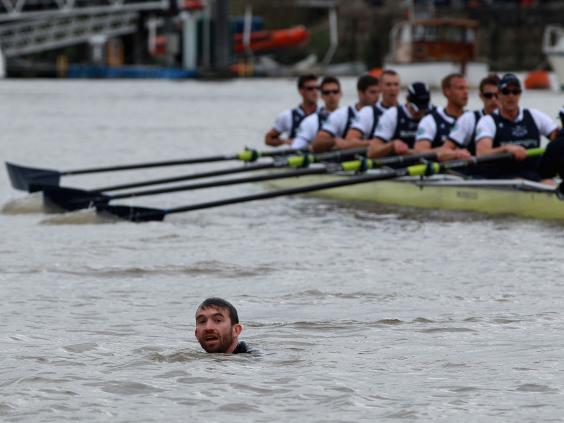 Harrison says: "In 20 years, I've never seen a case of someone with a six-month conviction for a public order offence being tested over the 'public good'. There's no precedent. If you balance this one instance against his long residence and the positive contribution he's made, and the fact that he's got an established relationship, and a British wife and child, it's grossly disproportionate."
Rushanara Ali, the couple's Labour MP, agrees. "He committed his offence, he served his sentence," she says. "I don't condone his behaviour. But this will have a really detrimental affect on their right to family life. Their life is here in Britain."
The Home Office refused to comment beyond a boilerplate statement that "those who come to the UK must abide by our laws". But Harrison wonders if the move may be related to what she deems a "pathological" obsession with Article 8 on the Government's part. "It certainly feeds into their current mania. They used to treat family life as a cornerstone. These are two British people. How can their family life not be worth a candle because their partner is foreign?"
For a couple accused of selfishness, treachery and a radical disregard for the British way of life, Oldfield and Naik are strikingly well-mannered. When I arrive at their home in a block of council flats, they offer me a smorgasbord of Indian sweets and as much tea as I can drink. They are scrupulously attentive to each other and their baby, and they both speak so softly that sometimes I have to strain to hear.
This gentleness seems to sit alongside a kind of deliberate naivety, a refusal to listen to their own words with the ears of a more cynical world: for a couple who have been repeatedly burnt by the media, they are remarkably willing to say things that could result in their ridicule. (I am quite at a loss, for example, when Oldfield tells me the cultural significance of bankers' preference for pink shirts in 2006.)
Perhaps all this is a survival strategy. "I know who I am," Oldfield shrugs. "Deepa knows who I am. My daughter will know who I am. I hope in the end the media thing will catch up with who I really am, but it's what the people close to me think that matters."
The couple met at a political meeting hosted by a mutual friend. Oldfield introduced himself and, not getting anywhere, introduced himself again the next week. Finishing each other's sentences as they tell this story, their mutual affection is obvious. All the same, the strain of the past 18 months is visible. Oldfield can't sit still, moving around and in and out of the room as he speaks; both say the demands of a new-born baby mean they could fall asleep anywhere. Does Naik ever resent her husband – who did not consult her before his protest swim? She shakes her head. "I would support anyone who would peacefully protest against injustice."
"You weren't that supportive on the walk home!" Oldfield laughs. Naik looks a bit guilty at the reminder of a tiff. "Well, it's just taking up so much of our time," she says. "We have so much to do. I wish it didn't dominate our lives so much." Oldfield, for his part, struggles with the weight of responsibility for such a potentially cataclysmic split. "I feel as if I've trained a gun sight on my family," he says.
Their finances, meanwhile, are in a parlous state. Their income from the small publishing house and festivals business that they left their jobs to run together has fallen since they became so absorbed by the deportation case – a bitter irony given that so much has been written about Oldfield's privileged status since his famous swim. When he was identified as the protester, many newspaper reports focused on his education at an expensive Australian boarding school and at the LSE, where he took an MSc in contemporary urbanism. Those credentials, it was suggested, rather undermined his anti-elitist beliefs. But in fact, Oldfield transferred out of his school at 16 in disgust at how it was "mass-producing yuppies". "I don't take anything," he says defensively. "My mother paid a library fine so that I could graduate, and that's the only thing since I was a teenager." (Although back in contact now, the family have been more or less estranged for a decade, Oldfield says.) As for the LSE, "he went there on a scholarship that paid all his tuition," Naik says. "He worked full time to support himself through it."
"Money is incredibly difficult," Oldfield says. "We live a very, very basic life. We've been disciplined for a long time – we've had two holidays in seven years. That's the price of leaving well-paid jobs to do something where we knew we would be together and we knew we would be doing work we were interested in."
Anonymous help with the legal fees has, as a result, been essential. Oldfield also has cause to be grateful to the more than 100 people who have written letters testifying to his good character, among them an Old Etonian academic. That, the couple say, has been a humbling experience. "You normally only get to hear those things at a funeral," Naik says. Her husband adds: "Having previously been in supportive roles of other people, I feel awkward asking people for their support. It's such a curious thing to hear nice things. I know a lot about what the people who hate me think, but I didn't know what the ones who like me would say."
What the judge might want them to say, I suggest, is that this is a good man who made one uncharacteristic mistake. At this, though, Oldfield demurs. As he speaks, his wife is trying to soothe their daughter by giving her spoonfuls of mint tea. "I can't say that I regret the protest," he says firmly. "This idea that I should say that I feel sorry for it because now it's affecting my family… But it's the authorities who did that. And if I say I regret it, what was the point? What would it all have been for?"