Londoners are facing a second morning of Tube disruption as unions carry out strike action in opposition to planned job cuts and ticket office closures.
The London Underground is offering a limited service after the first of two 48-hour strikes began on Tuesday night.
The RMT and TSSA have committed to talks tomorrow aimed at resolving the dispute ahead of further industrial action next week. 
London Underground (LU) urged them to meet earlier and suspend the action.
The unions have been calling on London Mayor Boris Johnson to meet them to discuss the controversial closures, which could see the loss of nearly 1,000 jobs.
In pictures: Tube strike in London (February 2014)
In pictures: Tube strike in London (February 2014)
1/19 London Bridge station

Mayor of London Boris Johnson leaves London Bridge station

2/19 London Bridge station

Mayor of London Boris Johnson shakes hands with a 'Tube Ambassador' at London Bridge station

3/19 Trafalgar Square

A congested Trafalgar Square during rush hour

4/19 Victoria station

Passengers wait on the east bound platform of the District Line at Victoria station

5/19 Farringdon station

Commuters boarding a train at Farringdon Underground station

6/19 King's Cross station

Commuters waiting at a bus stop at King's Cross station during the London Underground workers strike

7/19 Tube strike

A out of service tube train at an underground station in London

8/19 Tube Strike

A tube strike notice as commuters face a 48 hour tube strike

9/19 Euston station

Commuters attempt to board the overcrowded train

10/19 Liverpool Street station

Crowds gather at the platform

11/19 Victoria station

Victoria line runs only between Seven Sisters and Victoria station

12/19 Victoria station

Commuters board a tube train

EPA/Andy Rain

13/19 Victoria station

Commuters wait for a tube train

14/19 Waterloo station

Passengers were hit by delays and disruption as they tried to get to work or travel in London after a strike went ahead over Tube ticket office closures

15/19 Waterloo station

Commuters queue at the entrance to the London Underground

16/19 Seven Sisters station

Gates still closed at Seven Sisters at 7.20am despite service due to start at 7am (tube was open and running by 7.30am)

17/19 Earls Court station

Overcrowded platform on the District line

18/19 Stratford station

Extreme chaos as crowds try to board the train on the Jubilee line

19/19 Tooting Broadway

A queue to the station on the Northern line
The mayor had refused to meet the unions unless they called off the industrial action.
The conciliation service Acas said in a brief statement: "The parties in the London Underground dispute have agreed to come in and continue exploratory talks at Acas this Friday, February 7."
The RMT leader, Bob Crow, said: "Our negotiators are geared up and ready to enter the exploratory talks on Friday.
"In the meantime the current action continues with the rock-solid support of our members and we will be back out on the picket lines early tomorrow morning as the strike heads into its third day."
Yesterday, London commuters suffered a day of travel chaos and overcrowding amid massive disruption on the Tube service, buses and roads.
Queues built up at bus stops, Tube stations, river-boat stops and on roads into the capital from before dawn.
Union leaders accused Transport for London (TfL) of under-estimating the impact of a 48-hour strike over controversial plans to close all Tube ticket offices.
Commuters complained of packed Tubes and buses as well as trains, as people switched to other forms of transport to get to work.
London Underground (LU) said it was operating train services on eight out of 11 lines despite the "completely unnecessary" strike.
The London Tube network sees some three million trips a day.
The Transport Commissioner, Sir Peter Hendy, said 86 per cent of Londoners who usually paid for travel using their Oyster cards had done so as normal on Wednesday. This claim was disputed by the TSSA  who argued the service had been reduced by 70 per cent.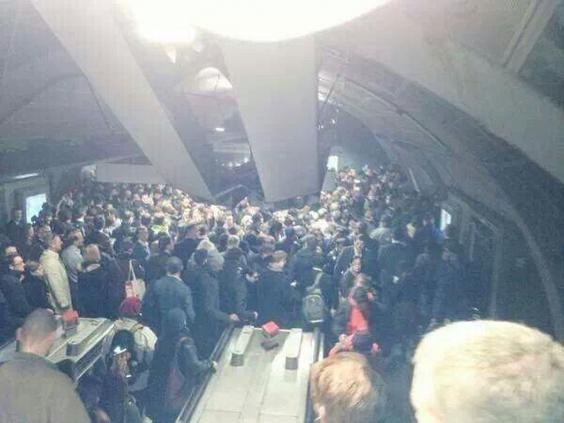 Bob Crow slammed LU's preparation for the strike saying: "It does Londoners no favours to be told by London Underground that stations will be open, only to turn up and find the gates slammed shut.
"The unions said from the outset that if we were forced to take this action, with the cuts-gun levelled at our heads, it would be solid with widespread and serious disruption, and that is exactly what has happened despite a stream of misleading and bogus information from TfL.
"Instead of pumping up ridiculous publicity stunts like the 'volunteer ambassador' nonsense, LU should be around the table with us settling this dispute which is simply about austerity cuts to jobs, safety and services," he added.
LU managing director, Mike Brown, welcomed the prospect of new talks last night: "We welcome further talks, and the unions' decision to return to Acas, but why wait till Friday?
"I call on the leaderships of the RMT and TSSA to meet us tomorrow and to suspend Thursday's strike so we can get on with talks to resolve this issue and avoid any more unnecessary disruption to Londoners."
Transport for London claims its changes to ticketing arrangements at Tube stations will lead to 960 job losses, but that none of them will be compulsory. The company also believe the move will modernise systems and save £50m a year.
The strike action has prompted calls for the London Underground to be treated as an 'essential service', meaning that a minimum service agreement would be in place in which staff would be required to keep a core level of service in place despite industrial action.
The two-day strike has also seen calls from London Mayor Boris Johnson, who described the industrial action as "pointless and unnecessary", call for a ban on industrial action affecting London transport, unless it was supported by more than 50 per cent of union members eligible to be balloted.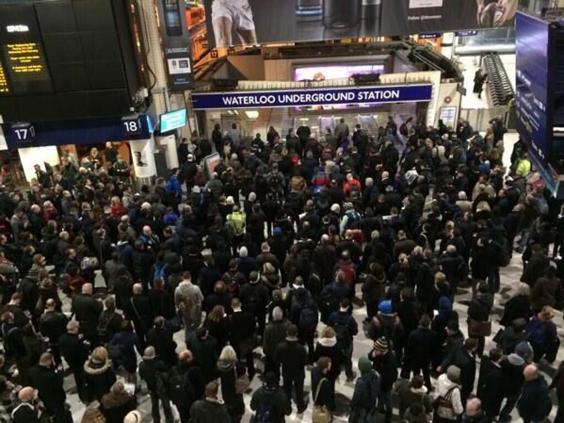 Reuse content