If only Henry Charles Beck could see what they've done to his map this week.
Few maps can have been scrutinised more intently this week than the famous mish-mash of coloured lines based on a simplified topological design invented by Beck in 1933.
For some, the Tube map has presented artistic and satirical opportunities in particular Independent cartoonist Dave Brown who's take on Beck's famous layout features a recognisable face sending a message to Londoners (above).
But as Londoners attempt to complete their individual quests to get from A to B, one of an average three million that take place on the tube everyday, enterprising designers have sought to hack the map and make it suitable for the strike-stricken city.
With negotiations set to get underway to resolve the crisis ahead of a further planned strike next week Londoners will be hoping they don't have to resort to these innovative maps again.
There's been the wildly popular mocked-up modified map of what the tube will look like during the strikes by blogger @IanVisits.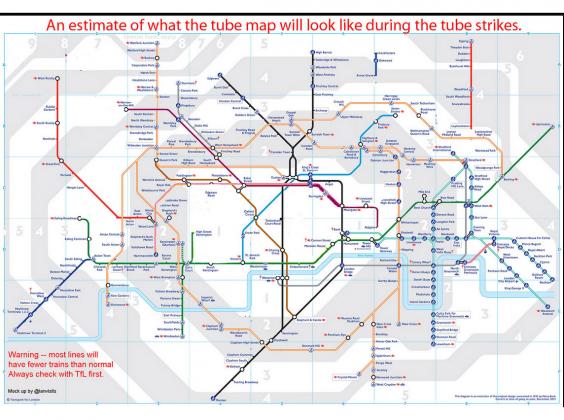 And then there's the brilliant Walking Tube Map of London showing the walking distance between stations.
Reuse content