TV licensing rules have changed, meaning from today it is illegal to watch BBC iPlayer on demand without paying an annual £145.50 licence fee.
Until now, a licence was only required to watch live broadcasts online using the iPlayer website and app.
But the policy has been extended to shows on the catch-up service and users will have to confirm they have purchased a TV licence before they can view their chosen programme.
Why is this change being made now?
The government announced in March it would end the iPlayer "loophole" that allowed users to watch BBC shows which had already been broadcast without paying the licence fee required to watch them live.
John Whittingdale, then Culture Secretary, said at the time: "The BBC works on the basis that all who watch it pay for it.
"Giving a free ride to those who enjoy Sherlock or Bake Off an hour, a day or a week after they are broadcast was never intended and is wrong."
The BBC said it hoped the changes would help give the public broadcaster "funding certainty".
Earlier this year, it was confirmed that Newsbeat, BBC Food and News Magazine would close as part of £15m of cuts.
And according to the Times, the BBC claimed it could recoup £150 million each year on unpaid licence fees from catch-up viewers.
Do viewers need a licence to watch everything on iPlayer?
A TV licence is now required to watch both live television shows and to catch up on almost all programmes which have already been broadcast, from soaps to documentaries.
However, there are a small number of exceptions, including watching Welsh-language service S4C on demand and viewing films or TV shows bought on the BBC's online store.
Listening to radio programmes, both live and on demand, will also remain free.
Do the rules apply to watching shows on mobile phones as well as desktop computers?
Yes, all devices and providers are included in the new rules.
This includes providers which can be accessed through a TV set including Freeview, Virgin Media and Amazon.
Viewers will also still need a TV licence to watch or record live programmes broadcast on any channel, although no licence is needed for commercial catch-up services such as Netflix, All 4 or YouTube.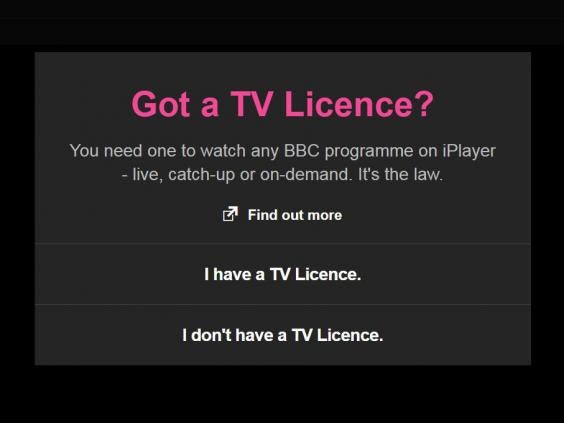 How will the new rules be enforced?
Anyone watching iPlayer programmes without a licence could face prosecution or a fine of up to £1,000.
Viewers will be prompted to confirm they have purchased a TV licence when they try to watch iPlayer shows on demand.
But as no plans to ask viewers to enter licence fee details on iPlayer have been revealed by the BBC, it remains unclear how the new rules will be enforced.
The broadcaster will not have any new surveillance powers to prove a viewer has illegally watched an iPlayer programme, according to the Times.
The BBC said it has access to "a range of enforcement techniques" which allow it to prosecute people watching its shows "on a range of devices", adding that 94 per cent of households already have a TV licence.
"We know the vast majority of people are law abiding and would anticipate those who need a licence for the first time will buy one," said a TV Licensing spokesperson.
Do the new rules apply to students?
Yes – as more young people use online catch-up services, they are more likely to be affected by the changes.
As 63 per cent of students use BBC iPlayer, according to TV Licensing, they have been warned they must purchase a licence if they use the service during term time.
This includes students living in halls, as according to the rules, each room needs to be covered by a TV licence to watch live and on demand shows.
Students living in shared houses are likely to only need one licence between them, especially if they are renting privately on a joint tenancy. 
The 10 best cities to be a student in 2016
The 10 best cities to be a student in 2016
1/10 10. Seoul

2/10 9. Berlin

3/10 8. Hong Kong

4/10 7. Montreal

5/10 6. Singapore

City limits: Singapore is an example of top-down urban planning that actually worked

6/10

5. London

7/10 4. Sydney

8/10 3. Tokyo

9/10 2. Melbourne

This is the fifth year that Melbourne has won top place

10/10 1. Paris

The Eiffel Tower illuminated with the colours of the French national flag in tribute to the victims of 13 November Paris terror attacks
But those living in a communal house with separate contracts for each room may need to purchase their own licences.
In some specific cases, students may be covered by their parents' TV licence, if they "only use a device that's powered solely by its own internal batteries and not connected to the mains," according to TV Licensing.
However, whether this caveat prompts a rush on solar-powered tablets is yet to be seen.