Christmas shoppers are expected spend £1.2bn today, as 13 million consumers hand over £21m every minute. But while those who can afford it stock up in the desperate rush for gifts on "Panic Saturday", another 13 million people will have more sobering reasons to worry – living in poverty in a festive Britain characterised as "two nations" divided.
The Trussell Trust warned it is expecting its busiest Christmas ever in providing emergency rations – with one million people now relying on food banks run by the charity and other organisations. Many more are expected to get into debt to fund the cost of the festive season.
Yet the indulgence will reach new peaks for others as shoppers will spend an average of £92 per person today, according to analysts. The Centre for Retail Research said consumers will spend £4.74bn in stores during the five days before Christmas Day – a 21 per cent increase on last year. Overall, spending during the final week before the day itself is expected to rise by 7 per cent compared with last year. The predictions come a week after "Black Friday", when retailers slashed prices encouraging a shopping surge in which sales grew at their fastest rate for 27 years, according to a CBI report released yesterday.
About £6.5bn will have been spent by wealthier consumers in the UK's top supermarkets alone in the two weeks to Christmas, according to analysts Nielsen.
Charities warned that these spending figures disguise another Britain, in which families have so little they are unable to afford basics such as food, heating and housing costs. As 2014 draws to a close there are 13 million people in poverty – including 27 per cent of the 2.5 million children in the UK, according to the Child Poverty Action Group (CPAG).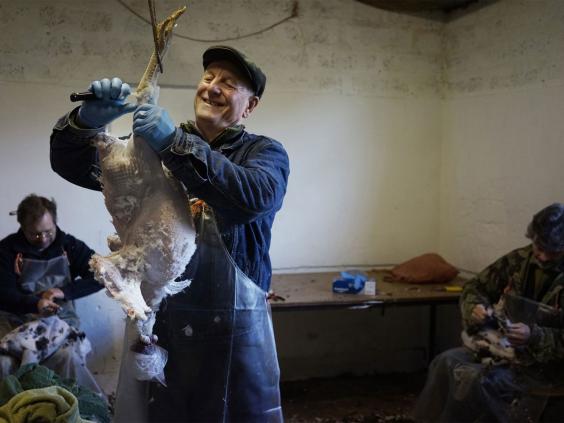 Inequality in the UK is now so extreme that the five richest families are wealthier than the bottom 20 per cent of the entire population, according to Oxfam.
Meanwhile, the housing charity Shelter predicts that 93,000 children will be homeless this Christmas, as the number of homeless families trapped in temporary or emergency accommodation exceeds 60,000.
"This is a real, stark two-nations Britain that we are talking about," said Trussell Trust chair Chris Mould. "At Christmas time, when people will be spending more than they have ever done before, we have also tens of thousands of people who haven't got enough to buy food for themselves and families.
"It's not a tolerable situation. It's got to be taken seriously. There is a consensus across the country that we can't just accept this. We've got to take action."
Rachael Orr, head of UK programmes at Oxfam, said: "This isn't just about the politics of envy. Inequality isn't just bad in terms of the impact that it has on the poorest people, but it's bad for growth. It can undermine a nation's ability to grow and be strong."
Back on the high street, Tuesday is expected to be the busiest shopping day, with Visa Europe predicting that shoppers will spend £1.3bn on last-minute preparations on the day before Christmas Eve. Department stores are expecting to double their takings, with shops in the north of England expected to do best out of "Panic Saturday", according to Worldpay.
"Department stores are magnets for shoppers who find themselves in the last-chance saloon in the final few days before Christmas," said Worldpay managing director Dave Hobday. "Many of these 11th-hour shoppers will be breaking into a cold sweat at the thought of heading to the high street on the busiest shopping day of the year and praying for someone to take the pain away."
But with many families struggling to make ends meet, shoppers are also expected to turn to credit to fund the cost of Christmas. An estimated 18 million will start 2015 carrying credit card debt, owing an average of £2,729, according to a survey carried out uSwitch. Up to eight million Brits are still paying off debts from last Christmas, as household incomes fell for the third year in a row during 2014.
2014 Christmas sale date guide:
2014 Christmas sale date guide:
1/11 2014 Christmas sale date guide:

matchesfashion.com on sale now

2/11 2014 Christmas sale date guide:

avenue32.com sale now on

3/11 2014 Christmas sale date guide:

shoescribe.com sale now on

4/11 2014 Christmas sale date guide:

Harvey Nichols sale starts 26th December

5/11 2014 Christmas sale date guide:

Harrods sale starts 26th December

Harrods

6/11 2014 Christmas sale date guide:

Selfridges sale starts on 26th December

7/11 2014 Christmas sale date guide:

Fenwick sale starts 27th December

8/11 2014 Christmas sale date guide:

Liberty sale starts online 24th December, in store 26th December

9/11 2014 Christmas sale date guide:

Mulberry sale starts 26th December

10/11 2014 Christmas sale date guide:

Marc Jacobs sale now on

Marc Jacobs

11/11 2014 Christmas sale date guide:

Chanel sale starts in January
Alison Garnham, chief executive of CPAG, said: "Thousands of families will be panicking about not having money to get by, rather than panic buying this weekend.
"Clobbered by low wages, soaring housing costs and real terms cuts in benefits, these households have taken the biggest austerity cuts and don't have a margin for festive extras."
Ms Garnham warned of a "generation of children growing up in poverty", with two-thirds living in a household where at least one member works. "The looming child poverty crisis should be worrying to politicians of all parties. Families doing their bit for their children urgently need them to tackle the root causes of poverty and to set out strategies for tackling the failures in the labour, housing and childcare market that are driving poverty. If they don't, then the £29bn a year cost of child poverty will rise even further."
However, figures from the Joseph Rowntree Foundation show that one in five of working-age adults without children were also living in poverty. Real wages are also falling: among the lowest paid 25 per cent, pay has fallen by 40p an hour for women and 70p an hour for men.
Mr Mould said the rising cost of living meant that the minimum wage was no longer sufficient to meet the cost of food, clothing, housing and utilities. He urged the Government to raise the minimum wage to the living wage of £7.85 an hour, introduce fair prices for gas and electricity and improve the administration of welfare benefits.
Julia Unwin, chief executive of the Joseph Rowntree Foundation, said the contrast between spending and need highlighted the "changing face of poverty" in the UK.
"The biggest group of people who are poor are in work and renting. That gives us a new insecurity in this country. That means that there are large numbers of people who are just not able to benefit from economic recovery. That's dangerous for those households and it's dangerous for the whole economy."
A Government spokesman said: "Our tax and benefit changes are designed to improve the lives of some of the poorest families in our communities, with the Universal Credit making three million households better off and lifting hundreds of thousands of children out of poverty.
"The Government's long term economic plan is working to deliver the fastest growing economy in the G7, putting more people into work than ever before and reducing the deficit by more than a third. The only sustainable way to raise living standards is to keep working through the plan that is building a resilient economy."