It looks set to be increasingly stormy during the festive period, with forecasters issuing severe weather warnings across some parts of the UK and predicting gale force winds of up to 80mph.
Sadly for some, it seems Britain will continue to be denied a white Christmas because of this unsettled weather, except for in northern, hilly areas of Scotland which could see up to 20cm of snow.
The Met Office said it is too soon to predict exact weather conditions on Christmas Day but are "confident" the UK can expect "unsettled weather" on the 24, 25 and 26 December.
Yellow warnings of have now been issued across central Scotland, Tayside and Fife, with residents there being warned to expect snow in higher ground and blizzard conditions on Friday.
Tomorrow, more exposed locations in western Scotland can even expect to see winds of a maximum 90mph.
"Severe storm-like weather conditions" are being forecast across south and west Wales and southwest England, followed by heavy rain on Friday.
Meanwhile, yellow weather warnings of wind between 50-60mph are in place for the south west of England and will remain until10pm tonight.
A spokesperson for the Met Office said areas north of Scotland can expect the worst of the weather and people there are being asked to stay aware of potentially "a lot of wind, a lot of rain and a lot of snow'.
Yellow warnings have been issued in north west England as heavy rain and strong gale force winds are expected to hit from Friday afternoon until the early hours of Saturday morning. The public are being instructed to be aware of the "potential for disruption from flooding".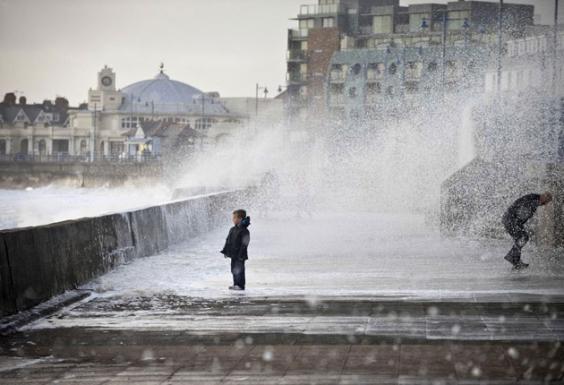 A spokesperson for the Met Office said: "Across the whole of the UK overnight there could be very high winds particularly in north west Scotland, with severe gale force strength gusts of wind up to 80mph. Then bands of rain will clear east across the country. Showers are expected to follow and will become increasingly wintery with snow in the north of Scotland.
"Further south into England, we could see some wintery showers over very high ground but hail is more likely. In the afternoon, a more organised band of rain will appear crossing from the west of the country to the east.
"The heaviest band of rain could possibly fall as snow across Bristol from late in the afternoon to early evening. It will be unlikely that it will settle because it won't be cold enough."
Reuse content