Epping is basically in Essex. In fact, it is literally in Essex, beyond the M25, 15 miles north-east of Trafalgar Square. As the terminal station on the Central Line, it is also, on the hottest day for about a decade, in the hottest place in the country, the gateway to London's molten core, via the hottest line on the Tube network.
I'm a smug cyclist who emerges from the work showers in the morning, cleansed and virtuous as my colleagues peel fringes away from glistening, ruddy foreheads. I avoid the Tube at all costs, and everyone in this city knows that, on a day like this, the Central Line is hotter than Hades' sauna.
But in solidarity with the three million people who do use the Tube every day, I am travelling the length of the red line, the longest on the Underground, armed only with a thermometer, a notepad and enough deodorant to neutralise a skunk. How bad could it be. And how hot?
Outside Epping station, Jan, of Jan's mobile cafe, sells me a bottle of cold water. She looks less than chilled. "I've got two fans but this thing has to stay on all day," she says, pointing at her griddle. Demand for bacon is slow. On my side of the counter, at lunchtime, it's a relatively cool 31 degrees.
Heatwave hits UK
Heatwave hits UK
1/9 UK heatwave

More revellers taking in the sun on Brighton beach

Reuters

2/9 UK heatwave

People cool off in a fountain outside the Southbank Centre

Getty

3/9 UK heatwave

A couple sunbathe on the promenade on a hot Summer day in Blackpool

Reuters

4/9 UK heatwave

It all got a bit too much for a few of those attending Wimbledon

PA

5/9 UK heatwave

Sunbathers enjoy the hot weather on the beach in Brighton

PA

6/9 UK heatwave

Londoner's take an early morning dip in the Serpentine

Getty

7/9 UK heatwave

A man relaxes in St. James Park in London

Reuters

8/9 UK heatwave

The crowds at Wimbledon seek shelter from the heat under umbrellas

Getty

9/9 UK heatwave

The fan is a more necessary accessory at this year's Wimbledon than most

Getty
I get on the train for the 90-minute, 36-stop journey through six travelcard zones and 11 boroughs. On the sunny side (we won't go underground for several stops) the digital mercury starts rising, soon hitting 35 degrees. I note later, as every journalist writing about public transport in summer must, that welfare regulations for transporting livestock say temperatures must not exceed 30 degrees, lest your steak starts cooking before it's a steak.
Jason and Mirani live in Japan, but are staying with friends in Suffolk. They got on at Epping, and are heading into town to watch a musical matinee before eating at a themed medieval banquet (they are American).
"You guys go a little wonky with weather," Jason says, clutching a can of Monster energy drink. "You get super-excited when it's hot but you're not prepared."
Lorna gets on at Debden, where she has visited the British Postal Museum and Archive, with its 200 old letter boxes. She's in her sixties, and has just come back from holiday, via Kuala Lumpur. "This is a breeze in comparison," she says. I disagree and, as we enter London, the temperature has already risen to 36.1. Ventilation grates behind the seats pump in warm air, like hairdryers, and it's stiflingly humid. I have sweated less on a treadmill.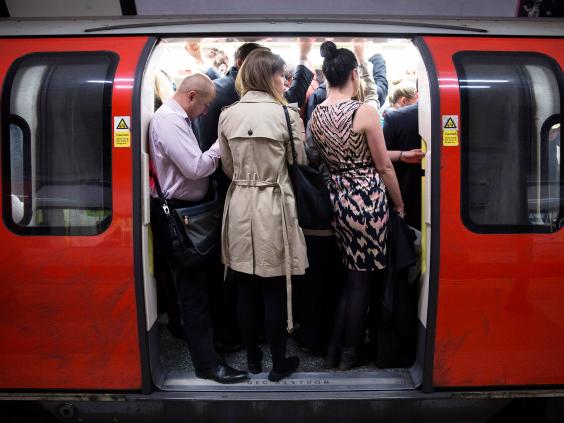 A young boy fights his sisters for an electric hand-held fan. They are too lethargic to keep it up for long. It's now 36.5 degrees but then, as we tunnel towards central London, the train unexpectedly begins to cool slightly, down to 36.1 at Bethnal Green. It's here that I notice a man with a heavy winter coat on his knees. "I do not know, maybe it rains today," says Abdul Rahman, a pharmacology student at UCL. He arrived two weeks ago from Saudi Arabia, where it is 44 degrees in places today. "And this is the only coat I have."
A banker gets on at Bank. Alex Bainbridge is heading to Oxford Street to buy some headphones. The heat does not appear to bother his pristine side-parting. "I used to live in Singapore," he says. "Now that's hot."
Perhaps it's the time of day – it will feel hotter later, when the rush hour brings flustered crowds – but there is a quiet stoicism about the carriages. We move slowly, fanning faces and sipping warm water. Later, as the sun strikes the roof again on the line out to West Ruislip, the last stop, I have the carriage to myself. It begins to get hotter, peaking at 39.8 degrees. I get off, breathe in, and buy an ice cream.
The hot line
Epping
32 degrees outside the Essex end of the Central Line at lunchtime, which is as cool as I'll get on the 90-minute trip to West Ruislip, 36 hot stops away
Bethnal Green
What the hell is he doing with a coat? It's now more than 36 degrees. "In case it rains," says the man from Riyadh, where it's 41 degrees today
Notting Hill
Robotic voices advise us to carry water. In W11, as the house prices rise with the mercury, concern grows about the stability of cosmetic surgery procedures
West Ruislip
As the sun beats on the roof towards the end of the line, the temperature on the Central Line nudges 40 degrees, and I begin to fall asleep
Reuse content