The Met Office has issued an yellow weather warning to most of the UK for Friday 14 August, with more heavy downfalls still to come.
A sudden downpour of rain hit many parts of the south of England on Thursday, with parts of the South East experiencing flooding and thunder and lighting.
Unfortunately, this heavy rain will linger, and is likely to be both "persistent and heavy at times", according to the Met Office.
In response to the rain, the Met Office has issued a yellow 'be aware' weather warning, telling those in affected areas to be aware of the significant risk of localised disruption due to flooding.
Severe weather warning for tomorrow has been updated. Stay #WeatherAware at http://t.co/TmvTfmDfrK pic.twitter.com/cKEThcXM7L

— Met Office (@metoffice) August 13, 2015
A yellow warning covered the south of England and Wales yesterday, but will spread north on Friday, taking in the North East, North West and parts of eastern Scotland.
A slow-moving area of low pressure over the UK is responsible for the rain's persistence into Friday.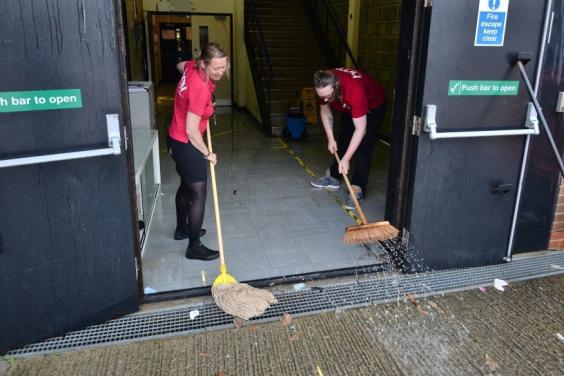 Average rainfall for the whole month of August in central and eastern England is only around 50mm, but total rainfall just over Thursday and Friday is predicted to be around 40mm.
Temperatures across most of the UK will be around 20 degrees, with slightly higher temperatures in the South East and lower in the north of Scotland.
If you live in London, you're likely seeing dark clouds and numerous lightning strikes to your south. pic.twitter.com/2OC2DHGUKy

— Tim Ballisty (@IrishEagle) August 13, 2015
These high temperatures mean that things will feel fairly humid. The temperatures are set to stay quite warm overnight on Friday, meaning a muggy and hot night for most people across the UK.
UK weather warnings
UK weather warnings
1/7 Winter weather

Two seafront walkers dodge an icy wave at Saltcoats Harbour in Saltcoats, Scotland on December 27, 2013. A yellow 'be aware' warning has been issued for many parts of Scotland as the country is affected by gale force winds and heavy rain

Jeff J Mitchell/Getty Images

2/7 Winter weather

A woman wraps up warm to fight the cold in London in 2013. A mixture of hail, snow, sleet and heavy showers is expected in Scotland and northwest England, the West Midlands and Northern Ireland

Getty

3/7 Winter weather

A motorcyclist tries to right his bike on the slippery road surface in London in 2004. The emergency services are advising motorists to be vigilant

Getty

4/7 Winter weather

A man is bombarded by sleet and hail on the Brighton seafront in 2013. The south of England is however expected to escape the brunt of the incoming bad weather

Getty

5/7 Winter weather

A woman wraps up against the wind and a blizzard of sea foam whipped up by the wind near Trearddur Bay in Anglesey, 2013. This year it is to be areas in south west of Wales that will see more "wintry" weather

Getty Images

6/7 Winter weather

Snow covers trees in the Parade Gardens in Bath last year. Heavy snow may bring widespread disruption to many parts of the UK

7/7 Winter weather

Snow and ice make getting around by vehicle difficult in the Yorkshire Dales in 2012. The tops of the moors will see more "wintry" weather on Monday night

John Giles/PA Wire