Parts of Britain could see the coldest night of the year so far this week as temperatures plummet below freezing with the arrival of winter.
Friday looks set to see the most extreme weather, with Arctic winds and temperatures as low as -4C awaiting partygoers venturing out in Newcastle, Glasgow, Leeds and other northern cities.
The first snow of winter could fall on hills as far south as Norfolk, Lincolnshire, Lancashire and parts of Wales over the course of the day.
"It is going to get cold over the next few days. Most places will see low single figures and minus temperatures for rural areas," a forecaster with the Met Office said.
Shropshire shivered in -5C on Tuesday night and the figure could be repeated in the coming days across rural Scotland, northern England and parts of the Midlands.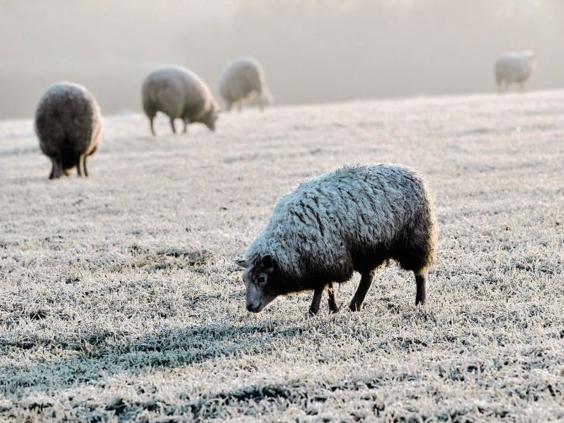 Thieves in the north-east have been taking advantage of drivers leaving iced over cars unattended while they defrost to steal them.
Anticipating the cold snap, Cleveland Police issued a Frozen-inspired warning today on Twitter.
It said: "When it's FROZEN, thieves will get their HANS on cars left unattended with their engines running. Don't be the one to LET IT GO."
Thieves struck in Eaglescliffe, Stockton and Billingham, all in Teesside, as one of the first thick frosts of the winter struck the area.
Chief Superintendent Glenn Gudgeon said: "We would urge people not to leave their vehicles unattended with the engines running, even just to pop into the house for a moment. It is all too easy for an opportunist thief to take advantage and it may mean that you can't make an insurance claim.
"With the arrival of the cold weather which is going to be with us over the next few months, please keep in mind that it only takes a couple of seconds for someone to steal your vehicle. Don't be left out in the cold by thieves."
When it's FROZEN, thieves will get their HANS on cars left unattended with their engines running. Don't be the one to LET IT GO #2thisam

— Cleveland Police UK (@ClevelandPolice) December 3, 2014
The Frozen tweet was well-received by Tyne Tees TV presenter Kenny Toal, who wrote: "Best tweet of the day so far! You made me OLAF."
"The cold never bothered thieves anyway," another commenter added, referencing lyrics from the Disney film's lead song, "Let It Go".
Public Health England is also warning elderly people and those with underlying health conditions to prepare for cold weather.
Most popular winter holiday destinations
Most popular winter holiday destinations
1/8 3. Sharm el-Sheikh, Egypt

At number three is Egypt's Sharm el-Sheikh. The resort city offers December temperatures of up to 32 degrees Celsius and an abundance of sandy beaches.

2/8 4. Dubai, UAE

Dubai, part of the United Arab Emirates, grabs the number four spot. The city offers travellers year-round hot weather and a view from the Burj Khalifa, the world's tallest building.

Getty Images

3/8 5. Amsterdam, Netherlands

Amsterdam makes number five on the list. Lucky travellers can go ice skating on the city's famous canals, but be warned: they don't freeze every year!

Francisco Anzola

4/8 6. Playa de las Americas, Tenerife

The Spanish island of Tenerife's Playa de las Americas comes in at number six, no doubt helped by the Spanish city's reputation for all-night partying. A good way to bring in the new year.

Nolege

5/8 7. Costa Adeje, Tenerife

Those who prefer something a little more restful opted for the Costa Adeje, number seven on the list and another of Tenerife's many attractions. The coastal resort offers a more tranquil alternative to the Playa de las Américas, ideal for families.

Alicia Lopez

6/8 8. Bangkok, Thailand

Travellers looking to go a little further afield put Bangkok at number eight, with the Thai capital offering year-round hot weather and a host of major tourist attractions. The ginormous Grand Palace, residence of the Kings of Thailand since the 18th century, is a must see.

Mda

7/8 9. Playa Blanca, Lanzarote

Lanzarote's Playa Blanca, on the mainland of Spain, comes in at number nine. The town's name is well-deserved: its centrally located main beach offers soft white sand and warm temperatures, even in the winter months.

Luis Miguel Bugallo Sanchez

8/8 10. Berlin, Germany

Berlin rounds off the list at number ten. The holiday season is much loved in the German capital, where traditional Christmas markets offering festive fare pop up all over town.

Arild Vagen
Dr Angie Bone, the head of health protection, said: "People should eat warm food and drink hot drinks, heat homes to at least 18C and move about to keep warm.
"We're also urging everyone to think of someone they know who may be affected by the cold, an elderly relative, friend or neighbour, someone not in the best of health or with very young children, to take the time to think about what they can do to help protect their health this winter."
Reuse content