Parts of the UK have experienced a month's worth of rain in just 48 hours, as flood warnings were issued for dozens of regions.
Thorney Island in West Sussex was temporarily the country's wettest place, with 50.2mm of rain falling on the tiny peninsula near Chicester on Sunday and Monday. The August average is 49.4mm.
Large swathes of England and Wales continue to suffer thundery downpours, forcing the Environment Agency to issue flood warnings for 10 counties across the UK - five in the South West and five in Wales.
The flood warnings are still in place for two areas in the South West and yellow alerts have been issued for 44 areas in the south of England, including Greater London.
The Met Office said the rain could cause problems for drivers, with flooding and surface water expected as drains struggle to cope with the onslaught of wet weather.
Met Office spokeswoman Nicola Maxey said: "One of the reasons the warning has been issued is because we have got this heavy rain, but it is also falling on already saturated ground, because a lot of areas have seen rain yesterday and today."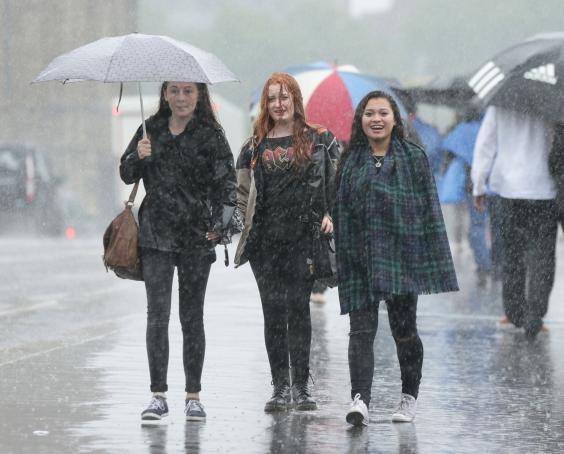 The rains are due to continue across Britain during Tuesday and Wednesday, but the overall picture across the country will be "patchy" according to the Met Office.
A spokesman said: "There is some more rain at times during this week but there is also some periods of dry and bright weather as well.
"I don't think we will see everywhere dry and bright and we won't see everywhere getting rain at the same time. It's a bit of a messy picture."
Reuse content