As children across the country were greeted by a balmy start to the summer holidays today, UK forecasters have said the British heatwave is likely to last well into August.
A high of 30C (86F) is expected for the south of England today, possibly topping yesterday's recorded high of 29.9C (85F) in Solent, Hampshire.
While the heat may occasionally be broken by the odd summer thunderstorm here and there, it will be largely fine and very warm across the vast majority of Britain – even reaching 28C (82F) in the Scottish Highlands.
And we can expect plenty more messages of advice like this one from Public Health England, as the heatwave is predicted to persist at least until mid-August.
The hot weather this week will bring a risk of slow-moving, heavy downpours, said Met Office forecaster Emma Corrigan, though no official extreme weather warnings have been issued.
"During next week, lengthy periods of fine, dry and warm weather are likely," the Met Office said.
Weather in Britain: Stunning images show off beauty of British landscape
Weather in Britain: Stunning images show off beauty of British landscape
1/30 New Brighton

A miniature sandstorm whipped up unusually high winds blows across the breakwater next to the Perch Rock lighthouse in New Brighton

2/30 Weston-Super-Mare

Rain clouds gather above the big wheel on the seafront in Weston-Super-Mare

Getty Images

3/30 Weymouth

Visitors to Weymouth beach spend time in the sunny weather

4/30 London

The Palace of Westminster shrouded in fog early this morning

PA

5/30 London

Lightning flashes in the night sky over South London

6/30 East Renfrewshire

A springtime rainbow near to Newton Mearns, East Renfrewshire

7/30 London

A girl carries a 'Keep calm it's raining' umbrella on Westminster Bridge

Peter Macdiarmid/Getty Images

8/30 Scotland

Northern lights in Aberdeen

9/30 Southend-on-Sea

Kite surfers make the most of sunny weather and strong winds off Shoeburyness, Southend-on-Sea

10/30 UK

Newhaven lighthouse is battered by waves as high winds from the lastest winter storm continue in Newhaven on the south coast of England

11/30 Somerset

Mist lingers around Glastonbury

Getty Images

12/30 North Yorkshire Moors

Snow covered sheep huddle together on moorland as heavy snow falls on the North Yorkshire Moors near Castleton

13/30 Cornwall

Storm waves crash over the Longships Lighthouse just off Lands End in Cornwall

14/30 Edinburgh

Perfect weather brought lots of people out to the East Meadow Park to enjoy picnics, barbecues, ball games, music and chat

15/30 London

London's rainy day

Alamy

16/30 Liverpool

A rainbow over the Liverpool waterfront

17/30 Scotland

Largs promenade is battered by winds in Largs

Getty Images

18/30 Tewkesbury

The Tewkesbury Abbey is seen surrounded by flood water

19/30 Bath

Snow covers trees in the Parade Gardens in Bath

20/30 Surrey

Thorpe Park in Surrey sits in flood water

21/30 London

Sunrise in the City of London

GETTY IMAGES

22/30 Scotland

A train passes along the coast at Saltcoats, as a combination of high tides, heavy rains and strong winds brought severe flooding to many parts of the country

PA

23/30 Egham

A police officer looks on as a British solider helps a tree surgeon remove a fallen tree in Egham, west of London after high winds brought by a winter storm battered southern England

24/30 Charmouth Beach

The rainbow appears to pass in front of the distant Golden Cap, the highest point on England's south coast

25/30 Brighton

People relax in deck chairs during the hot weather on Brighton beach

AFP

26/30 Wateringbury

Flooded property is seen in Wateringbury, southern England

Reuters

27/30 Poole Harbour

Lightning strikes over Poole Harbour during a thunderstorm in Poole

28/30 Whitley Bay

Northern lights at St. Mary's Lighthouse and Visitor Centre, Whitley Bay, North Tyneside

Owen Humphreys/PA Wire

29/30 Somerset

A policeman on a boat looks at a car submerged on the side of a flooded road leading into the cut-off village of Muchelney

30/30 Princetown

Children make their way to school in Princetown, Dartmoor, as the winter weather hits UK

PA
The longer-term forecast is for "recent generally settled conditions to persist [into mid-August], with mostly fine and dry weather continuing across more southern parts". "Temperatures should remain above average for most, possibly turning locally hot for a time in the south," forecasters added.
Billy Payne, a forecaster with Meteogroup, said August will "get off to a fairly dry and settled start" with a build-up of high pressure.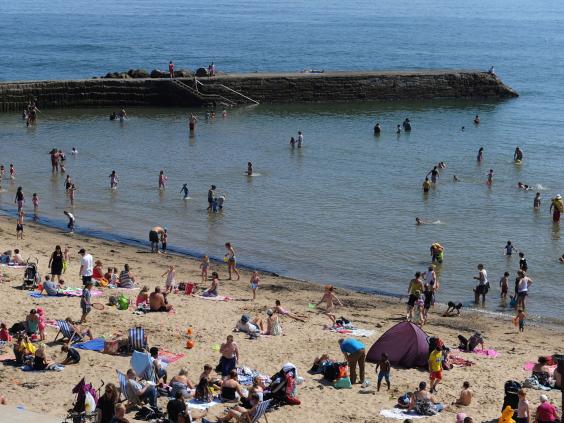 And Eddy Carroll, Chief Meteorologist at the Met Office, said: "The rest of July will see temperatures into the mid to high twenties in places and, although there is a risk of showers, for most the fine, largely dry and warm weather looks like it could well persist into August."
The continued warm conditions could mean bad news for allergy-sufferers, and Allergy UK clinical director Maureen Jenkins told the Telegraph the charity had seen an increased number of callers seeking advice over the past weeks.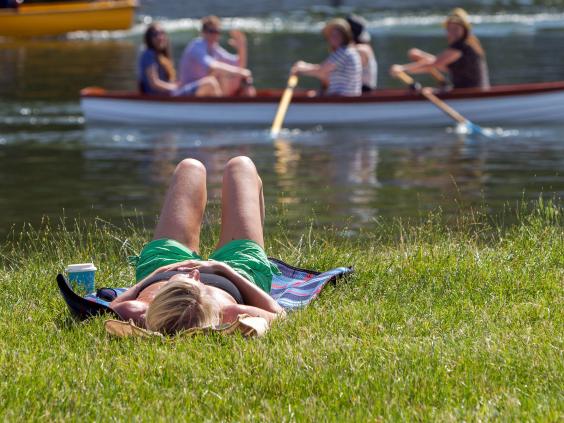 "We have seen a very mild and wet winter and spring, and we are also seeing a mild summer so there is a lot of pollen around," she said.
This weekend will see more than two million British people heading overseas to start their summer holidays, the travel organisation Abta estimated.
But the recent hot weather will also see plenty encouraged to take trips within the UK. The most popular regions among visitors are the South-west (28 per cent), the south coast (21 per cent), Wales (20 per cent) and Scotland (19 per cent).
Reuse content