Severe weather warnings have been issued across the north of the UK as strong gales and gusts of up to 80mph bring potential disruption to travel, power lines, and a risk of localised flooding.
Snow and ice weather warnings will finally end for Scotland and the north on Monday, but these will be replaced with severe warnings of strong winds on Wednesday.
The Met Office states there is a risk of "storm force winds" over western and northern parts of Scotland, where waves are expected to be "unusually high" signalling risks of flooding of roads and causeways.
Northern and western coasts of Scotland and Northern Ireland at particular risk.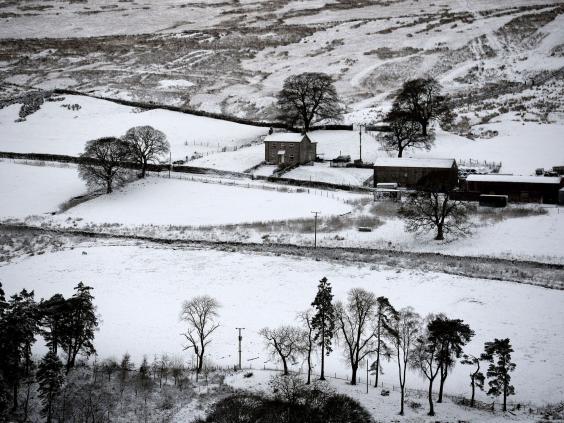 The snow and ice that covered north of Scotland over the weekend caused emergency services to be called for a number of road accidents, as the UK started to feel the effects of a deepening low pressure system that has been moving from the North Atlantic across to Iceland.
Met Office meteorologist Krista Mitchell said that while decent spells of sunshine can be expected across the UK on Monday, temperatures will remain cold.
UK weather warnings
UK weather warnings
1/7 Winter weather

Two seafront walkers dodge an icy wave at Saltcoats Harbour in Saltcoats, Scotland on December 27, 2013. A yellow 'be aware' warning has been issued for many parts of Scotland as the country is affected by gale force winds and heavy rain

Jeff J Mitchell/Getty Images

2/7 Winter weather

A woman wraps up warm to fight the cold in London in 2013. A mixture of hail, snow, sleet and heavy showers is expected in Scotland and northwest England, the West Midlands and Northern Ireland

Getty

3/7 Winter weather

A motorcyclist tries to right his bike on the slippery road surface in London in 2004. The emergency services are advising motorists to be vigilant

Getty

4/7 Winter weather

A man is bombarded by sleet and hail on the Brighton seafront in 2013. The south of England is however expected to escape the brunt of the incoming bad weather

Getty

5/7 Winter weather

A woman wraps up against the wind and a blizzard of sea foam whipped up by the wind near Trearddur Bay in Anglesey, 2013. This year it is to be areas in south west of Wales that will see more "wintry" weather

Getty Images

6/7 Winter weather

Snow covers trees in the Parade Gardens in Bath last year. Heavy snow may bring widespread disruption to many parts of the UK

7/7 Winter weather

Snow and ice make getting around by vehicle difficult in the Yorkshire Dales in 2012. The tops of the moors will see more "wintry" weather on Monday night

John Giles/PA Wire
The snow and ice weather warning for Scotland and the north of England will be lifted by midday, but temperature lows on Monday night of between -1 and -2 degrees Celsius will see "widespread frost" across the UK after the coldest night of the week, though temperatures in the north of Scotland may drop as low as -5 degrees.
Tuesday will start off dry but strong winds and rain will move from the west of Scotland and the west of Northern Ireland south eastwards throughout the day.
The Met Office has issued a yellow weather warning for strong winds across Scotland, Northern Ireland, the north of Wales and the north of England. These areas will also see heavy and wintery showers leading to snow over higher areas across mountains around 200 to 300 metres, with sleet expected at lower levels.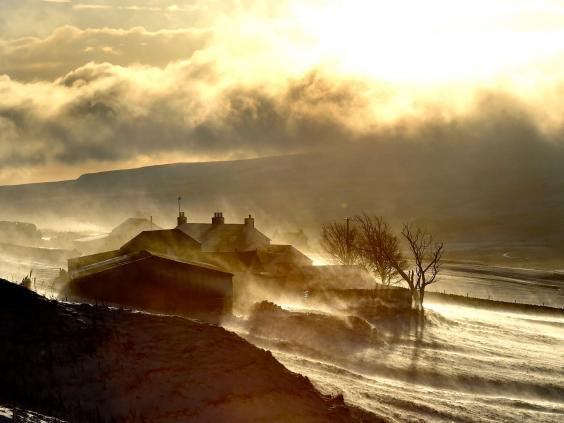 Showers will continue across western parts of the UK on Thursday with the best parts of drier, brighter weather expected in the east. Later in the day and pushing into Friday will be a band of rain gradually moving across the country, before this begins to clear at the end of the week.
The UK will largely see average temperatures for December this week, with highs of between 6 and 7 degrees and lows of around 1 degree Celsius, though Monday night will dip below this.
"It's going to feel rather cold this week, with wintery showers throughout the week, especially in the mountainous areas of England, Northern Ireland, Scotland and Wales," Ms Mitchell said.
Reuse content