Storm-like weather will continue to sweep across the UK today as thousands of people recover from flooding and power disruption to their homes following heavy downpours and gale-force gusts of wind overnight.
Gusts of up to 90mph are expected to cut across Northern Ireland and more exposed parts of western Scotland, while warnings of up to 20cm of snow in Scotland from the Met Office remain in place.
The Midlands are expected to see wet snow, thunder and hail this afternoon. Severe wind, snow, rain and ice weather warnings also remain in parts of Scotland, Northern Ireland, Wales and England and amber warnings of severe gales have been issued across Scotland, Wales and south west England.
Storms caused by an Atlantic depression saw 7,000 customers left without electricity in Northern Ireland last night, though most have now been reconnected, with another 3,500 affected in north west England and almost 900 without power in south Wales.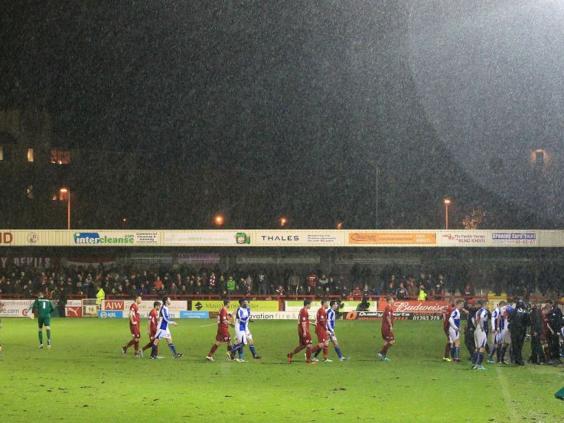 The bad weather is set to continue this morning and winds of 70mph to 80mph and gusts of 90mph have been forecast in western Scotland and the Western Isles, the Met Office said, with large waves threatening coastal areas.
The search for a missing sailor who fell overboard from a small cargo ship on the River Trent off North Lincolnshire has now been resumed after being called off last night in "very poor" conditions.
In separate incidents, a 23-year-old woman died in the Republic of Ireland when a tree feel on her car near Mullingar in Co Westmeath and a 19-year-old man had to be taken to hospital when his car was hit by a falling tree in Warwickshire.
As the turbulent weather spreads, twenty-three flood warnings have since been placed in south west England alone.
The Environment Agency has put 14 flood warnings in place urging homeowners in the south west and south east to take immediate action.
Roads in Bristol flooded yesterday, while in Cardiff the fire service had to pump water from streets.
A further 85 flood alerts are in place, 11 of which are in the Midlands and 12 are in Wales.
Coastguards and an RAF helicopter were last night searching for the 45-year-old man believed to be a foreign national, who fell overboard from a small cargo ship moored on the River Trent.
The Maritime and Coastguard Agency said the man was working with ropes on the MV Sea Melody when he appeared to become entangled and was pulled over the side where he disappeared.
Humber Coastguard watch manager Mike Puplett said: "We understand that the crewman was not wearing a life jacket and, in these conditions particularly, I would say this should have been an essential bare minimum of safety equipment."
Northern Ireland Electricity (NIE) said last night that it expected further damage to the electricity network as the bad weather is set to continue.
Police closed the A595 at Moota in Cumbria yesterday after the roof was blown off a hotel, and the M6 is partially closed southbound between junctions 38 and 37 because of an overturned lorry, the Highways Agency said. The motorway is expected to reopen fully from 8am.
Last night's football fixtures were also affected by bad weather, with a Sky Bet Championship football match in Sheffield abandoned when heavy rain left the pitch unplayable.
Sheffield Wednesday's home match against Wigan, at Hillsborough Stadium, was called off early in the second half after large puddles appeared on the playing surface.
Stoke City's home tie against Manchester United in the League Cup was temporarily suspended due to heavy rain and hailstones.
Additional reporting by Press Association
Reuse content