Sunny weather is making a brief return across Britain after storms and flash floods in parts of the country, but the rain will not hold off for long.
Temperatures will not reach last week's highs but are expected to stay warm in most parts for the rest of the week, with possible highs of 27C.
John Lee, a forecaster for MeteoGroup, said: "In the next couple of days in the South it's staying dry with sunshine but it is not going to be hot like a week ago.
"There will be a mix of temperatures, mainly around 26C, which is four to five degrees down but it will still be pleasantly warm.
"There will be rain in places, particularly in the North but even the rain is not heavy.
"Heading towards Friday and the weekend it will start to get more unsettled."
August is expected to start with unsettled weather, including rain across the northwest and strong winds in the region that could reach gale force.
It at least looks less dramatic than the lightning strikes, torrential rain, flash flooding and hail storms that caused major travel problems across east and south-east England on Monday.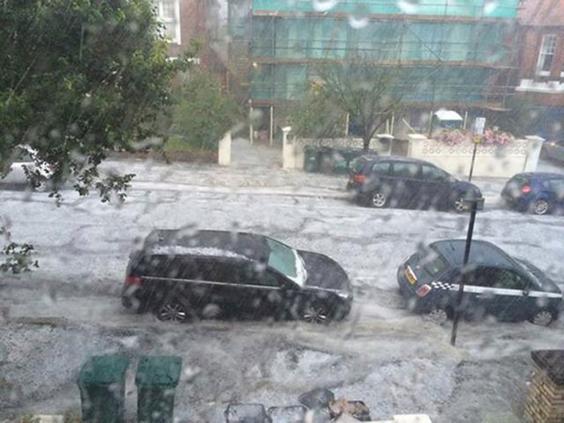 One member of train station staff described scenes like a "zombie apocalypse" after the railway to Brighton was hit by lightning.
Several people had to be rescued from cars stranded in floodwater and roads had to be closed as they were submerged under rainwater.
The deluge, which saw more than half a month's rain fall in an hour in parts of East Anglia, the South East and London, left homes and streets flooded.
The freak weather arrived a week after 3,000 bolts of lightning illuminated the sky over London and the South East in electrical storms.
Additional reporting by PA
Reuse content