Sadness and dismay among some of those worst hit by the floods in Surrey turned to rage on Tuesday as the first reports of thieves stealing and attempting to sell army-issued sandbags emerged.
Staff at the Red Lion Hotel, separated from the floods by a few metres, spoke of their amazement as men arrived in an overloaded white transit van around midday and came into their bar looking to offload their loot.
"They didn't get a chance to tell us a price as we told them exactly where to go," said manager Danielle Emptage. "Some people are disgusting. If it's not tied down they'll have it."
Fellow manager Paul Newman was also critical of local Spelthorne Borough Council for refusing their request for sandbags. "We were flatly denied because they told us we are a commercial organisation. We just want look after our community but the council won't look after us."
Emotions were running high elsewhere in town as news of the "callous" act spread.
Retired Patrick Collins, enjoying a drink at The Three Horseshoes in his chest high waders as he has to get through 14 inches of water a few metres from his home, said: "Stealing sandbags is totally callous. I hope the police bloody well catch them."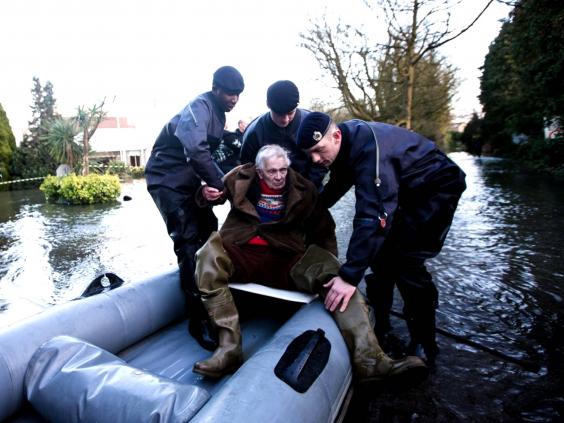 Meanwhile, an elderly doctor was finally rescued from his flooded home in Shepperton on Tuesday night after being without electricity for three days.
Retired physician Dr James Andrews and his personal assistant Wendy Kinchella were pulled to safety in a dinghy along Felix Lane by a team of local sea and marine cadets as night set in at the Surrey town hit hard by burst banks along both the Thames and Ash.
"We just want to get somewhere warm," said Ms Kinchella, thanking the "marvellous" team as she jumped into the back of their truck."Poor Dr Andrews has been without any power since Sunday."
Homes and businesses in Shepperton continue to be badly hit by the extraordinary weather, with levels expected to remain at current height for up to 15 days.
Antique dealer Edward Cruttenden recently lost his mother and was about to sell her home until the deluge. He did not want to talk about it but a friend said he has had to put four pumps in to flush out the water that has now cascaded in and feared for the value.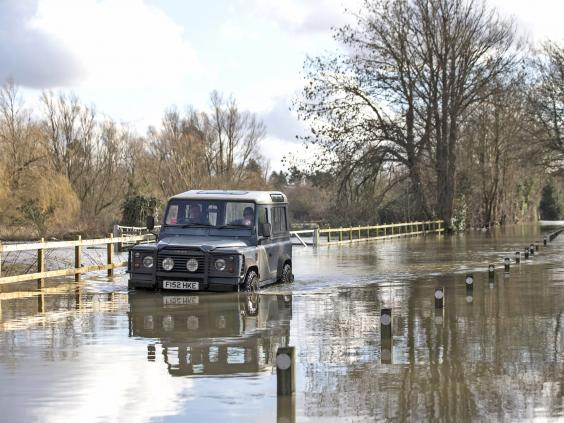 Charity shop worker Pamela Bridgeman said her 78-year-old friend Dorothy Daniels had to be rescued by police at 4am on Tuesday as the entire mobile home complex, one of the largest in the country, at Penton Park was flooded in a few hours.
"Her son Ian came from Hampshire to collect her and take Dot home with him. Her garden has been flooded twice in the last two years and I just think the owners, Berkeley Homes, should have done more."
The war memorial roundabout separating old and new Shepperton was under threat from the rising levels on Tuesday. Looking on, retired Shepperton master baker Brian Holt remained stoic in the face of growing adversity.
Flooding in England
Flooding in England
1/20 Flooding in Shepperton

The Three Horseshoes Pub in Shepperton. Properties along the Thames Valley were affected by power cuts as the river burst its banks

Charlie Forgham-Bailey

2/20 Flooding in Shepperton

People wade through floodwaters in Thames Meadow, near Shepperton

3/20 Flooding in Shepperton

Sandbags to stop flooding at the Warren Lodge Hotel in Shepperton

Charlie Forgham-Bailey

4/20 Flooding in Shepperton

A Land Rover drives along a flooded street in Shepperton

Getty Images

5/20 Flooding in Shepperton

Dr James Andrews was stranded in his home without electricity since Sunday, but he was rescued yesterday by soldiers

Charlie Forgham-Bailey

6/20 Flooding in Shepperton

Soldiers from the Royal Engineers pull a boat through floodwaters in Thames Meadow, near Shepperton

7/20 Flooding in Shepperton

Many residents' homes in Shepperton are now only accessible by boat.

8/20 Flooding in Bridgwater

Water surrounds flooded propeties in the village of Moorland on the Somerset Levels near Bridgwater

Getty Images

9/20 Flooding in Chertsey

A resident wades through the floodwater that has swept into Chertsey, which lies just west of London

Getty Images

10/20 Flooding in Wraysbury

Firefighters driving through flooding in Wraysbury, Berkshire

11/20 Flooding in Wraysbury

In the normally tranquil village of Wraysbury, residents have rallied round after houses were swamped by floods

12/20 Flooding in Wraysbury

Services personnel assist in the evacuation of a family from their home in Wraysbury

13/20 Flooding in Wraysbury

Members of Royal Berkshire Fire & Rescue squad evacuate a family

Getty Images

14/20 Flooding in Wraysbury

Floodwater reaches a children's playground in Wraysbury

Getty Images

15/20 Flooding in Wraysbury

Labour party leader Ed Miliband talks with resident Peter Horner

16/20 Flooding in Wraysbury

A member of the 1st Battalion of the Royal Regiment of Fusiliers leads his vehicle through flood water in Wraysbury

Getty Images

17/20 Flooding in Worcester

The Severn View Hotel in Worcester surrounded by flood water

18/20 Flooding in Worcester

Swans swimming through a flooded car park at Worcester Racecourse

19/20 Flooding in Datchet

Residents carry sandbags to protect their property from the floods, in the centre of the village of Datchet

20/20 Flooding in Datchet

A man is pulled in a kayak through a flooded street in the village of Datchet
"The last time the memorial was flooded was 1947. But although it's extreme weather, it's not as bad today. I remember cycling through water during my paper round in the 1960s.
"Dredging would have helped, but we'll get through this."
Alison Gordon, events director at the Warren Lodge and Anchor Hotel in Old Shepperton, had to close off a section of her hotel on Tuesday after the route through the garden to the riverside rooms became submerged.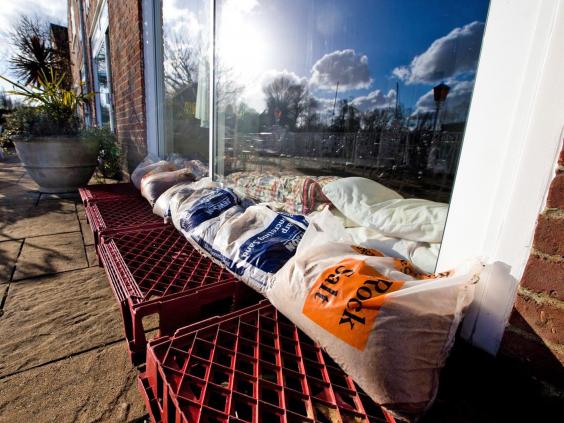 "We've had a wedding cancellation on Friday because the church is under water and they didn't think all the guests could get through," she said. "But I'm sure they will re-book. We're keeping a close eye on the back though as if it rises another couple of inches the water will start coming into the rooms."
Despite the troubles, there is a definite sense of community spirit in the air. Back in Felix Lane, Daikon service manager Scott Dorrall had just kitted himself out in his new inflatable life jacket when The Independent spoke to him as he waded back home passed the heavily flooded Holiday Inn next to the marina.
"I got his and hers jackets for me and the wife," he smiled. "From the canoe shop on the corner, £33 each. I told the guy why we needed them given how bad it is and got a 10 per cent discount. I've never seen anything like it but everyone is trying to help each other where they can."
Reuse content