Temperatures could hit 28C on what is expected to be the warmest day of the year tomorrow, but the heat will be bringing severe thunderstorms as well as swarms of giant jellyfish.
The south coast of England will be among the hottest parts of the UK on Friday but anyone taking a dip in the sea is being warned of unwelcome visitors.
Dr Simon Boxall, an oceanographer at the University of Southampton, said the sunshine and showers of recent weeks has caused Britain's largest jellyfish to get even larger.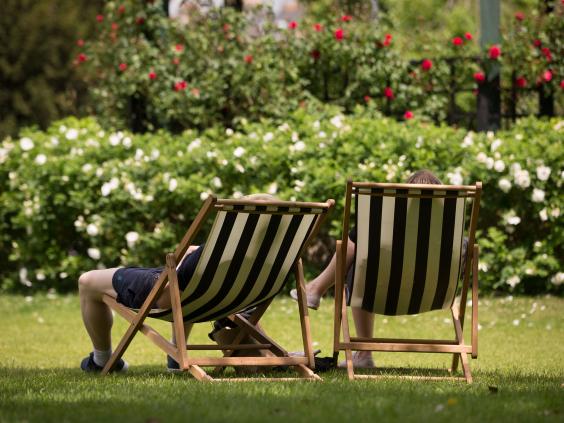 "Jellyfish will thrive if the conditions are right, they are always there in the seas but they can grow very quickly and at the moment we have had a nice mix of bit of rain, sun and a bit of warmth," he added.
"The rain is washing nutrients off the land into the sea, which feeds the plankton and the algae grow, meaning the jellyfish have lots and lots of food, which means they are swarming at the moment."
Barrel or dustbin-lid jellyfish reach up to 90cm in diameter and have been seen washed up on beaches in Hampshire in recent days.
Dr Boxall said they can sting but compared the feeling to a nettle rash, calling them "not particularly nasty".
"I would avoid them but I wouldn't be scared of them so there's no reason to avoid going to the beach or clearing the beaches," he added. "They are beautiful things."
The jellyfish are not the only unwelcome side-effect of the warm temperatures.
Yellow weather warnings have been issued for severe thunderstorms bringing torrential rain across south England, parts of the Midlands and Wales.
Forecasters at the Met Office said they were likely to develop overnight and move north through Friday into Saturday, turning into heavy and then light rain.
"The public should be aware that there is a chance of some very localised significant disruption, mainly from surface water flooding," a spokesperson said.
"Lightning and hail could also cause some impacts."
The conditions are being caused by an area of warm, humid air moving across France into southern Britain overnight.
Temperatures could soar as high as 28C tomorrow, beating the year's previous highest point of 26.7C recorded in Frittenden, Kent last Friday.
Met Office forecaster Dean Hall said: "Friday will start very warm and humid in the South but end up with thundery rain.
"Maximum temperatures, particularly in the South East, could reach 25C or 26C. There might be somewhere reaching 27C or even 28C.
"South Wales could see 24C, with 21C in the Midlands and the North."
Conditions will be cooler and more settled in northern England, Scotland and Northern Ireland, which will see a dry and fine day tomorrow, followed by cloudier conditions and showers over the weekend.
Reuse content