After a night of stormy weather that blocked railway lines, felled trees and closed high bridges, Britain was forecast for a day of strong winds and more travel chaos on Tuesday.
Parts of north Wales, the Bristol Channel and East Anglia saw winds of up to 70mph overnight, and two sailors had to be rescued from the water off the coast near Southampton after their vessel capsized and sank in the stormy weather.
The M25 was closed at the Dartford Crossing, trees on lines led to rail delays in Devon, Somerset, Wiltshire and Hampshire, and Cheshire Police tweeted overnight that high winds and rain had been "creating chaos on the roads".
One of the most dramatic incidents put down to the high winds was an incident outside a private outpatients hospital in Tooley Street, London, where a window fell five storeys and hit a woman on the head.
According to BBC News, a witness walking just behind the woman said there was a "massive crash". The woman suffered a "nasty gash across the width of the head" and had her teeth "smashed in", the witness said, the police said the injuries were not life threatening.
The Met Office's severe weather warnings for wind continued into Tuesday morning, and forecaster Kirk Waite said: "While the winds should gradually ease, it's going to stay a pretty windy day."
He said; "There could potentially be some quite difficult conditions throughout the course of the morning for those getting up and heading out to work.
"The north west of the country is going to see some quite blustery showers moving in - it's probably going to see the strongest winds today."
Worth checking travel today - ferries cancelled, bridges closed/restricted and some disruption to flights already being reported.

— Simon King (@SimonOKing) March 31, 2015
The 190mph #jetstream is giving USA to UK planes a good shove. A flight from Newark to Heathrow landed 70mins early! pic.twitter.com/i1uwGcuqMM

— BBC Weather (@bbcweather) March 31, 2015
It's so windy in Dublin I just saw an old lady running down my street chasing after her face.

— Colm Tobin (@colmtobin) March 30, 2015
Wheelie bins roaming Dublin like Daleks #windy

— John Kelly tweets (@johnkellytweets) March 30, 2015
It's so windy out I'm scared

— Ferne McCann (@fernemccann) March 30, 2015
Morning Hiiveans! It's windy out there. If you moonlight as a trampoline, beware of fences. http://t.co/mIbc7Mh2dJ pic.twitter.com/8pfDUOEpDs

— Hiive (@wearehiive) March 31, 2015
Fencing down in Frideswide Square #oxford after a very windy night @TheOxfordMail pic.twitter.com/QKCoea6z1U

— Keeley Rodgers (@Keeley_Rodgers) March 31, 2015
'Together the UK will unite & rebuild' #StaySafePeople #Windy pic.twitter.com/XblhoZ5zFx

— Ladybirdangel (@Ladybirdangel) March 31, 2015
Just missed the garden table! #mothernature #rainyday #windy pic.twitter.com/qcTkxR8U66

— Sarah Louise (@carrotstick_uk) March 31, 2015
@ObeyZemay no way its windy everywhere in the uk my fence fell over and smashed into my garage earlier

— Jekza (@RoyalJekza) March 31, 2015
As well as causing the closure of the QE11 bridge on the M25, the strong winds also meant the closure of the Ouse Bridge on the M62 and the M48 Severn Bridge.
There were also long delays on the M5 southbound near Worcester due to an accident.
UK weather warnings
UK weather warnings
1/7 Winter weather

Two seafront walkers dodge an icy wave at Saltcoats Harbour in Saltcoats, Scotland on December 27, 2013. A yellow 'be aware' warning has been issued for many parts of Scotland as the country is affected by gale force winds and heavy rain

Jeff J Mitchell/Getty Images

2/7 Winter weather

A woman wraps up warm to fight the cold in London in 2013. A mixture of hail, snow, sleet and heavy showers is expected in Scotland and northwest England, the West Midlands and Northern Ireland

Getty

3/7 Winter weather

A motorcyclist tries to right his bike on the slippery road surface in London in 2004. The emergency services are advising motorists to be vigilant

Getty

4/7 Winter weather

A man is bombarded by sleet and hail on the Brighton seafront in 2013. The south of England is however expected to escape the brunt of the incoming bad weather

Getty

5/7 Winter weather

A woman wraps up against the wind and a blizzard of sea foam whipped up by the wind near Trearddur Bay in Anglesey, 2013. This year it is to be areas in south west of Wales that will see more "wintry" weather

Getty Images

6/7 Winter weather

Snow covers trees in the Parade Gardens in Bath last year. Heavy snow may bring widespread disruption to many parts of the UK

7/7 Winter weather

Snow and ice make getting around by vehicle difficult in the Yorkshire Dales in 2012. The tops of the moors will see more "wintry" weather on Monday night

John Giles/PA Wire
It all made for a blustering end to March, encapsulated on Sunday by the flattening of the famous Lord's cricket ground weather vane in London.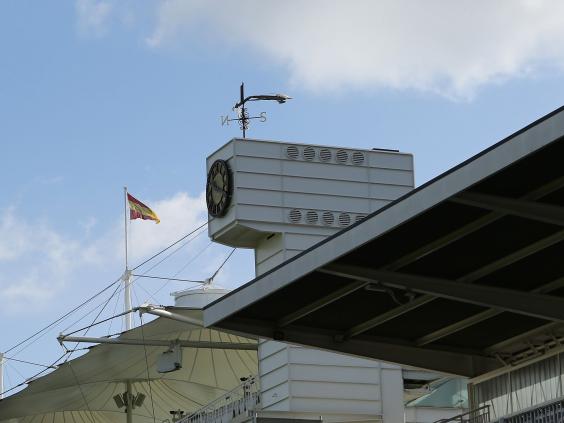 But looking forward to the long Easter weekend, Mr Waite said the weather will be breezy to begin with but things should "gradually quieten down" towards Sunday.
Reuse content