Two effigies of Vladimir Putin were burned last night in the Lewes Bonfire Night celebrations, as the East Sussex town continued its tradition of sparking no small amount of controversy for another year.
One depiction of the Russian President showed him topless, carrying a rifle and standing on top of the crashed Malaysian Airlines jet MH17, which was shot down over eastern Ukraine earlier this year.
The other effigy showed Mr Putin sat on a tank while wearing a Borat-style mankini. Together they paint a less than flattering picture of the leader, and came as Finland warned Europe was on the brink of a "new kind of cold war".
If the Putin displays seem shocking, they were not even the most controversial effigies planned for this year's parade.
Sussex Police has been forced to step in following complaints that one of the town's bonfire societies had created a model to be burned of the Scottish First Minister Alex Salmond.
East Sussex County Council tweeted a picture of the model, which at the time was set to be put to the flames after it had been paraded through the town's streets.
But following a backlash online they were quick to say it had nothing to do with the council, instead having been made by the Waterloo Bonfire Society.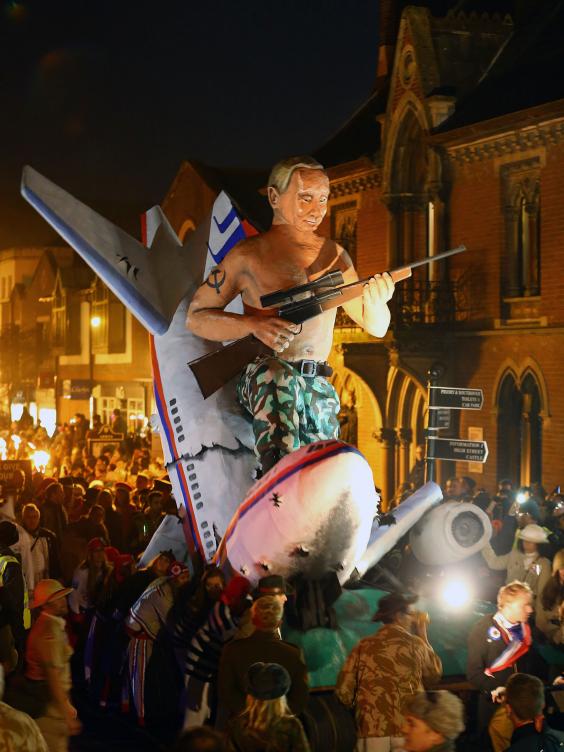 A spokesperson for the police said: "Whilst we accept there is a long tradition of creating effigies of high-profile individuals in politics, sport, the media, etc, a complaint has nevertheless been received and will be investigated."
The force also tweeted: "For those enquiring we have been advised that there won't be any burning of the Alex Salmond effigies this evening in Lewes."
Mr Salmond told BBC Scotland: "I'm in pretty good company - Angela Merkel got the burning treatment from the East Sussex Conservative council.
"I think their judgment is askew but if they think I'm a threat to the Westminster establishment like Guy Fawkes, they are right.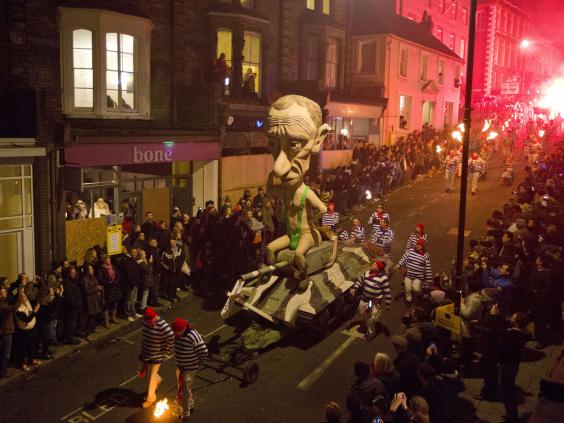 "I am used to insults from Tories in East Sussex and if they think that is a good thing to do it is up to them."
The first Bonfire Societies in Lewes were set up in 1853 as a way to organise the riotous annual celebrations by the "Bonfire Boys", which often led to fires and disorder.
Each society has its own particular costumes, bonfire site and procession route within the town.
Bonfire in Lewes does not only commemorate the gunpowder plot, but also other events including the burning of 17 Protestant martyrs in the town's High Street from 1555 to 1557 under the reign of Mary Tudor.
Additional reporting by PA