If you're wandering around London today you might notice there are loads of New Zealanders dressed in outlandish outfits, drinking like it's Notting Hill Carnival.
February 6 is Waitangi Day, the anniversary of when New Zealand became a part of the British Empire in 1840.
The Treaty of Waitangi, signed by the British and Māori leaders, is widely considered the nation's founding document — but Māori activists are critical of the day over claims they were conned out of land.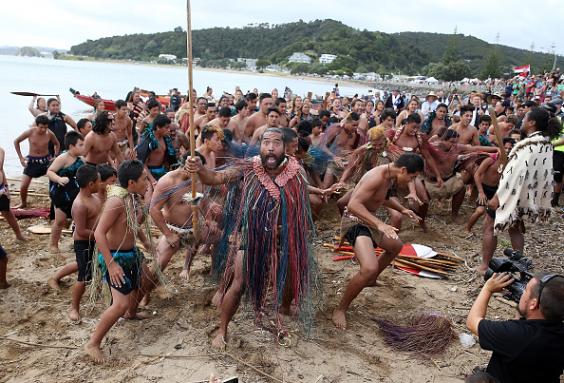 It's been a public holiday in New Zealand since 1960, and is celebrated on the nearest weekend in London by the city's substantial Kiwi population.
You Kiwis, coming over here, stealing our street corners, drinking our beer @mattbutler503 #waitangidaypubcrawl pic.twitter.com/odd5Grztu3

— Jack de Menezes (@JackdeMenezes) February 7, 2015
What is happening pic.twitter.com/8loTJF7v7H

— Roisin O'Connor (@Roisin_OConnor) February 7, 2015
This year, according to the pub crawl's website, the tribal dance has been moved over to Old Palace Yard due to the presence of protesters around the square.
The group organising the pub crawl have warned on their Facebook page against excessive drunkeness, but say the the event is largely free of trouble.
It says: "Many believe the police are quite a stern bunch but my visits and phonecalls with the police were completely the opposite as we shared Waitangi memories and jokes.
"The police were extremely enthusiastic about the event and want it to run for many many more years without any problems for us or them.
"It's a sign that we have been bloody brilliant in previous years for them to still be this good natured about it considering all the trouble that the police have had in London over the last 12 months."
They have asked, however, that those celebrating "leave the haka for the experts" — especially if they're drunk.
Among the other rules for Waitangi Day in London are 'try to have a decent breakfast' and 'be a tidy Kiwi'.
Reuse content