Weather bombs battered the northern half of the UK today – causing winds of up to 144mph in the remotest area, cutting power from tens of thousands of homes, and creating travel chaos across land and sea.
Power has been restored to at least 27,000 homes in the UK, after gale force winds tore across the northern coast of Scotland, with gusts as fast as 81pmh recorded in Tiree, followed by 79mph for South Uist, the Met Office said
When the weather system was at its most turbulent, high-speed gusts of up to 144mph were recorded at the top of a hill on Kirta. The island is the largest of the uninhabited archipelago of St Kilda - the remotest part of the British Isles.
UK weather warnings
UK weather warnings
1/7 Winter weather

Two seafront walkers dodge an icy wave at Saltcoats Harbour in Saltcoats, Scotland on December 27, 2013. A yellow 'be aware' warning has been issued for many parts of Scotland as the country is affected by gale force winds and heavy rain

Jeff J Mitchell/Getty Images

2/7 Winter weather

A woman wraps up warm to fight the cold in London in 2013. A mixture of hail, snow, sleet and heavy showers is expected in Scotland and northwest England, the West Midlands and Northern Ireland

Getty

3/7 Winter weather

A motorcyclist tries to right his bike on the slippery road surface in London in 2004. The emergency services are advising motorists to be vigilant

Getty

4/7 Winter weather

A man is bombarded by sleet and hail on the Brighton seafront in 2013. The south of England is however expected to escape the brunt of the incoming bad weather

Getty

5/7 Winter weather

A woman wraps up against the wind and a blizzard of sea foam whipped up by the wind near Trearddur Bay in Anglesey, 2013. This year it is to be areas in south west of Wales that will see more "wintry" weather

Getty Images

6/7 Winter weather

Snow covers trees in the Parade Gardens in Bath last year. Heavy snow may bring widespread disruption to many parts of the UK

7/7 Winter weather

Snow and ice make getting around by vehicle difficult in the Yorkshire Dales in 2012. The tops of the moors will see more "wintry" weather on Monday night

John Giles/PA Wire
Meanwhile, offshore buoys off the northwest coast of the UK had registered waves of up to 15.6 metres as the weather system hit at full force.
Earlier, residents in the whole of the Western Isles were without power, while some people in Orkney and Skye were also dealing with the harsh conditions without electricity.
Some 500 Scottish Hydro Electric Power Distribution (SHEPD) engineers worked to restore supplies to thousands of homes, but the complexity of the damage to the network caused by the ferocious weather conditions meant repairs took longer than expected in some areas.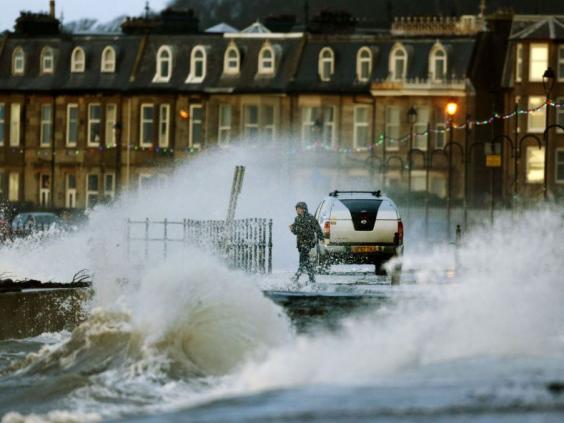 Power shortages were also reported both in Northern Ireland and the Republic of Ireland overnight. Ireland's national forecaster has since warned of a risk of coastal flooding tonight.
The weather bombs also affected travel in some parts of the UK, causing ferry and train cancellations, and leaving the roads in challenging driving conditions.
In Aberdeenshire around 20 cars were freed after they were stuck in icy conditions at Cairn O'Mount, while the Forth Road Bridge was closed to high-sided vehicles and the Tay Bridge was only open to cars.
After a ferry hit part of the Cairnryan terminal in south-west Scotland, Stena Line decided to cancel all of its sailings from there to Belfast until at least 7:30pm on Thursday. The firm said there were no injuries and all passengers and crew disembarked as normal. An inspection of the ship, port facility and weather conditions are now underway.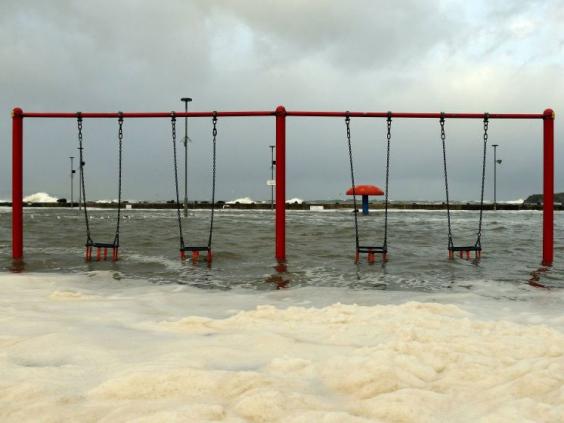 Other sea vessels were also impacted by the weather bombs - the colloquial term for explosive cyclogenesis. A rescue helicopter and lifeboat were sent to help a fishing vessel at around 5:30am, after it called Mayday when a wave smashed its window.
In addition, the British-registered vessel O Genita, which has a Spanish crew, was escorted to Westray in Orkney by the lifeboat, arriving just before 11.30am. None of the 16 crew are thought to be injured.
Meanwhile, more than 40 schools and nurseries in the Highland Council area were closed today.
As the weather bombs passed on Wednesday evening, the Met Office continued to issue a yellow weather warning, meaning "beware", for parts of northern England and Wales, and the entirety of Scotland and Northern Ireland.
Winds of around 50mph have been recorded in north-west England and North Wales, where yellow warnings are also in place.
Reuse content