Two of the UK's leading sun creams are failing to provide the protection from harmful rays that they claim, according to a consumer watchdog report.
Laboratory tests by Which? found that products by Boots and Hawaiian Tropic offered only about two-thirds of the protection stated on the bottles and branded the creams 'don't buys'.
Failing to provide the specified protection suggests that users could be at risk of sunburn, a concern for holidaymakers stocking up ahead of the summer.
The products identified by Which? were Soltan Protect and Moisturise Lotion (SP30) and Hawaiian Tropic Silk Hydration Lotion (SP30).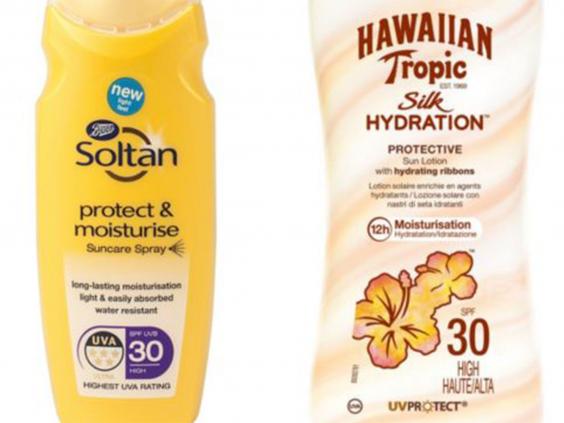 Representatives from the companies strongly contested the Which? findings, saying their products offered at least the protection stated on the bottle.
Which? tested 13 products that claimed to have an SPF of 30, testing both their SPF and UVA protection.
SPF is a measure of protection from UVB rays, the radiation that causes sunburn.
UVA rays are  more prevalent, accounting for most of the UV radiation that reaches the planet, but are less intense than UVB.
Both products passed the tests for ultraviolet A (UVA) rays.
Cancer Research UK advises that sun creams can only offer partial protection from the sun's rays and advises using them along with shade and clothing to minimise the risk of too much exposure to UV rays.
Reuse content