It's the question that gets asked each and every year: will it be a white Christmas in the UK?
This year, the conditions might just be right for those who live in the north of England and in Scotland, but only around higher ground of 200 metres, in places such as the Pennines area or the Lincolnshire Wolds.
The Met Office said that Christmas Day will be cold, crisp and sunny up and down the country, with showers likely to turn wintery over higher ground in the north and Scotland, causing snow.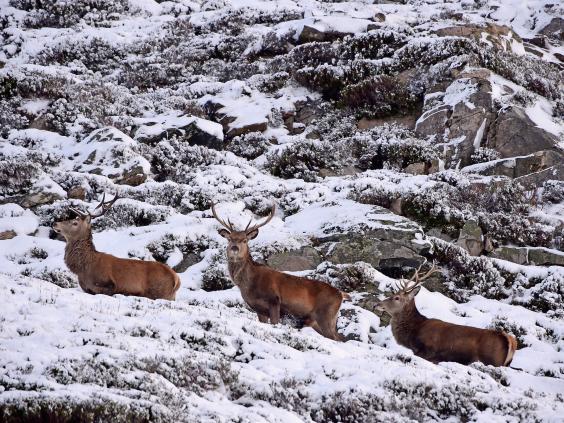 People can expect to wake up to a frosty start on Christmas morning as overnight temperatures will be around freezing, dropping as low as -3 degrees in rural areas, though it will become warmer throughout the day, reaching highs of 5 or 6 degrees in the north and 8 or 9 degrees in the south.
But unfortunately for those living in the south, snow at lower levels "looks unlikely".
The Met Office spokesman stressed that as Christmas Day is still six days away, the forecast "could still change".  It is not possible to accurately forecast whether snow will fall on any given Christmas day until five days beforehand.
Stunning images of winter in UK
Stunning images of winter in UK
1/11 Winter UK

Ice covers a lake in Richmond Park, south west London

2/11 Winter UK

Blizzards sweep through Kielder in Northumberland

3/11 Winter UK

Horse riders travel though overnight snow near Leyburn in the Yorkshire Dales

4/11 Winter UK

Sheep on a farm near the Bridge of Cally in Scotland

5/11 Winter UK

A Jay bounces through the snow in Kielder Forest, Northumberland

6/11 Winter UK

Don Clegg (82) from Kielder in Northumberland, takes a walk out along the road through Kielder as snow sweeps across the area

7/11 Winter UK

A snowy scene in Northumberland

8/11 Winter UK

A digger frozen into some water in a field in Northumberland

9/11 Winter UK

First snow of the winter at Hadrian's Wall

10/11 Winter UK

A walker crosses the Pennine paths near Hawes in North Yorkshire

11/11 Winter UK

A deer stands in frost covered grass in Richmond Park, south west London
A severe weather warning has been issued for today through to Saturday morning across Central Scotland and the Strathclyde, Grampian and Highlands areas, causing hazardous driving conditions from icy patches and drifting of the lying snow from strong winds.
For the next two days the UK will be under a "colder air mass" seeing temperatures drop from the mild temperatures experiences recently to temperatures more common for December, reaching 5 or 6 degrees in the north and between 9 and 10 in the south.
The weather is expected to feel mild again between Sunday and Wednesday next week, but with added rain across the UK.
Reuse content