These remarkable pictures show the moment plumber and professional surfer, Andrew Cotton, may have broken the record for the largest wave ever surfed.
Cotton, 34, tackled the monster wave in stormy seas off the coast of Nazaré, Portugal, on Sunday.
The photographs are taken on the notorious Praia do Norte beach near the fishing village of Nazare on Portugal's Atlantic coast. The beach is a favourite spot for extreme surfers thanks to its huge waves.
Estimating the size of the wave experts have suggested it could be at least as big as the 80ft wall of water that Cotton rode in October of last year.
Local photographer Bruno Aleixo told the North Devon Journal that the wave looked as big as his earlier effort.
Cotton, along with fellow extreme surfer, Garrett McNamara, who had been tempted to fly to Portugal from his home in Hawaii amid rumours of a massive swell, both caught a huge wave each.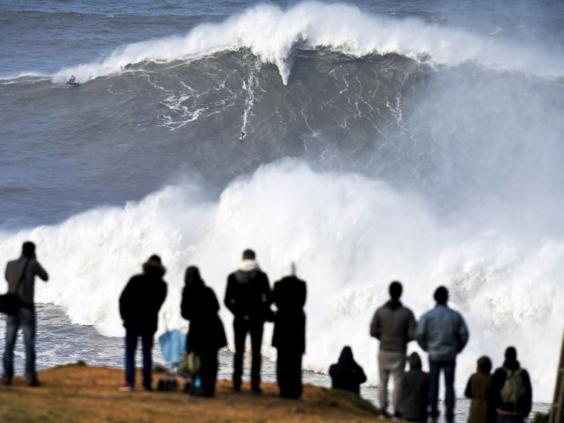 Mr Cotton told the North Devon Journal: "It was victory at sea, really. I got one wave, as did Garrett.
"It was stormier, so way harder to drive the jet ski and surf. It was bordering on not surfable."
Whether or not the waves that Cotton rode in October, and then again yesterday have beaten the world record will be decided by Billabong XXL judges in March.
The current world record for the biggest wave ever surfed is held by Garrett McNamara who successfully surfed a 78ft wave off Nazaré in November 2011.