Hundreds of people will gather outside Parliament to inhale nitrous oxide, or laughing gas, to protest against "ridiculous" government plans to ban the supply of psychoactive substances.
The "mass inhalation" on Parliament Square is being staged by opponents of the Psychoactive Substances Bill, which would outlaw the sale of mind-altering legal highs, with exemptions for alcohol, nicotine, caffeine and medical research - but not for so-called 'hippy crack'.
More than 500 people have signed up on Facebook for the event - whose motto is "my mind, my choice" and which is organised by The Psychedelic Society, a new pressure group for "people fascinated by and appreciative of psychedelic substances".
Protesters say that the draconian proposed law is "ridiculous".
They wrote on Facebook: "We should be free to buy, sell and use whatever substances we want, so long as we do so responsibly and without harming others. These are our bodies, our minds, and it should be up to us what we do with them."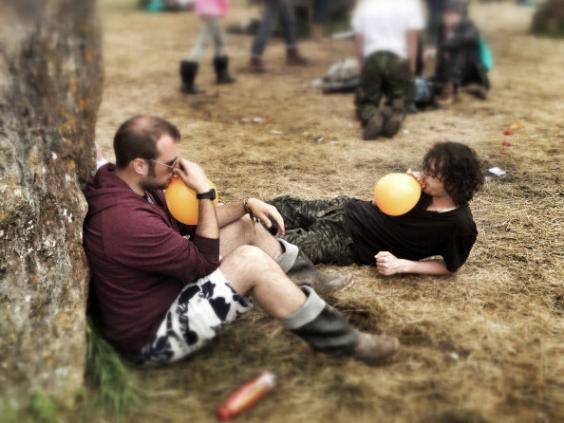 Makers of synthetic legal highs have circumvented previous bans by changing the chemical make-up of proscribed substances, prompting the government to seek a blanket ban.
According to an early draft of the bill, the proposed law would ban the sale or supply of any drug that "is capable of producing a psychoactive effect in a person who consumes it ... by stimulating or depressing the person's central nervous system, affects the person's mental functioning or emotional state".
The House of Lords was due to debate the bill at second reading on Tuesday. It is expected to have widespread across the chamber, despite warnings that 450 high-street 'head shops' with turnover of £82m per year, could be forced to close.
Protest organiser Stephen Reid, founder and director of the Psychedelic Society, said he wanted to start a discussion about British drug laws.
He told Buzzfeed News: "You may not want to take nitrous oxide but it should be up to an individual to decide whether or not to use it."
"Plus there have been so many artists over the years mentioning psychedelics – it's certainly embedded into our culture."
Laughing gas - the second most popular recreational drug in Britain - was chosen for the protest because it is "short-acting" and currently legal, Mr Reid added.
The drug has garnered a high profile of late, after it was reportedly taken by Liverpool footballer Raheem Sterling. It was linked to 17 deaths between 2006 and 2012, according to an analysis of coroners' reports by academics at St George's, University of London.
The protest was scheduled for 3pm on 27 June but has been postponed until an unspecified later date.
Reuse content