Video from a motorist shows a bizarre, surreal scene in Yorkshire, where the lampposts along the M62 motorway shake violently from side to side, as if made of rubber.
The footage was shot by a Lincolnshire driver called Bob Hill, who uploaded the video onto his Facebook page, sparking a wave of internet interest in the weird phenomenon.
The lampposts along the centre of the M62 near Lofthouse, Yorkshire, are seen swaying from side to side, never looking like they are about to topple but looking rather worryingly flexible.
"Jesus! I've never seen it do that before!" Hill can be heard exclaiming as he watches the scene. Notably, not all of the lampposts are swaying along the motorway, only a select few.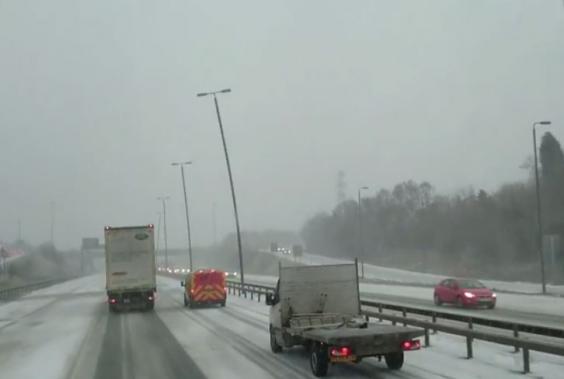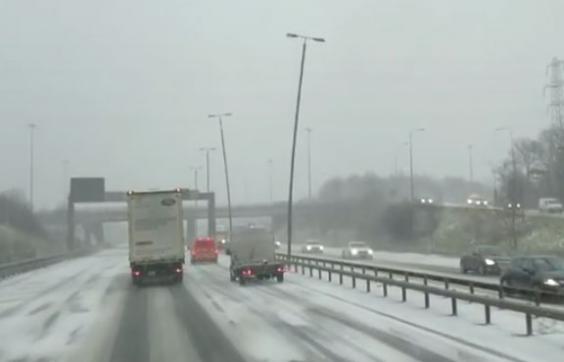 The incident occurred during a week of extreme weather in the UK. "Thundersnow" storms have battered large parts of northern Britain during, with up to 9in (23cm) of snow falling in some parts of Scotland, forcing 300 schools to close, while roads ground to a halt and flights were cancelled.
A Highways Agency spokesperson said the swaying was caused by "vortext shedding."
"It is it is when the natural frequency of the lamp column matches the speed of the wind: it only happens at certain wind speeds and is a known but fairly rare event," the agency said.
The video is made all the more surreal by the sound of Donna Summers' "Could It Be Magic" playing on the car radio, as if the lampposts are dancing to the 1970s classic.
Reuse content