London Luton's airport is to re-open after passengers were evacuated from the premises and all incoming flights suspended when a suspicious item was found in the security search area.
Police were called at approximately 1.30pm this afternoon. After consulting with airport staff, officers evacuated passengers from the the entire airport.
Hundreds of passengers were left to wait outside the terminal following the evacuation.
Shortly before 3pm a bomb disposal team arrived at the airport and carried out a controlled explosion at around 5pm.
Bedfordshire Police have confirmed that the item was safe and no arrested have been made. The airport will be opening soon, but passengers should expect delays, the force added.
Following road closures around the airport, the shutdown also led to serious road congestion which spread to the nearby M1.
Henry Mead, who was inside at the time of the evacuation, said to The Independent, "it was chaos".
Gavin Harper, another person who was travelling at the time, tweeted during the evacuation: "Chaos at Luton. Just been evacuated".
 
Mr Harper then began tweeting a series of pictures of what appears to be the bomb disposal squad arriving.
Bomb disposal van moving pic.twitter.com/EKlWQKq6td

— gavindjharper (@gavindjharper) September 8, 2014
Speaking to The Independent, he said most people were calm, although it was "very hot" and there was "not much" water for the passengers waiting in Luton's car park.
Bedfordshire Police confirmed that they had cleared the departure lounge at Luton, the country's sixth biggest airport which primarily serves holiday destinations.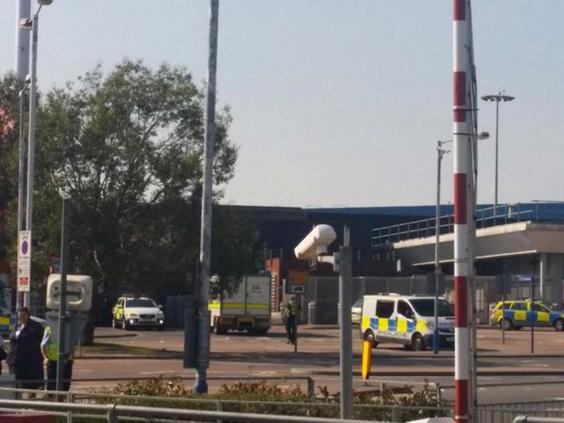 A statement on the London Luton airport earlier in the day explained: "London Luton Airport has evacuated the terminal building after a suspicious item was found in the security search area."
The statement continued: "All incoming flights have been suspended and the approach road to the Airport has also been closed."
Britain recently raised its international terrorism alert to its second-highest level, saying Islamic State in Syria and Iraq posed the country's greatest-ever security risk.
Reuse content