Metropolitan Police officers have arrived in Turkey as the search for three missing British schoolgirls, believed to have travelled to Syria to join Isis, continues.
Shamima Begum, 15, Kadiza Sultana, 16, and Amira Abase, 15, flew to Istanbul, Turkey, on Tuesday.
Yesterday, Amira's father Abase Hussen appealed for his daughter's return. "We miss you. We cannot stop crying. Please think twice. Don't go to Syria."
Video: William Hague on missing schoolgirls
A Met Office spokesperson confirmed to The Independent that officers from the MPS Counter Terrorism Command were in Turkey and that they were "working closely with Turkish authorities" to trace the location of the girls.
A Daily Telegraph report claimed that Turkish intelligence officials believe the trio, who all attended Bethnal Green Academy in east London, may have already crossed the border to Isis territory.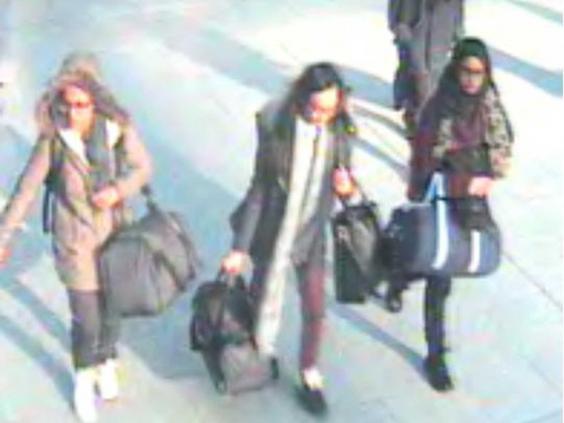 At least one of the girls is believed to have been in contact with Aqsa Mahmood, who fled the UK last November to join Isis, also known as the Islamic State, before reportedly marrying an extremist fighter in Syria.
Ms Mahmood, who was raised in Scotland, has been branded a "disgrace" by her family after it emerged that she may have enticed the younger women to join her.
Through their lawyer, Ms Mahood's family said they were "full of horror and anger" that she may have helped with the "recruitment of these young girls to Isis".
Power struggle: Isis areas gained and lost
Ms Began, who - along with the other two girls - was last pictured on CCTV going through security at Gatwick Airport, is believed to have contacted Ms Mahmood on 15 February on Twitter.
A message sent to Ms Mahmood, who tweets under the name Umm Layth, from Ms Begun suggests that the two were communicating privately on the social media site.

Ms Begun's elder sister Renu Begum, 27, condemned any attempt by extremists to prey on "vulnerable" youngsters as "cruel" and "evil".
The family of the trio, described as "straight A students", last night issued a plea for the girls to let their families know they are safe.
The sister of Ms Sultana, Halima Khanom, told reporters: "We want you know that we all miss you and we love you.
"Everyone is hurting because we don't know if you are safe, especially mum. Find the courage in your heart to contact us and let us know you are okay, that is all we ask."
Additional reporting by Press Association
Reuse content