A naked man jumped to safety from the window of his third-floor flat after it caught fire – landing on the roof of a double decker bus.
These dramatic images show firefighters tackling the flames inside the apartment, which is above a cafe in Braintree, in Essex.
The man, who is thought to have been in the shower, was trapped when the fire broke out.
Passersby flagged down an off-duty driver, who manoeuvred his double decker bus close to the roof of the flat to help him escape.
Andy Waterman, who is set to receive the chief fire officer's commendation, enabled the stricken man to jump 10ft (3m) to safety, before he was rescued by fire officers.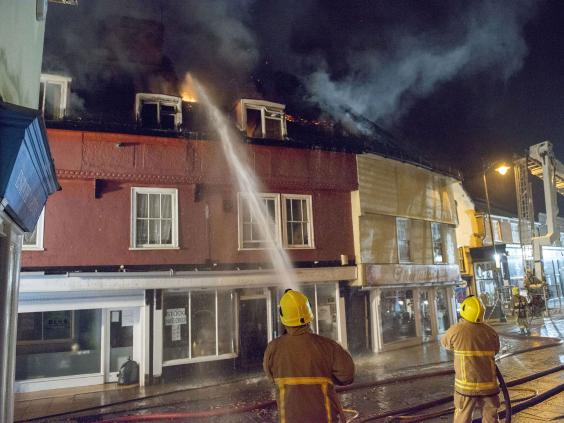 Mr Waterman, from West Mersea, said: "A group of people started flagging me down and they were asking me to stop.
"I asked them what the problem was and they said a man was stuck on the roof of his flat because it was on fire. I drove nearer and all I could see was thick, black smoke.
"I saw the man and thought 'We've got to get him to safety'."
Mr Waterman also told the Braintree and Witham Times that he has been driving buses for eight years, and "nothing like this has happened before."
"It wasn't until I got home that someone said that I had saved a life," he added.
Adrian Jones, managing director of First Essex, told the newspaper that he was "in the right place at the right time".
"We are very proud of Andy," he said.
Police have said they were now treating Wednesday's fire, which happened at around 7.30pm, as arson.
They want to find a man, believed to be aged about 19, who was spotted fleeing the scene.
Reuse content