Parents of toddlers who were killed or left seriously ill from meningitis have urged the government to vaccinate all children up to the age of 11 and increase awareness of the potentially fatal disease among medical professionals. 
Neil and Jenny Burdett, whose two-year-old daughter Faye died on Valentine's Day following an 11-day battle with the disease, said to MPs on Tuesday they were "not taken seriously" by a "dismissive" health worker. 
The distressing image of Faye, from Kent, covered in a rash and lying in a hospital bed just before she was died was shared by her family on social media in February. Their aim was to prevent others suffering from the same fate.
The post prompted a flood of public support for a petition – now signed by over 800,000 people – calling for the meningitis B vaccine to be given to all children. The immunisation for meningitis B began in September last year and is only offered to babies.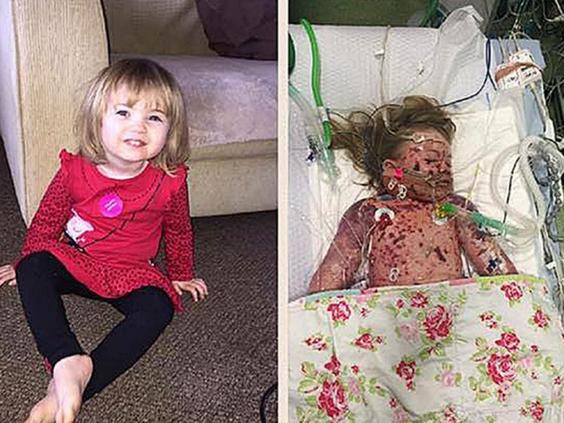 Faye's mother explained to MPs from the Petitions Committee and Health Committee how she called the NHS 111 number to give details of her daughter's symptoms and they sent a paramedic - who advised them to see their family doctor. The GP sent the toddler straight to hospital but she was initially diagnosed with a viral infection and sent home.
Mrs Burdett said: "Our failing, we believe, is when we got to the hospital. We were, I wouldn't say pushed aside..."
Mr Burdett, who said his daughter would still be alive if she had not been misdiagnosed, continued: "Not taken seriously I think, and the GP was not taken seriously… she was dismissive."
He told MPs: "We were there (at hospital) for two hours and discharged with a viral infection. Six hours later we were back there and she was critically ill. So we do obviously have issues with diagnosing it."
"There is definitely a difficulty with diagnosing it, either that or they don't want to jump to that but I would say that there is an issue there."
"It's that seven hour gap where she was given no treatment - that's when we lost Faye because the meningitis was allowed to progress too far."
More than 823,000 people signed the petition but the Government rejected calls for the meningitis B vaccine to be given to all children, with officials saying the NHS budget is a "finite resource".
The Department of Health has said its priority is to vaccinate those children considered most at risk from meningitis B. It said it is following guidance from the Joint Committee on Vaccination and Immunisation, which advises the Government on the cost-effectiveness of vaccinations.
Speaking after the hearing, ex-England rugby captain Matt Dawson, added: "Cost effectiveness gets mentioned numerous times in the response from the Government so you know it's high on their agenda but what are the ramifications of these children that are maimed by this disease? The cost of that to the tax payers is absolutely enormous.
"I would like to think that it would be slightly more cost effective to have the vaccine rather than treat it and having to go through the pain and emotion that these families have."
Mr Dawson joined the campaign following his two-year-old's fight with meningitis W, which he survived, earlier this year. 
Additional reporting by Press Assocation
Reuse content