The Metropolitan Police have released helicopter footage from 4 September 2014, when 25-year-old Nicholas Salvador rampaged through the streets of the north London suburb of Edmonton.
Mr Salvador attacked 82-year-old Palmira Silva in her home, stabbing the great-grandmother multiple times before cutting off her head and holding it aloft, the Old Bailey heard.
The first video shows Mr Salvador shirtless with black trousers, holding a knife and stick as he wanders through the back streets of Edmonton, eventually climbing a fence and smashing through the back door of a house. He keeps looking up at the helicopter overhead, but appears unperturbed by the presence.
He emerges from the front of the house moments later, before approaching a parked car with a driver inside. He begins striking the passenger window, forcing the car to drive off.
The policeman in the helicopter can be heard saying that the man has "serious mental health issues."
A second video released by the Met shows Mr Salvador near the home of the victim, Ms Silva. It shows him charging through several back gardens, pushing fences down and coming to just a few feet from what appears to be a boy and another man in their garden. He tears down  a fence and enters the back door of another home.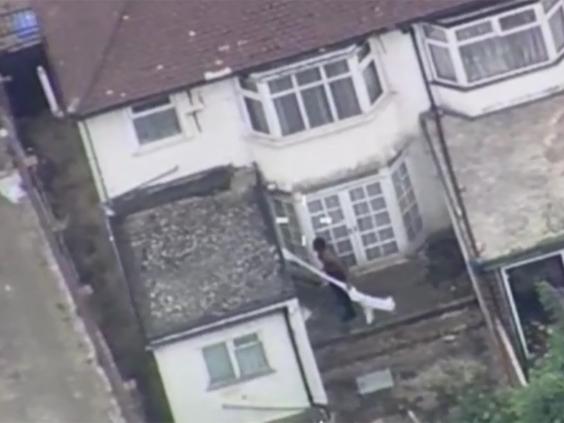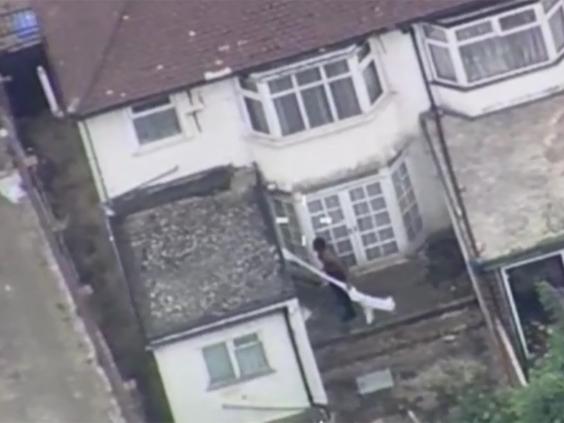 The helicopter officer can be heard saying, 'We need units inside this premise to save life, Asap."
The next-door neighbours retreat inside to their home while police climb on top of the extension to the house. Police officers soon surround the front and back of the house and get all residents out of harm's way.
It emerged that the police officer on the roof was warning the children next door to get inside, despite being unarmed and unarmed cops being told to keep back from Mr Salvador. The officer was commended for his bravery.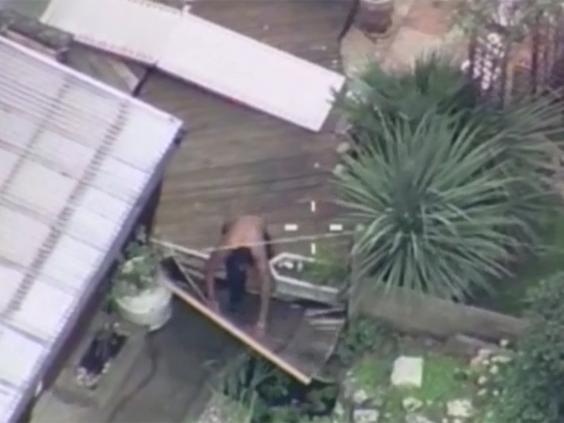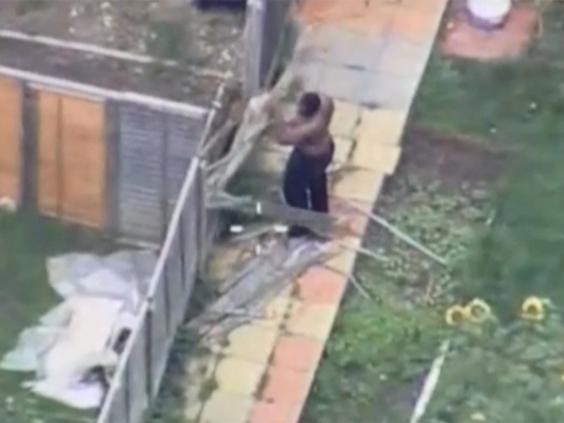 Mr Salvador was eventually restrained in a neighbour's front room during a violent confrontation, in which he was tasered six times, and left an officer injured.
The court heard that Mr Salvador had torn down the fences and kicked in neighbours' doors in the belief he was killing "demons".
Mr Salvador, a cage fighting hopeful who had lost his job in billboard advertising three days before, thought Mrs Silva was a supernatural entity – either a demon disguised as an elderly lady or Adolf Hitler returned from the dead.
Mr Salvador was found not guilty after he denied murder by reason on sanity and was assessed by two psychiatrists as suffering from paranoid schizophrenia. He will be confined in a high-security psychiatric hospital for life.
The jury took just 40 minutes to return the not guilty verdict at the Old Bailey this morning.
Mr Salvador is expected to continue receiving treatment at Broadmoor high security hospital, having been moved from Belmarsh prison following his mental state.
Additional reporting by Press Association
Reuse content