Nigel Farage told the Today programme that Ukip is "100 per cent united," despite one of the most tumultuous weeks in its 22-year history as the party descended into civil war.
There are plenty of reasons why the evergreen Ukip leader is 100 per cent wrong - we've picked out the top six.
1. Ukip press office admitted it was at war
The party sent out a statement last week admitting its internal row over whether to accept millions of pounds in taxpayer funds was "ongoing" as Mr Farage and Ukip's only MP Douglas Carswell attempted to come to an agreement.
Mr Carswell said his party should be "prepared to reject" the annual sum of £650,000 of "Short money" it was entitled to after winning nearly four million votes at the election, insisting he was "not a US senator - I don't need 15 staff". Initially Mr Farage insisted the party should accept the full sum and use it to represent its voters.
He later performed a complete U-turn and said Ukip should not receive any of the funds - again at odds with Mr Carswell, who wanted to accept £350,000. After all, he has to employ some staff.
2. His senior colleagues stab him in the front
Patrick O'Flynn claimed Mr Farage had transformed into a "snarling, thin-skinned, aggressive" man after the election.
He said his reappearance as Ukip leader leaves the party looking like a "personality cult" and Mr Farage had changed from being "cheerful, ebullient, cheeky, daring" under the influence of his advisers.
Stubborn Mr Farage is adamant his party's tone "isn't going to change" in light of Mr O'Flynn's attack, insisting this morning that he fought a wholly "positive campaign".
3. Two of Farage's key aides lost their jobs after the attack
Mr O'Flynn's onslaught led to two of Mr Farage's closest aides leaving the party – Raheem Kassam left with a parting shot at Mr O'Flynn, claiming he had "personal problems" while it was also announced that party secretary Matthew Richardson would stand down.
He was blamed by senior party figures for pursuing a "poisonous" far-right direction in the run-up to the election.
4. His senior colleagues also stab him in the back
Just one week ago Mr Farage admitted there was a senior figure in Ukip calling for a change in leader. "There is one person in Ukip agitating for change and for a leadership election, he hasn't had the courage to break cover but he must make his mind up: is his future with Ukip or not?" he asked.
That figure was widely-believed - and reported - to be Douglas Carswell, Ukip's only MP.
It later emerged that it was a certain Mr Carswell was the 'senior party source' who had alleged Mr Farage had never formally resigned as Ukip leader in order to avoid a leadership contest and potential legal action.
Shortly afterwards Mr Carswell again popped up - this time with a piece of advice for his leader.  "I'm suggesting he takes a break as leader," he said in an interview with the BBC, adding: "I'm not suggesting he takes a break from being leader."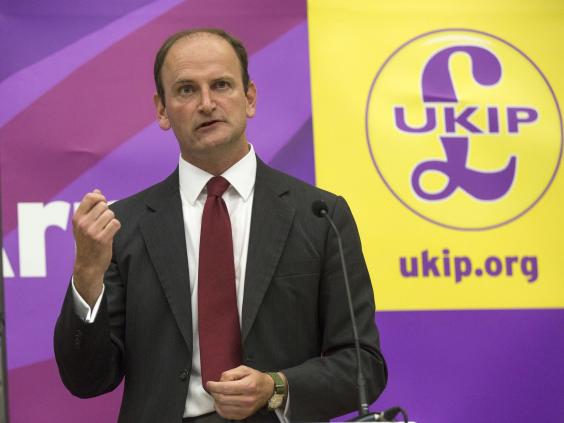 5. Senior Ukip figures step down amid claims they were sacked
Two of the parties' senior figures and rising stars – Mr O'Flynn and Suzanne Evans – have left their paid policy briefs. Mr O'Flynn was the party's economic spokesman but said he was quitting his paid policy brief after regretting his public spat with Mr Farage. Paul 'Gobby' Lambert also lost his job as Mr Farage's director of communications, less than six months after being appointed.
Ukip's rising stars
Ukip's rising stars
1/7 Suzanne Evans

A Tory defector who has only been in the party for a year. She was rapidly appointed national communities spokesman. A former BBC reporter who now runs a PR agency, she has won plaudits within the party for her confidence in front of the camera.

2/7 Steven Woolfe

A barrister from Manchester whose father was mixed-race and mother was white. He was invited to become financial services spokesman before he had even joined Ukip. Now an MEP, his ethnicity and northern upbringing are in strong contrast to the Ukip stereotype.

3/7 Margot Parker

A local businesswoman who impressed Ukip's hierarchy with her spirited campaign in the Corby and East Northants by-election 18 months ago. She was elected as an MEP for the East Midlands last week. She has a no-nonsense style which party chiefs believe will be persuasive on the national stage.

4/7 Patrick O'Flynn

A former Daily Express journalist who became Ukip's director of communications and was a strategist behind the Euro-elections campaign. An experienced performer on television who is close to Mr Farage. With his media background he could become a culture spokesman.

Rex

5/7 Amjid Bashir

A restaurateur of Pakistani lineage who is one three Ukip MEPs representing Yorkshire and the Humber and currently speaks for the party on small business. After his election he said: "Here I am... of Asian birth, of Asian parentage, Muslim, and I have been selected by this so-called racist party. It disproves that completely."

Rex

6/7 Louise Bours

Until her combative appearance alongside Piers Morgan and Joey Barton on Question Time last Thursday, she was one of Ukip's lesser-known faces. The new MEP for the north-west is a former actress whose full name is Louise van de Bours. Her northern credentials could come in handy in wooing Labour-leaning voters.

7/7 Paul Nuttall

Long serving activist from Merseyside who became Ukip's chairman in 2008 and deputy leader two years later. He is a key weapon in the party's attempts to broaden its appeal to working-class voters in the North of England.

PA
On the same day as Mr O'Flynn left his job, Ms Evans announced she was leaving her role in charge of developing Ukip's policy, with suggestions that Mr Farage would appoint loyal former MP Mark Reckless to the role. He was ousted from his Rochester and Strood seat at the election, despite winning a by-election last autumn when he defected from the Tories.
Ms Evans rejected the suggestion that she and Mr O'Flynn had been moved aside in a "purge" of disloyal figures, insisting  it was a "coincidence" that three senior figures had all  lost their jobs.
6. Farage makes a statement about his future; senior colleague brushes it aside as 'a joke'
On the same day as Mr Farage declared he wanted to lead the party for the next 20 years, Suzanne Evans, who has since stepped aside, undermined him by claiming he was joking.
"I think it's a joke, I think it's a joke. He's done this for 23 years," she said before telling her leader: "Have a holiday. Have a holiday, Nigel. You know everyone needs a holiday. It's been such a tough time."
Reuse content