Lord (Jonathan) Hill, the Leader of the House of Lords, was named today as Britain's next member of the European Commission.
The former political secretary to John Major will be seen as a conciliator who can build bridges with the UK's EU partners following David Cameron's failed attempt to block the appointment of the federalist Jean-Claude Juncker as president of the European Commission.
Lord Hill, a former Education minister, is one of the quiet men of the Government. His appointment to the Commission, where he will succeed Baroness (Cathy) Ashton in the autumn, will disappoint some Tory Eurosceptics who hoped to see one of their own sent to Brussels. His specific post in the Commission will need to win the approval of the European Parliament.
His elevation - on the day Mr Cameron detailed his Cabinet reshuffle -  means the Prime Minister avoids the by-election that choosing an MP would have triggered.
Mr Cameron said: "Lord Hill will bring an excellent combination of political and private sector experience to this role. Half his career has been spent in business, half in government at the highest levels, most recently doing an excellent job as Leader of the House of Lords where he has proven a skilled negotiator respected by all parties. And having founded his own company, he also has a strong understanding of the private sector and how the EU can help businesses to generate growth and create jobs."
The Prime Minister telephoned Mr Juncker yesterday to nominate Lord Hill as UK Commissioner. Mr Juncker welcomed the extensive political experience that Lord Hill would bring to any role, Downing Street said.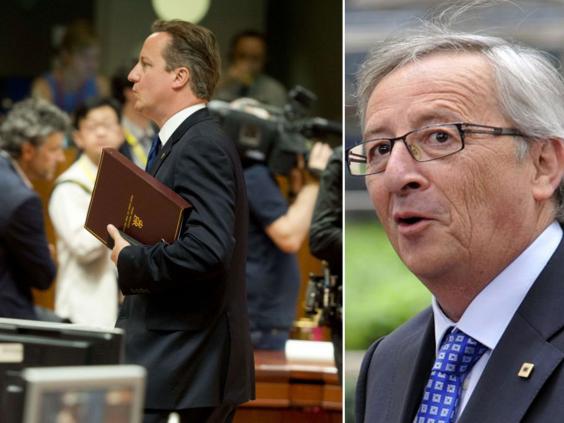 Nick Clegg, the Deputy Prime Minister, backed the move. He said: "Lord Hill's experience and the respect he commands across all parties makes him the right candidate to be the UK's next European Commissioner. I have no doubt that he will promote British interests in Brussels by working constructively inside the European Commission and positively with our European partners."
Lord Hill said: "The EU faces two great challenges. First, how to spread growth and jobs across Europe. Second, how to strengthen public support in many countries for the European Union. The European Commission will have a vital role to play in delivering that change. So it's a huge responsibility to have the opportunity to play a part in reforming the EU but it is one that I am excited to have been offered. I look forward to working with Jean Claude Juncker, other member states and the European Parliament to achieve this change."
Reuse content