Alex Salmond formally resigned as Scotland's First Minister today, predicting in his valedictory speech that "more change and better days lie ahead" for the country he has led for the past seven and a half years.
During his farewell address at Holyrood, which was greeted with a standing ovation from MSPs, Mr Salmond said Scotland had "changed utterly and much for the better" in the 15 years since it was granted its own parliament.
Praising his replacement Nicola Sturgeon, he said: "Any parting is tinged with some sorrow, but in this case it is vastly outweighed by a sense of optimism and confidence. Confidence that we will have an outstanding new First Minister. Confidence in the standing and the capability of this chamber, and most of all confidence in the wisdom, talent and potential of the people of Scotland."
Mr Salmond, who early in his career was suspended from the House of Commons for disrupting the then-chancellor Nigel Lawson's budget speech, slowly rose through the political ranks to become leader of the Scottish National Party (SNP).
He has since become Scotland's longest-serving First Minister, taking his country to the brink of independence from the rest of the UK in September's closely-fought referendum. He announced his intention to step down hours after the No side's victory was confirmed.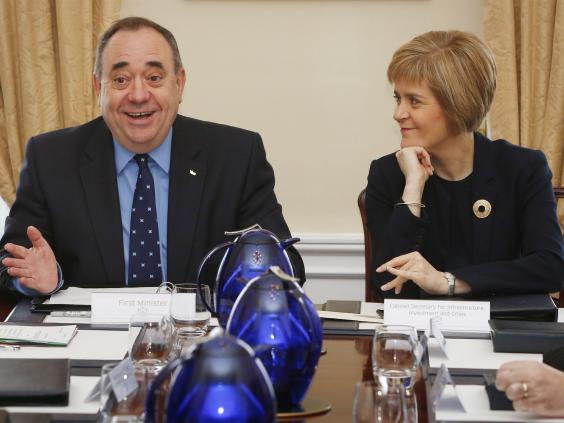 Mr Salmond's rival party leaders had mixed words about his legacy. Comparing him with Margaret Thatcher, Scottish Liberal Democrat leader Willie Rennie said he had been "a Marmite figure, with his supporters as passionate as his detractors".
Labour's Jackie Baillie said she had "sparred, disagreed and fallen out" with Mr Salmond, but added that she recognised his commitment to public service, describing him as "a towering figure in Scottish politics".
Scottish Conservative leader Ruth Davidson added: "To have served two decades at the helm, and more than seven years as First Minister, is a feat of enormous stamina, will-power and discipline."
There is much speculation that Mr Salmond will soon return to Westminster as an MP, standing for a seat in the House of Commons at the general election in May.
In pictures: Alex Salmond's campaign for Scottish independence
In pictures: Alex Salmond's campaign for Scottish independence
1/9 The campaign for independence

Alex Salmond stepped down as Scotland's First Minister and the leader of the SNP after the country voted no to independence

Getty Images

2/9 The campaign for independence

Alex Salmond said he accepted 'the democratic verdict of the people'

PA

3/9 The campaign for independence

First Minister of Scotland Alex Salmond chats to school children at Strichen Primary School in Strichen

PA

4/9 The campaign for independence

Scotland's First Minister Alex Salmond delivers his final independence speech to supporters in Perth

EPA

5/9 The campaign for independence

On the last day of campaigning before the polling booths open, the SNP leader has written to voters in a final attempt to convince them to vote for independence

Getty

6/9 The campaign for independence

It was decided to give Alex Salmond, free of charge and for nothing, an extra year in government

AFP

7/9 The campaign for independence

Alex Salmond and Alistair Darling taking part in a live television debate in Glasgow on 25 August

Getty Images

8/9 The campaign for independence

Alex Salmond during the live television debate with Alistair Darling at the Royal Conservatoire of Scotland on 5 August in Glasgow

Getty

9/9 The campaign for independence

Scottish First Minister Alex Salmond presents the White Paper for Scottish independence

Getty Images
Reuse content