Charles Kennedy's 'heart was not in' the Better Together campaign against Scottish independence, Alex Salmond has said.
The former Scottish first minister described Mr Kennedy as "an extremely generous human being" who had "the common touch".
But he added that he did not believe Mr Kennedy's support for Scotland remaining in the United Kingdom was wholehearted and that he would have been more at home defending membership of the European Union.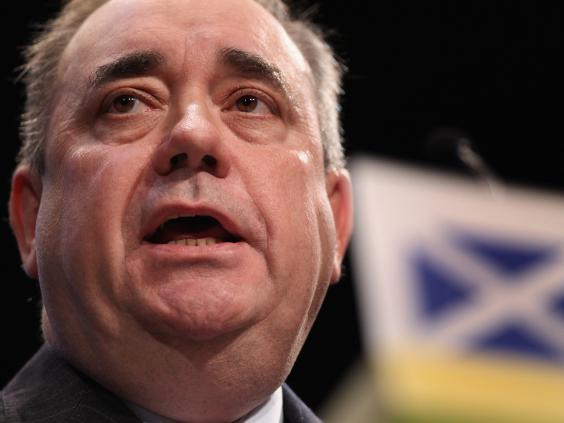 "In terms of the independence referendum, I don't think his heart was in the 'Better Together' campaign," he told BBC News.
"His heart would have been in a pro-European campaign, that's a campaign that Charles would have engaged in heart and soul. That is something he absolutely believed in."
He added: "He was an interesting, complex character, but above all an outstanding communicator. But, a fine human being."
A number of people on social media were critical of Mr Salmond's comments, perceiving them to be inappropriately political:
At least Dante waited 1000 yrs & more before making Virgil a Christian. Charles Kennedy is barely dead & Salmond is making him a nationalist

— Tom Holland (@holland_tom) June 2, 2015
I won't even dignify Alex Salmond's remarks. Charles Kennedy was a finer and more credible politician than AS can ever claim to be. End of.

— Alison Harper (@ali_harper) June 2, 2015
Screw you, Salmond. Charles Kennedy had more integrity & passion than you'll ever possess. https://t.co/MPYluBTXir

— Kayleigh Anne (@Ceilidhann) June 2, 2015
What a nasty little man Alex Salmond showed himself to be. His snide political jibes during his 'tribute' to Charles Kennedy were disgusting

— Kath Rowson (@KathRowson) June 2, 2015
What a mean-minded reaction to Charles Kennedy's death. Says everything about Salmond. https://t.co/c24R3EVvZQ

— Jackie Hunter (@JackieHunter1) June 2, 2015
Mr Kennedy died suddenly at home in Fort William aged 55, according to a statement by this family.
Charles Kennedy - his political career in pictures
Charles Kennedy - his political career in pictures
1/18 1986

Charles Kennedy at the SDP conference in September 1986. He had become Britain's youngest MP three years earlier and the party later merged to become the Liberal Democrats.

Getty Images

2/18 1987

Charles Kennedy attends the Joint Liberal Assembly, October 1987.

Getty Images/Hulton Archive

3/18 1999

Charles Kennedy being congratulated by his girlfriend and future wife, Sarah Gurling, and mother Mary after being elected Lib Dem leader in 1999

PA

4/18 2001

Charles Kennedy greeting supporters at a rally before the 2001 general election, when he was the Lib Dem leader

Getty Images

5/18 2002

Mr Kennedy at his wedding to Sarah Gurling, outside the House of Commons in London. The couple divorced in 2010.

Getty Images

6/18 2003

Charles Kennedy speaks during a question and answer session at the Liberal Democrat Party annual conference in Brighton

Getty Images

7/18 2004

Charles Kennedy and his then wife arrive at the British Academy Television Awards in London

Getty Images

8/18 2005

Charles Kennedy unveiling a Lib Dem campaign poster ahead of the 2005 general election

Getty Images

9/18 2005

Charles Kennedy with his then wife Sarah and new born son Donald James on 12 April 2005. He returned to the election campaign trail days later

Getty Images

10/18 2005

Charles Kennedy celebrating the Lib Dems' gains after the 2005 general election, when the party won 62 seats

Getty Images

11/18 2006

Charles Kennedy admitted his drink problem and called a leadership election in January 2006

Getty Images

12/18 2006

Charles Kennedy is canvassing in Dunfermline for a by-election a month after his resignation as Lib Dem leader

Getty

13/18 2006

Sir Menzies Campbell, Lord Rennard and Simon Hughes give Charles Kennedy a standing ovation after his speech to the party conference in September 2006, his first since his resignation

Getty Images

14/18 2007

Charles Kennedy and his predecessor Paddy Ashdown congratulating Nick Clegg on his election as Lib Dem leader in December 2007

AFP/Getty Images

15/18 2010

Charles Kennedy with Nick Clegg on the campaign trail ahead of the 2010 general election

Getty Images

16/18 2011

Charles Kennedy launching the pro-AV campaign for the 2011 proportional representation referendum in Glasgow

Getty Images

17/18 2014

Charles Kennedy with Danny Alexander and fellow Lib Dems campaigning for a 'no' vote in the Scottish independence referendum in 2014

AFP/Getty Images

18/18 2015

Charles Kennedy campaigning with Jo Swinson in East Dunbartonshire in April ahead of the 2015 general election, where he lost his seat

Getty Images
Police Scotland said the death is not being treated as suspicious.  A post-mortem is set to be carried out.
"Charles was a fine man, a talented politician, and a loving father to his young son. We ask therefore that the privacy of his family is respected in the coming days," his family's statement said.
Mr Kennedy led the Liberal Democrats to their best ever general election result in 2005 when they gained 62 seats.
He led the party between 1999 and 2006 and was an MP in the Highlands of Scotland between 1983 and 2015, having lost his seat to the SNP at the last election.
Reuse content