Nigel Farage suffered a setback ahead of his second head to head clash with Nick Clegg after a poll found nearly four in 10 voters viewed the UK Independence Party leader as a "danger to Britain".
The verdict came after he named Russian president Vladimir Putin as the world leader he most admired and claimed Europe had "blood on its hands" over the Ukraine crisis.
Mr Clegg, the Deputy Prime Minister, is preparing to take the Ukip leader to task over his "utterly grotesque" remarks in Wednesday's televised debate on the European Union.
He will hope to land blows on his rival after a snap poll found a majority of voters believed Mr Farage had "won" last week's confrontation.
The Independent will, in conjunction with the independent factchecking organisation Full Fact, be hosting an online blog during the debate scrutinising the accuracy of the claims made by the two leaders.
Yesterday's ComRes survey for MailOnline found 38 per cent of voters saw Mr Farage as a danger to Britain while 23 per cent who delivered that verdict on the Liberal Democrat leader.
Forty per cent believed the Ukip leader was a "bit sleazy" – almost double the 21 per cent who took that view of Mr Clegg.
However, Mr Farage outscored the Deputy Prime Minister by 25 per cent to 18 per cent for "telling the truth" and by 33 per cent to 14 per cent for "being good to have a pint with".
The Liberal Democrats have accused David Cameron and Ed Miliband of being "missing in action" by snubbing the debates.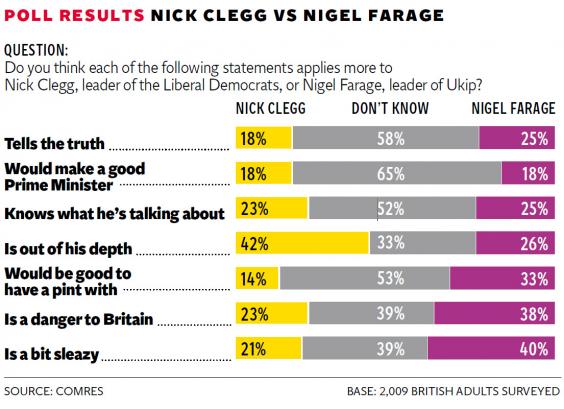 Reuse content