Andrew Smith, the former cabinet minister who unleashed the Corbyn phenomenon, said he had no regrets, even though he had backed a rival candidate for leadership of the Labour Party.
Though his first choice was Yvette Cooper, Mr Smith argued that it would have been "indefensible" to have kept Jeremy Corbyn off the ballot paper, because the party needed an "open debate" on its future.
At the final rally of the Corbyn campaign, with the election seemingly in the bag, his agent and fellow MP, John McDonnell, revealed that, back in June, with only 10 seconds to go, the Corbyn campaign was still one nomination short of the minimum required to get his name on the ballot paper so that he could enter the leadership race.
The rules laid down were that a candidate needed the signatures of at least 15 per cent of the Parliamentary Labour Party, or 35 MPs out of 232, but, with the deadline looming, they had only 34.
Then Andrew Smith, who was work and pensions secretary in Tony Blair's cabinet when Mr Corbyn was attacking the prime minister from the back benches, stepped in to make it 35, for which he received a grateful man hug from Mr Corbyn in a Commons corridor. Mr McDonnell said he would be "forever grateful" to Mr Smith.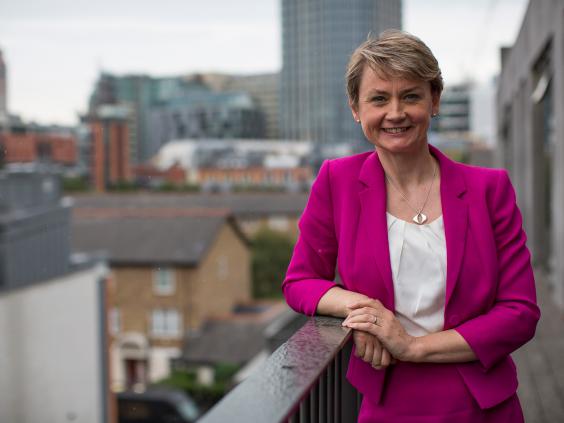 It is thought that fewer than 20 MPs actually supported Mr Corbyn for leader, while another 15 or more nominated him because they believed he should be allowed to run, although they did not expect him to win. They included Sadiq Khan, Labour's candidate to be mayor of London.
Some, including the former interim Labour leader Margaret Beckett, have since expressed regret at their part in letting the Corbyn genie out of the bottle – but not Andrew Smith, although, right up until voting ended, he clung to the hope that Ms Cooper might steal victory from Mr Corbyn.
"Given the level of support shown for Jeremy during the contest, it would have been indefensible not to have had him on the ballot paper," he told The Independent.
"We need to have an open debate. There are things on which I agree with Jeremy, including Trident. I have always voted to scrap Trident. Luckily, there was not a vote on Trident when I was in government."
Jeremy Corbyn praised Mr McDonnell's "powers of persuasion" which were needed to round up the necessary number of signatures. Mr McDonnell responded by telling the final rally, to loud applause: "I'm not going to tell what deals we did – that's for the memoirs."
Labour leadership: The Contenders
Labour leadership: The Contenders
1/4 Jeremy Corbyn

Jeremy Corbyn readily admits he is only standing to ensure the left of the party is given a voice in a contest dominated by candidates promising to move the party towards the centre-ground of British politics

Profiles by Matt Dathan

BBC

2/4 Andy Burnham

Andy Burnham is the current front-runner to win the leadership election according to bookmakers, but the fact that the Conservative party leadership hopes he wins shows the task that awaits if he is Ed Miliband's successor. He will have to find a way of distancing himself from both the last five years under Mr Miliband and the Blair and Brown years, during which he served in the Cabinet

Jon Super

3/4 Yvette Cooper

Yvette Cooper will also face a battle in convincing voters she offers a sufficient break with the past, having served in Gordon Brown's Cabinet and she played a key role in Mr Miliband's team as shadow home secretary. The fact that her husband is Ed Balls will not have a negative impact internally but voters are not likely to look favourably on the prospect of Mr Miliband's ousted shadow chancellor entering Downing Street if Ms Cooper wins in 2020

Getty Images

4/4 Liz Kendall

Liz Kendall faces criticism over her lack of experience – she was only elected in 2010 and has no experience of serving in government and wasn't even in Ed Miliband's shadow cabinet. But that very lack of experience means she can make a pitch as the only candidate offering real change and a real break from the Blair/Brown/Miliband years

Getty Images
The former deputy prime minister John Prescott – still influential in the party – also encouraged MPs last June to get Mr Corbyn's name on the ballot paper, although he was backing Andy Burnham for leader. He later sent an email to supporters saying: "I was glad I encouraged MPs to nominate Jeremy to get him into this race because we really needed a debate on Labour's future. And what a debate it's been! People are flocking to meetings, our number of members and supporters has tripled and there's a buzz about Labour again."
The former social security minister Frank Field, another who nominated Mr Corbyn without intending to vote for him, stuck by his decision. "I do not regret nominating Jeremy Corbyn. I have been surprised, however, by the sheer extent of his success," he wrote in a newspaper article.
But Mrs Beckett, who nominated Mr Corbyn because she feared that there would be resentment on the left of the party if he was not given the opportunity to air his views, later admitted to the BBC: "I'm beginning to wish that I hadn't, to be quite honest."
John McTernan, a former Labour Party official turned political commentator, who worked for Mr Blair in Downing Street, said during the campaign that those who had nominated Jeremy Corbyn when they did not support him were "moronic".
Reuse content