Nadine Dorries, one of the more unpredictable characters in Parliament, has delivered a ringing attack on Sir David and Sir Frederick Barclay, one of whose companies, Shop Direct, is suing HM Revenue and Customs for compound interest for overpayment of tax. She described the twins as "avariciously greedy... notoriously reclusive… notoriously aggressive… deeply hypocritical" and "bullies".
Partly, she objects to the spectacle of rich men who minimise their tax bills by having their homes in Monaco and the Channel Island of Sark pursuing the taxpayer for a huge sum. She may also feel that she has nothing to lose, because the Daily Telegraph, owned by the twins, has been so caustic about her that she may feel there is nothing worse they can do.
She was, for example, stung by what the Telegraph reviewer, Christopher Howse, wrote about the first of her novels, which he described as "the worst novel I've read in 10 years".
Some months ago, Dorries went to the police because she wanted a man who was constantly using social media to attack her record prosecuted and imprisoned under the law against stalking – which I thought had thoroughly sinister implications for free speech. However, to give her credit, this time she has taken on the big boys.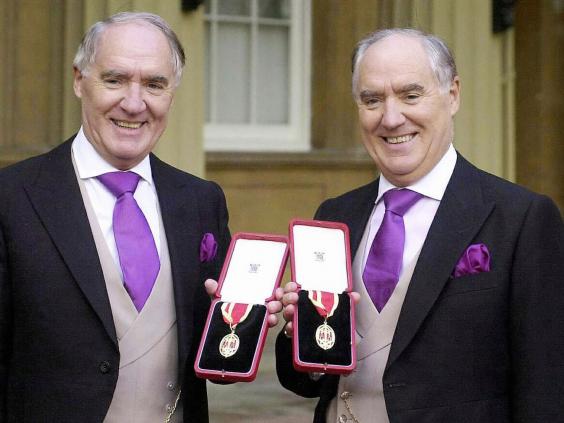 Today she tweeted: "I am actually stunned to discover that there are people who think I don't write my own books. What on earth is that all about?" That is, indeed, strange, because if the Howse review is anything to go by, her novels are so awful that they could not possibly have been written by anyone but Nadine Dorries.
Double grand slam for Blair
"Do you want to win?" Alastair Campbell demanded imperiously of Labour candidates turning down the offer from Tony Blair of £1,000 towards their campaign funds. The question is immaterial in the case of the first, Lesley Brennan, candidate in Dundee East, which is held by the SNP. This is not the year for Labour to be taking seats off the SNP.
The second was Sally Keeble, a minister in the Blair government in 2003 who voted in favour of going to war in Iraq. She is standing in Northampton North, which she lost to the Tories in 2010 by just 1,936 votes, and undoubtedly wants to win. She has obviously calculated that rejecting Tony Blair's help improves her chances.
Johnson likes Labour genes
Rachel Johnson, sister of Boris and Jo, the Tory MP for Orpington, is complimentary about "the relative youth and, yes, diversity, of the genetically blessed (Labour) shadow Cabinet". Writing in GQ magazine, she notes the presence of "ethnic minorities (Chuka Umunna and Sadiq Khan), no less than 14 women – including the experienced street-fighter Harriet Harman – … patrician Tristram Hunt's long legs and big blue eyes, and bonny Andy Burnham's curly eyelashes".
She adds that Ed Balls is "fun" and has "a lovely wife" in Yvette Cooper, while "I honestly think Chuka might be the most beautiful man I've ever met".
Ignoble Lords reprieved
A breakthrough. A law that gives the House of Lords the power to expel members who bring Parliament into disrepute has passed, in the nick of time, despite a delaying action by that implacable quartet of Tory MPs, Peter Bone, Christopher Chope, Philip Davies and Philip Hollobone.
Chope, who was leading the charge, feared that the law might be applied retrospectively. That fear was groundless, because a clause in the legislation spells out that it cannot be used as a punishment for any action committed before the law was passed. Lord Hanningfield and Lord Taylor of Warwick, who have served prison sentences for fiddling their expenses, Baroness Uddin, who was ordered to repay £125,000 she had falsely claimed, and the alleged sex pest Lord Rennard, and every peer who has ever disgraced the place, will be able to dress in gorgeous ermine and return after the election as if they had never done anything wrong.
They will just have to be more careful in future.
Reuse content