Angela Merkel has lent qualified support to David Cameron's plans to restrict state benefits to EU migrants, boosting his hopes of winning a new deal for Britain ahead of an in/out referendum.
In Downing Street talks on EU reform, the economy and Ukraine overshadowed by the terrorist attack in Paris, the German Chancellor backed a clampdown on "abuse" of the free movement of people but insisted that the key EU principle itself was not up for negotiation.
At a joint press conference with Mr Cameron at Number 10, Ms Merkel declined to endorse changes to the EU's governing treaties - one of the Prime Minister's demands ahead of the referendum he has promised in 2017. But British officials described her words as "supportive".
Ms Merkel said she was ready to seek "common solutions" to the UK's concerns about the way the EU works, adding: "Where there's a will there's a way."
She suggested she might back Mr Cameron's demand to end the payment of child benefit to EU migrants whose children do not live in the same country. The Independent revealed in December that the idea is winning the support of the European Commission and Germany.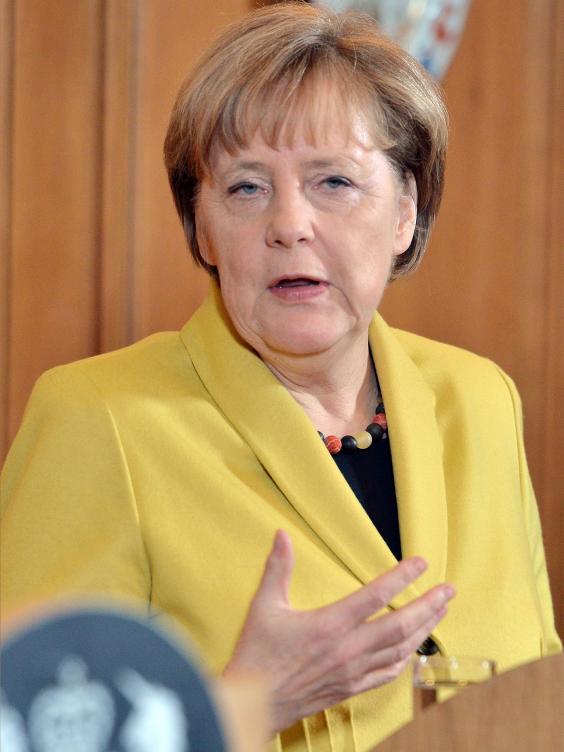 Asked about this proposal, Ms Merkel replied: "We will look at this, we will talk about this, not only as two countries but also with our other partners. In each and every member state there's a necessity to address this issue."
She said: "We have no doubt about the principle of freedom of movement being in any way questioned but we also have to look at abuse of that. We are looking at legislation here, we want to see how this plays out at a local level. One has to take a very close look at the social security systems of individual member states to what extent they have to be adjusted to this situation."
Although EU diplomats believe Mr Cameron will make progress on the child benefit issue, they predict he will find it harder to achieve other items on the "shopping list" he set out last November. These include a four-year wait before EU migrants can claim child benefit and tax credits or secure social housing, and a controversial plan that EU migrants would need to have a job offer before they came to Britain, which is opposed by the Commission. He also wants jobseekers to return to their home country if they have not found work after six months.
The German Chancellor said: "I do not want to hide from how I very much like having the UK in a strong and successful EU."
But her allies said privately there is a limit to the concessions she would give Mr Cameron, whose demands sometimes irritate her government.
The Prime Minister welcomed "the Chancellor's willingness to work with us to find solutions", saying that "where there's a will there's a way" was "very much my attitude too". He said: "I want to fix the problems in Britain's relationship with the EU, which the British people can find very frustrating. I am convinced this can be done."
In November, Ms Merkel's opposition forced Mr Cameron to drop at the last minute a plan to call for a temporary cap on EU migration. He confirmed that his proposals "do not break the principle" of free movement but were about "the way to control the abuse of free movement inside the EU".
He added: "If it isn't possible to achieve these things then I rule nothing out but I am very clear about what I want to achieve: a reform within the EU, a referendum in which Britain decides to stay in a reformed EU."
Reuse content