With her party reduced to just eight MPs by a disastrous general election, Baroness Brinton finds herself in the frontline of a campaign known on social media as #LibDemFightback. The hashtag, hatched on 7 May as her party lost seat after seat, has become an article of faith.
Delegates at the party's conference in Bournemouth are wearing badges bearing the hashtag and an image of two yellow boxing gloves.
As president of the Liberal Democrats, Lady (Sal) Brinton, 60, daughter of a Conservative MP, the late Tim Brinton, is in charge of overhauling the party's convoluted, bureaucratic structure (see box, right). In Bournemouth, she must also rally the troops, a small army of 62,000 that has nevertheless grown from around 45,000 since that near wipeout four months ago.
Lady Brinton says that the "obvious frustration" of having so few MPs has been tempered by "astonishing" council by-election results this summer, which have included gains in Wrexham, Sussex, and Powys in mid-Wales.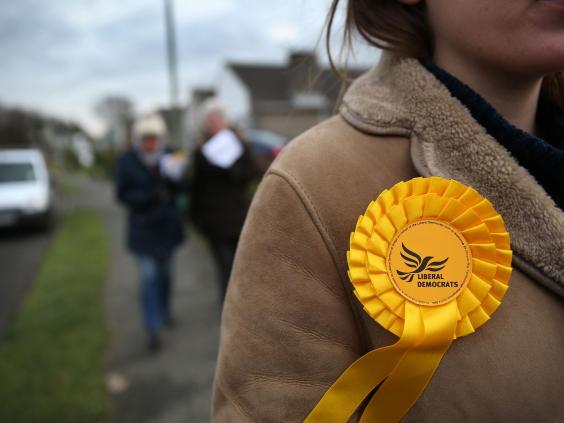 More importantly for the party's future health, about half of those new members are aged 35 and under. No more than one in five are former party activists who left because they were so angry with the Lib Dems for propping up the Conservatives during the coalition years.
"That's a new generation," says Lady Brinton, who spies an opportunity to gain votes from Labour and its Eurosceptic new leader, Jeremy Corbyn, ahead of the referendum on British membership of the European Union. "They're coming through and changing the profile of the party.
"And the vast majority of them [new members], around 80 per cent, are passionate pro-Europeans, and that was one of the key reasons that they have joined the party. It now looks as though we're going to be the only party that is going to be clearly pro-European, which gives us a very interesting role in the referendum that is coming up.
"People are very worried about Corbyn's very ambivalent stance on Europe. The Liberal vote post-Corbyn will be looking to us again – we are now their natural home." Tim Farron, the folksy Westmorland and Lonsdale MP who succeeded Nick Clegg as party leader in July, said that some Labour MPs are considering defecting to the Lib Dems.
Lady Brinton believes that they should only join her party if they share the values of the Lib Dems, which is perhaps an allusion to the party's less authoritarian stance on civil liberties.
The Independent interviewed Lady Brinton the day before the party conference, in a tea room in the House of Lords. It's an ornate place, with oil paintings of historic sea battles and red leather benches – only she can't sit on them.
The major political figures who lost out in the General Election
The major political figures who lost out in the General Election
1/16 Ed Balls

Ed Balls lost his seat in what was the biggest shock of an extraordinary night of election results. His defeat in compounded Labour's woes in a dismal night, which saw the party lose all but one of its Scottish MPs and will undoubtedly lead to Ed Miliband standing down.

2/16 Nigel Farage

OK, so he came close to being upstaged by a professional comedian – Al Murray aka the Pub Landlord, had also lost in South Thanet. But as he lost his fight to become an MP and resigned his Ukip leadership, Nigel Farage did manage to get in a few gags. He began by railing against the editors of the The Sun and the Daily Mail, sarcastically calling them "geniuses". But perhaps bearing the last election in mind, when he was in intensive care following an air crash, he said after the result that he felt "pretty good". "Never felt happier," in fact. A weight lifted off the old shoulders. Quite right too, old boy. More time for the saloon bar and a pint, or five.

AFP/Getty Images

3/16 Vince Cable

A huge scalp for the Conservatives, even though he was part of their coalition government. The Liberal Democrat Business Secretary lost his Twickenham seat to Tory candidate Tania Mathias. Cable had held the seat since 1997 and was a strong figure in the Lib Dems, having previously been deputy leader.

Christopher Furlong | Getty Images

4/16 Jim Murphy

A sign of how dire things are in Scotland now for the Labour party. The leader of the Scottish Labour Party, Jim Murphy, lost his Renfrewshire East to the SNP, having held the seat since 2005. He held a number of cabinet positions under the administrations of Tony Blair and Gordon Brown.

Jeff J Mitchell | Getty Images

5/16 Danny Alexander

The Chief Secretary to the Treasury and Nick Clegg's right-hand man, Danny Alexander, lost his seat of Inverness, Nairn, Badenoch and Strathspey to the SNP. His aides admitted defeat several hours before the formal decision was due. There were suggestions that the SNP vote could be as high as 50 per cent.

BEN STANSALL | AFP | Getty Images

6/16 Esther McVey

The Minister of State for Employment and one of the few women in David Cameron's male-dominate cabinet, Esther McVey had only held Wirral West since 2010. Her 2,436 majority was overturned and Labour's Margaret Greenwood won the seat with a 417 majority.

BEN STANSALL | AFP | Getty Images

7/16 George Galloway

The former Labour MP had held the seat of Bradford West since 2012 for the Respect Party. He previously held the constituency of Bethnal Green and Bow for Respect between 2005 and 2010, although he unsuccessfully contested Poplar and Limehouse in 2010.

Nigel Roddis | Getty Images

8/16 Charles Kennedy

Another huge Lib Dem scalp, with the SNP taking the seat of Ross, Skye and Lochaber from the former leader of the party. Kennedy had led the Lib Dems between 1999 and 2006 and had become something of an elder statesman of the party. He conceded defeat ahead of the official declaration and said he would not give any TV interviews. He had been an MP since 1983.

Jeff J Mitchell | Getty Images

9/16 Douglas Alexander

The shadow Foreign Secretary and Ed Miliband's Chair of General Election Strategy, Danny Alexander had been the MP for Paisley and Renfrewshire South since 1997. He lost his seat to the SNP, with the party now holding a 9,076 majority. Labour's share of the vote was down by 21.3 per cent.

Jeff J Mitchell | Getty Images

10/16 Simon Hughes

Simon Hughes held a key Liberal Democrat seat in London, Bermondsey and Old Southwark, which he held from 1983. Hughes is a former deputy leader of the Lib Dems and had been minister of state at the Ministry of Justice since 2013. He was previously the President of the party, as well as a two-time leadership candidate, and stood for the party in the 2004 Mayoral election.

Rob Stothard | Getty Images

11/16 Mark Reckless

An MP for Rochester and Strood since 2010, Reckless switched from the Conservatives to Ukip in September 2014 and winning the seat outright in November. He was the second Ukip MP after Douglas Carswell, and his loss is a huge blow to Nigel Farage's party.

Carl Court | Getty Images

12/16 Margaret Curran

Margaret Curran had held Glasgow East since 2010 and was the shadow Secretary of State for Scotland. She had previously been the MSP for Glasgow Baillieston (a seat she might wish she still held, as it is still held by Labour under the title Glasgow Provan).

Jeff J Mitchell | Getty Images

13/16 David Laws

A Liberal Democrat MP for Yeovil since 2001, he was the minister of state for Schools. He had briefly been Chief Secretary to the Treasury after the 2010 election, only holding the office for 17 days after resigning due to the disclosure of his Parliamentary expenses claims. Laws was a key negotiator for the Lib Dems when the coalition was being formed five years ago.

Jeff J Mitchell | Getty Images

14/16 Jo Swinson

On her election in 2005, she was the youngest member of the House of Commons. Under the Coalition government, the Lib Dem MP was the Under-Secretary of State for Employment Relations, Consumer and Postal Affairs and for Women and Equalities. She lost her seat of East Dunbartonshire to the SNP's John Nicholson.

Matthew Lloyd | Getty Images

15/16 Ed Davey

The Liberal Democrat Energy and Climate Change Secretary Ed Davey had been the MP for Kingston and Surbiton since 1997. Davey championed the Lib Dems' role in ensuring the Conservative-led Coalition championed the green agenda. However, the well-known Lib Dem MP lost his seat to the Tories, having held the seat in 2010 by 7,560 votes.

Jeff J Mitchell | Getty Images

16/16 Lynne Featherstone

Lynne Featherstone lost her London seat of Hornsey and Wood Green to the Labour party. She was a former junior Home Office minister with responsibility for equality, then becoming junior minister with responsibility for international development.

Dan Kitwood | Getty Images
Lady Brinton suffers from rheumatoid arthritis, which is so acute that she cannot even shake hands –her own are wrapped in bandages. She has been in a wheelchair for four years, a speedy little number that is fast enough to leave aides languishing in her wake.
The Palace of Westminster, says Lady Brinton, does not cater for the disabled. She speaks of another wheelchair-using peer who tipped over in a lift that stopped at an angle, and a Conservative peer who refuses to make room for the disabled in the House of Lords chamber.
More ridiculously, there is only room for three wheelchairs at any one time in the Lords, which is already the world's most packed legislature except for China. "Health and safety doesn't count in Westminster," sighs Lady Brinton. "It's not fit for purpose. In some of the big debates in the Lords there can be five or six of us [in wheelchairs] moving in and out of the space provided so that we can speak. It does mean that I have to fight peers just to get to the wheelchair spaces. It's ridiculous."
The problem is broader, she argues, claiming that the disabled are the "poor relations" in the European Convention on Human Rights. It's a decade since legislation was introduced to improve disabled access to public buildings, yet still she finds herself having to use "the bin lifts" to get into hotels, while few taxis, apart from Hackney carriages, have ramps to allow her access. 
Before zooming off, Lady Brinton turns her focus on the sheer size of the Lords, arguing that there should be a retirement age of 75 or 80.
"That would reduce numbers quite significantly," she says, while acknowledging that it would mean some of her party's own older peers, such as Lord Avebury (Eric Lubbock), 86, would have to stand down. "One of the problems of this place –and this is absolutely not Eric's problem – is that people don't know that their skills are disappearing and their last couple of years here can be horribly embarrassing."
It will be a very long time before anyone says that of Lady Brinton.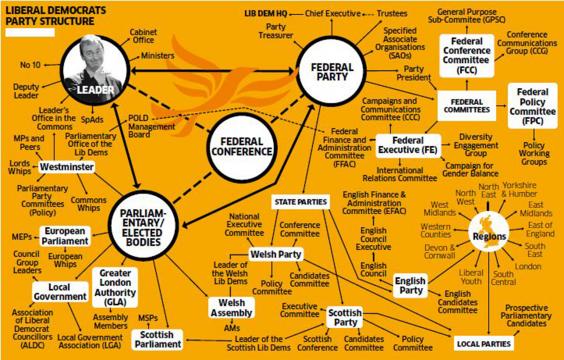 This is the convoluted structure of the Liberal Democrats, as drawn in Helena Morrissey's review of the party's culture and processes two years ago. Activists say this "spaghetti" structure is responsible for difficulties disciplining, expelling or even exonerating party members of any wrongdoing. Notably, allegations of sexual impropriety laid against party strategist Lord (Chris) Rennard were never really settled to anyone's satisfaction, with him offering a partial apology despite being essentially cleared.
It was a mess, and the party's president, Baroness Brinton, has launched a consultation into simplifying the party's structure, which is being presented to activists at conference.
'Spaghetti' structure
Lady Brinton says members feel "too far away" from the upper tiers of party decision-making. By next year, she says, the party will have a new constitution, which should see this labyrinth of elected and representative committees, federal parties and policy and communications groups replaced by a clear structure
Reuse content