Tony Blair still works from a ministerial "red box system", employs five spin doctors and operates a "government-in-waiting" at his Faith Foundation, according to a former employee at the ex-Prime Minister's advisory group.
Martin Bright, a journalist hired to create a website for the Tony Blair Faith Foundation in January, wrote an insider's account of his five-month spell working for the wing of "Blair Inc" created to counter religious extremism.
Operating from "ritzy" offices in a West End tower block, Bright described a working atmosphere akin to a "global asset management" firm, punctuated by "morale-boosting doughnut breaks".
Writing in the Mail on Sunday, the former New Statesman political editor said that he found the experience "frankly weird".
He asked: "Why did it need no fewer than five press, or 'comms', officers recruited from the ranks of special advisers and Downing Street insiders? And why does Tony, as he is ubiquitously known, still work with a prime ministerial 'red box system' for his urgent reading matter, a curious hangover from his days at No 10?"
Tony Blair: A career of controversies
Tony Blair: A career of controversies
1/11 The Tony Blair 'selfie'.. A journalist takes a picture of Kennard Phillips 'Photo Op', depicting Prime Minister Tony Blair taking a 'selfie' in front of an explosion in Iraq, during a press viewing of the exhibition Catalyst: Contemporary Art and War

2/11 Protesters pictured outside the QEII Conference centre in London in 2011 as former British PM Tony Blair give his evidence in the Chilcot Iraq Inquiry

3/11 David Lawley-Wakelin, who disrupted Tony Blair's testimony at the Leveson Inquiry by bursting into the court

4/11 Blair giving evidence

5/11 Tony Blair visiting troops in Iraq in 2007

6/11 Blair meeting with troops in Basra, Iraq in 2003

7/11 Britain's Prime Minister Tony Blair speaks to British soldiers at Divisional Headquaters in Basra, May 2007

8/11 British Prime Minister Tony Blair eats dinner with British troops in Basra, Iraq, 21 December, 2004

9/11 Syrian president Bashar El Assad during his official visit to the United Kingdom in 2002. Mr Blair tried to engage Mr Garcia in a conversation about Syria. The former Prime Minister made clear he was very much in favour of military intervention last summer.

10/11 Syrian president Bashar El Assad and wife Asma during their official visit to the United Kingdom in 2002. Mr Blair tried to engage Mr Garcia in a conversation about Syria

11/11 Former Prime Minister Tony Blair's signature adorns a program he signed for an Iraq veteran during a reception at the Guildhall in London following the service of commemoration at St Paul's Cathedral honouring UK military and civilian personnel who served in Iraq
The Foundation held "Town Hall meetings to let us air our concerns. Every Thursday, senior management bought pastries for the staff. We were given monthly training sessions in which we were informed about world religion".
Bright questioned a "five-person communications department whose sole aim seemed to be to say as little as possible".
Littered with beanbags and staffed with "young, enthusiastic" graduates, Bright said that he became concerned at the use of unpaid interns and was told a review was underway.
"My suggestion that people should be paid for their work did not go down well. I was told I needed to get a better understanding of the charity's ethos," he wrote.
After completing work on his website, Religion And Geopolitics, Bright said he left out of frustration with the Foundation's bureaucratic structures and Mr Blair's "strident" positions on world affairs which "is affecting the ability of his charities to work independently".
Bright, now head of arts charity Creative Society, said that he found Mr Blair personally "engaging, committed and utterly genuine in his belief that we need a better understanding of the role religion plays in global conflict".
Despite employing 130 people - more than the Prime Minister can call upon in Downing Street – the Foundation lacked the civil service-style resources to match its "grandness" and deliver on Mr Blair's demands for Foreign Office-style research and policy positions.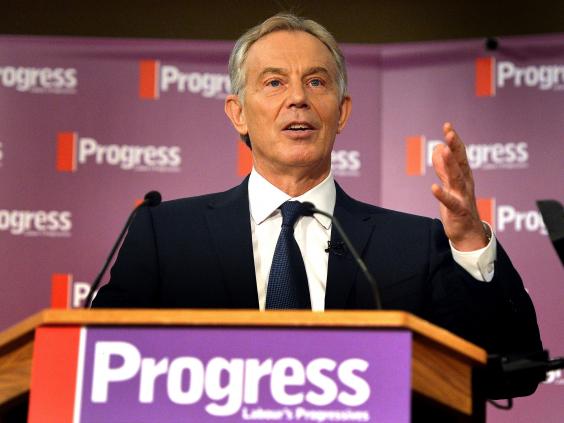 A spokesperson for the Tony Blair Faith Foundation said: "The Foundation's projects, including a global schools programme, malaria prevention work and analysis of the role religion is playing in conflicts around the world are important, urgent and needed.
"We are sad that a former colleague has chosen not to focus on the important work that the foundation undertakes."
The debate about interns was a "difficult one when it comes to the charitable sector", the spokesman added. "As a not for profit organisation we have to spend our charitable funds wisely and efficiently. Interns and volunteers make a valuable contribution and also gain a lot from the work experience they receive.
"We have been reviewing our policy as the current scheme closed earlier this year. The final decision on the way forward will be for the leadership of the charity and its trustees when all aspects and views have been considered."
Since leaving office in 2007, Mr Blair has created a complex network of advisory groups and consultancies, including the Faith Foundation, a Sports Foundation and an Africa Governance Initiative. He has also carved out a role as a global consultant to corporations and foreign regimes. Last month Mr Blair said he was worth a lot less than £20m when quizzed about his wealth.
Reuse content