Boris Johnson has promised to "come off the fence" and clarify his position on whether or not Britain should remain a member of the European Union - as he continued to withhold his unequivocal support for the Prime Minister on the issue. 
The Mayor of London set the "deal" David Cameron will strike with other EU states as the appropriate timing for making his official view known, but said he would urge people "not to be afraid" of leaving the bloc of nations altogether.
In interview on the BBC's Sunday Politics show, Mr Johnson responded to ongoing speculation over his formal position on whether he would be joining the "In" or "Out" campaign - which earlier this month appeared to be pro-EU.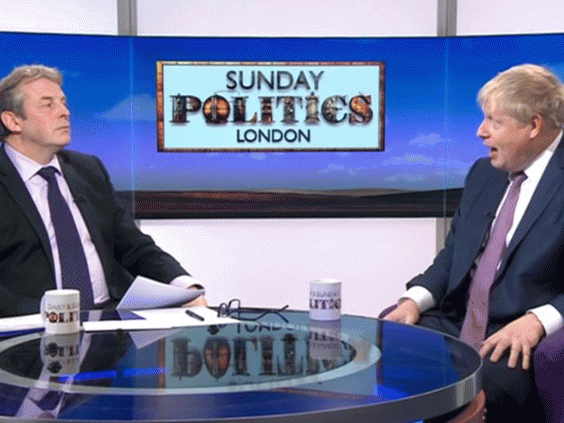 "I can tell you that I'm going to wait until the Prime Minister does his deal, and I will then come off the fence with deafening éclat. You don't have long to wait," he said.
Appearing to refer only to London rather than the UK as a whole, the Mayor - who is to stand down as Mayor in May 2016 - said the capital won business which mostly came from outside the eurozone.
"The salient point is that London now is doing unbelievably well," he said.
"And people thinking about Britain in Europe or outside of Europe should recognise that a lot of the investment we attract is from outside of the EU".
While Home Secretary Theresa May, Chancellor George Osborne, Education Secretary Nicky Morgan and more cabinet ministers have said they support the Prime Minister in campaigning to remain in the EU, others such as Justice Secretary Michael Gove, Work and Pensions Secretary Iain Duncan Smith, and Leader of the House of Commons Chris Grayling are against continued membership.
What has the EU ever done for us?
What has the EU ever done for us?
1/7 1. It gives you freedom to live, work and retire anywhere in Europe

As a member of the EU, UK citizens benefit from freedom of movement across the continent. Considered one of the so-called four pillars of the European Union, this freedom allows all EU citizens to live, work and travel in other member states.

2/7 2. It sustains millions of jobs

A report by the Centre for Economics and Business Research, released in October 2015, suggested 3.1 million British jobs were linked to the UK's exports to the EU.

3/7 3. Your holiday is much easier - and safer

Freedom to travel is one of the most exercised benefits of EU membership, with Britons having made 31 million visits to the EU in 2014 alone. But a lot of the benefits of being an EU citizen are either taken for granted or go unnoticed.

4/7 4. It means you're less likely to get ripped off

Consumer protection is a key benefit of the EU's single market, and ensures members of the British public receive equal consumer rights when shopping anywhere in Europe.

5/7 5. It offers greater protection from terrorists, paedophiles, people traffickers and cyber-crime

Another example of a lesser-known advantage of EU membership is the benefit of cross-country coordination and cooperation in the fight against crime.

6/7 6. Our businesses depend on it

According to 71% of all members of the Confederation of British Influence (CBI), and 67 per cent of small and medium-sized enterprises (SMEs), the EU has had an overall positive impact on their business.

7/7 7. We have greater influence

Robin Niblett, Director of think-tank Chatham House, stated in a report published last year: "For a mid-sized country like the UK, which will never again be economically dominant either globally or regionally, and whose diplomatic and military resources are declining in relative terms, being a major player in a strong regional institution can offer a critical lever for international influence.
Meanwhile some cabinet ministers such as Business Secretary Sajid Javid have said "nothing is off the table" until they know the deal David Cameron is promising to strike with other EU leaders - most of whom want Britain to remain.
The current "Out" campaign has been called somewhat leaderless without a heavyweight figure such as Boris Johnson.
The Conservative MP for Uxbridge and South Ruislip also appeared to wish to instill confidence in listeners that the UK could "thrive" if independent of the 43-year-old relationship.
"London is far and away the economic powerhouse of the whole of Europe [...] It will flourish, in or out, that is certainly the case," he told the BBC. "There is no reason to be afraid."
Marina Wheeler, Mr Johson's partner and a legal expert in public administration, also recently said the new proposals did not resolve the "jurisdictional muscle-flexing of the court of justice in Luxembourg", according to The Guardian.
Reuse content