Boris Johnson has urged the Conservatives to live up to David Cameron's "One Nation" label by demolishing barriers excluding poor people from top jobs and to reject "trickle down" Thatcherite economics.
In a landmark speech, the Mayor of London sought to revive his prospects of succeeding Mr Cameron, who will stand down before the 2020 election, after losing ground to George Osborne, the Prime Minister's preferred successor.
Tory MPs say Mr Johnson has made little impact since returning to the Commons as MP for Uxbridge and South Ruislip in May.
The Chancellor overtook Mr Johnson as the favoured next Tory leader of party members in a ConservativeHome poll this week after a summer Budget which delighted Tory MPs. But Mr Johnson's allies insist he can bounce back, claiming Mr Osborne's Budget "stole" a policy championed by the London Mayor – a national living wage.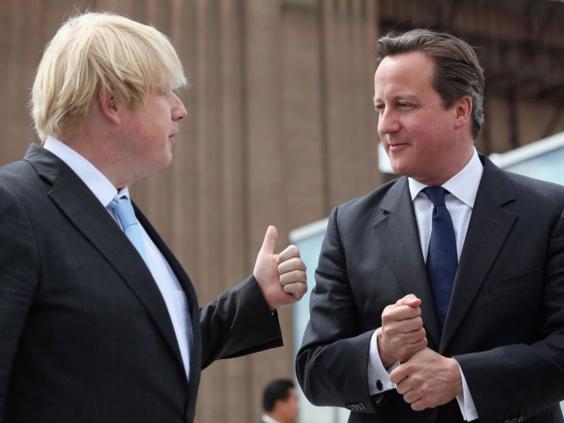 Mr Johnson was more diplomatic, congratulating the Chancellor on bringing in a compulsory £9-an-hour living wage by 2020. But the mayor added: "There are still millions in this city who can be and should be paid the [voluntary] London living wage of £9.15 an hour… I think it outrageous that there are executives earning about 450 times the average pay of their employees and yet whose firms are mainlining hundreds of millions in in-work benefits – taxpayer-funded subsidies that allow them to get away with low pay."
Setting out his approach to the Centre for Social Justice, Mr Johnson said it was "decades since we had a culture of bright kids from poor backgrounds who exuberantly burst down the doors of the establishment". He went on: "It is the job of One Nation Tories to be the door-bursters of society. We should be smashing down those barriers. We should be giving the poorest a chance to compete on an equal footing with the affluent bourgeoisie."
The mayor argued: "I believe one nation Tories need to go further. We need to go beyond trickle-down, and we need to ensure that in a dynamic market economy there is a real cohesion, a real sense of shared interest."
He said the "wealth gap" in Britain today could be tolerated only on three conditions – that the wealthy, including large companies, pay their fair share of tax; that people who work hard on low incomes are properly rewarded by firms that can afford to do so and that there must be social mobility.
In pictures: David Cameron and Boris Johnson visit a Crossrail construction site
In pictures: David Cameron and Boris Johnson visit a Crossrail construction site
1/5 London

Crossrail, the largest infrastructure project in Europe, which will provide a new link across London, has reached the half-way stage

2/5 London

Prime Minister David Cameron and Mayor of London Boris Johnson during a visit to a Crossrail construction site underneath Tottenham Court Road

3/5 London

The Crossrail project, which is expected to be completed in 2018, will link Berkshire, west of London with Essex, east of London

4/5 London

David Cameron smiles as he visits a Crossrail construction site underneath Tottenham Court Road

5/5 London

Crossrail will add 10 percent more capacity to London's rail network and help cope with the city's forecast population growth to 10 million people in 2030 from 8.4 million now. Around 10,000 people currently work on Crossrail and the project is supporting 55,000 jobs around the country during its construction
Mr Johnson said: "One Nation Tories know that for all the triumphs of the London economy, for all our success in creating wealth, it is still a lamentable fact that in the last 30 years the gap has opened yet further between rich and poor."
In 1980, he said, the average salary of FTSE top 100 company employees would have to be multiplied 25 times to get the salary of their best-paid executive. Today the figure is 130 times.
The mayor outlined his "three great equalisers" for London – 100,000 new homes, a programme of transport investment and a schools revolution.
Reuse content