Labour MPs want to scrap a planned cut in the number of MPs because they are "frightened" of being deselected by supporters of Jeremy Corbyn, the Commons has heard.
The Parliamentary Constituencies (Amendment) Bill, brought forward by Labour MP Pat Glass, would scrap the Government's move to reduce the number of MPs to 600.
It would also mandate the use of a more up-to-date electoral register when redrawing constituencies boundaries, give more flexibility to the size of parliamentary seats.
Tory MP David Nuttall however said the "real reason" the private members bill had been brought forward was because Labour MPs were scared of being de-selected by allies of Jeremy Corbyn, notably Momemtum.
"Isn't it the case the reason why this Bill has been brought forward is that there are so many members on the benches opposite who are frightened of re-selection because of the threat of Momentum taking their seats?" he said. "That's the real reason why this Bill has been brought forward".
A number of Labour MPs will have to face votes from their local party to retain their seats if the total number of seats is reduced – as it will not always be obvious which MP sits in which seat. 
Labour MPs who have been critical of Jeremy Corbyn's leadership are worried that members might select someone with views closer to their own and the leadership's.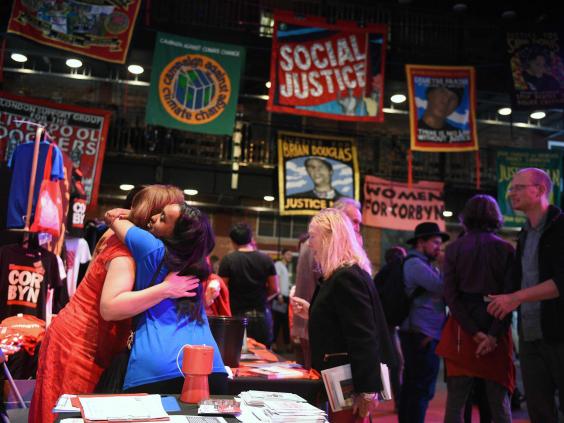 Ms Glass replied to Mr Nuttall:  "I think that the unfortunate intervention is not helpful and just exemplifies why people out there get so angry about people in here. This is about something bigger than ourselves."
The Labour MPs is herself not standing at the general election, having previously indicated that she is planning to step down.
The Bill passed its second reading by 253 votes to 37 and will now progress to the committee stage. The Government has the numbers to block the Bill at a later stage if it chooses to.
UK news in pictures
UK news in pictures
1/14

Sunrise over Tynemouth Castle and Priory on the Northeast coast, overlooking Tynemouth Pier

PA wire

2/14

Runners are silhouetted against trees and the early morning mist in Richmond Park, London

PA wire

3/14

A deer is silhouetted against the sky in Richmond Park, London

PA wire

4/14

Former lorry driver Ralph Clarke, 101, thought to be the oldest defendant in British legal history, arriving at Birmingham Crown Court where he is due to go on trial accused of a string of historical sexual offences

PA wire

5/14

Gina Miller, co-founder of investment fund SCM Private arrives at the Supreme court in London on the first day of a four-day hearing

Getty

6/14

The Palm House is illuminated as Kew Gardens launch their festive illuminated trail

Getty

7/14

Wolfgang Buttress' Hive Installation is illuminated as Kew Gardens launch their festive illuminated trail

Getty

8/14

The Palm House is illuminated as Kew Gardens launch their festive illuminated trail in London, England. The world-famous Royal Botanic Gardens will be lit by over 60,000 lights and includes eight artworks by British and international artists

Getty

9/14

Launch of the new Design Museum co-hosted by Alexandra Shulman, Sir Terence Conran and Deyan Sudjic in London, United Kingdom

Getty

10/14

Storm Angus brought hurricane force winds to southern Britain which brought flooding and power cuts to thousands of homes

Getty

11/14

Joe Corre, son of Vivienne Westwood and Malcolm McLaren, burns a God Save The Queen T-Shirt at Buckingham Palace

Getty

12/14

Mother Jean Leadbeater, father Gordon Leadbeater and sister Kim Leadbeater of late Labour MP Jo Cox, arrive to attend the ongoing trial of Thomas Mair, the man accused of murdering her at the Old Bailey

Getty

13/14

Andy Murray of Great Britain lifts the trophy following his victory during the Singles Final against Novak Djokovic of Serbia at the O2 Arena in London, England

Getty

14/14

Actor Kevin Spacey and Barcelona footballer Gerard Pique attend the Singles Final between Novak Djokovic of Serbia and Andy Murray of Great Britain at the O2 Arena

Getty
She argued that the Bill's provision to enact boundary reviews only ever 10 years rather than five years was important because it would help keep MPs accountable.
"By reviewing the boundaries every five years we ensure that practically every constituency will change every five years, and we weaken the MP accountability to our constituency and our votes. Because every five years the voters will be different people," she said.
Tory MP Mark Harper however said: "Listening to some MPs talk about the constituencies they currently represent they do sound like they think they own them.
"They feel like the minute an independent boundary commission proposes to change them to better represent the constituents that live there they seem to take that as a personal affront."
The boundary review seeks to equalise the size of parliamentary consituencies to within 5 per cent and to re-draw boundaries so there are only 600 consituencies. Parties other than the Conservatives are set to do far worse under the proposals.
Reuse content