British and American "cyber-agents" are to join forces to protect the UK's biggest banks, as well as transport systems and energy supplies, from potentially crippling online terrorist attacks.
The pioneering deal will be signed today by David Cameron and President Barack Obama in talks at the White House which will focus on combating terrorism and boosting the two nations' economic growth.
The red carpet was rolled out for David Cameron as he was afforded the rare honour of staying tonight in White House guest accommodation usually reserved for heads of state.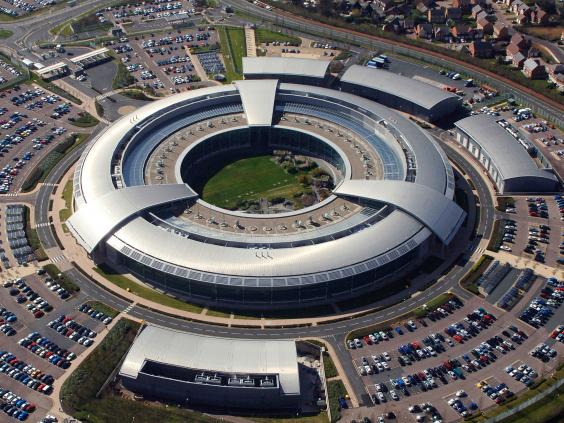 His flying visit is Mr Cameron's final scheduled trip to the United States before the general election. Although serious global issues are on the agenda, his aides hope that pictures of the two men side by side will burnish the Tory leader's leadership credentials.
The joint cyber-crime agreement comes ahead of the publication today of a GCHQ report spelling out the dangers to British businesses of cyber-crime, disclosing that more than 80 per cent of large companies in the UK suffered some form of hacking last year. In the worst cases, it cost the firms some £1.5m.
The first of a series of joint UK-US "war games" will simulate online attacks on the City of London and Wall Street in moves to assess the quality of the large financial institutions' defences against malicious hacking designed to paralyse their operations.
It will involve UK and US intelligence agencies as well as organisations such as the Bank of England and several large commercial banks.
The "war game" will be followed by further exercises to test critical national infrastructure in the two countries, such as the computer systems controlling power supplies and the road and rail networks.
Britain and the US are also to establish a joint "cyber cell" on each side of the Atlantic where intelligence agents will work together to share information about threats and respond to any attempted attack.
The first time the UK has established such an operation overseas, it will bring together MI5 and GCHQ with their counterparts in the National Security Agency and the FBI.
Sony Cyber Attack: The Worst Affected In Hollywood
Sony Cyber Attack: The Worst Affected In Hollywood
1/13 Leonardo DiCaprio

The actor's 'horrible behaviour' over Steve Jobs biopic was branded 'actually despicable' in leaked Sony executive emails

Getty Images

2/13 Seth Rogen

Seth Rogen and James Franco cancel Interview (North Korea-baiting film) press appearances after Sony hackers' threats

3/13 James Franco

Seth Rogen and James Franco cancel Interview press appearances after Sony hackers' threats

AP

4/13 Aaron Sorkin

The screenwriter has said that the people who hacked into Sony Entertainment Pictures and released private emails are 'threatening the lives of whole families'

Theo Wargo | Getty Images for Nantucket Film Festival

5/13 Amy Pascal

Also leaked: Sony Pictures co-chair Amy Pascal's email joking about President Barack Obama's race

Getty Images

6/13 George Clooney

Leaked email chain between Pascal and George Clooney appeared to reveal just how much the actor struggled to cope with the criticism of his The Monuments Men

Getty

7/13 Barack Obama

Sony executives Scott Rudin and Amy Pascal's leaked email exchange jokes about Barack Obama favouring films with black actors

Getty

8/13 Channing Tatum

Channing Tatum's leaked Sony executive email responding to the success of 22 Jump Street with Jonah Hill, which became the highest grossing R-rated comedy ever when it opened in June this year

Getty Images

9/13 Jaden and Willow Smith

Will Smith and Jada Pinkett Smith's children Willow and Jaden Smith found themselves in the Sony inbox as well

Getty

10/13 Mark Gordon

DiCaprio's exchange with Jobs TV producer Mark Gordon (pictured) was leaked too

Getty Images

11/13 Princess Beatrice

Sony hackers linked to North Korea revealed Princess Beatrice earns $30,000 a year

12/13 Michael Fassbender

Aaron Sorkin's leaked emails claimed he had no idea who actor Michael Fassbender (pictured) was

Getty Images

13/13 Scott Rudin

Information leaked has also included embarrassing emails involving high profile producer Scott Rudin attacking Angelina Jolie

Getty Images
In other moves, the governments will pool resources to train young computer experts as "cyber-agents" and share the latest security advice to the multinational firms which could be targeted by online terrorists.
The potential dangers of "cyber-crime" were illustrated this week when the Twitter and YouTube accounts of the US military command were briefly hijacked by a group claiming to back Islamic State.
Last month Sony Pictures suffered severe embarrassment when its computer system hacked in an attack blamed on North Korea.
Mr Cameron said last night: "Just as we have worked with our closest ally, the US, to protect our people and our countries from traditional threats, so we must work together to defend ourselves from new threats like cyber attacks.
"This is an evolving threat which poses a real risk to our businesses and that's why we're taking our cooperation with the US to an unprecedented level."
The moves emerged as Mr Cameron prepared to urge the US government to force US-based companies such as Facebook and Twitter to take stronger action against terrorists communicating via social media.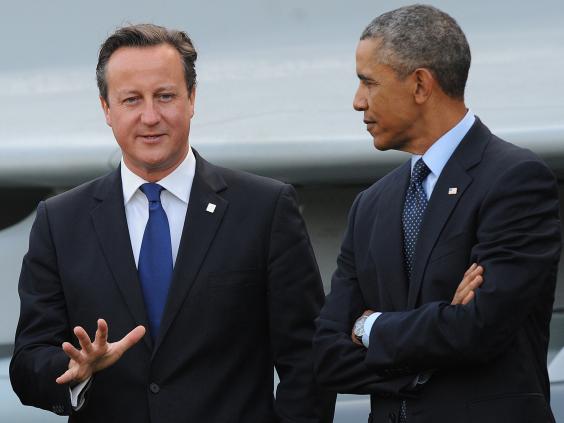 Cameron urges swifter response to epidemics after Ebola outbreak
International rapid deployment squads of medical experts should be set up to respond swiftly to epidemic outbreaks in the wake of the Ebola crisis, David Cameron has said.
His plan - discussed last night in talks with Barack Obama - is an admission that the world community was too slow to react to the spread of the deadly virus across western Africa.
Specialist teams of epidemiologists would be on stand-by to travel immediately to an affected area and advise on the most effective action to get an epidemic under control.
Mr Cameron told the President that Sierra Leone, where the UK is leading the international response, that numbers of new cases and the rate of infection are both decreasing.
On average one Ebola sufferer now infects one other person, compared with two at the height of crisis.
Mr Cameron is also pressing for a more co-ordinated worldwide effort to develop vaccines for emerging health threats such as Ebola.
Bishops attack: Cameron hits back
David Cameron has hit back at the leaders of the Church of England after it claimed the poor are being "left behind" and that entire cities were "cast aside" under Coalition policies.
In a controversial report, they accused politicians of being obsessed with Middle England to the exclusion of the neediest.
But Mr Cameron, speaking during a visit to Washington, said: "I profoundly disagree with some of the things that they are saying.
"Far from leaving cities behind, we're rebalancing the economy and you can see real growth in cities like Birmingham and Manchester and Leeds. Indeed some two-thirds over the last year has come from outside London and the South East."
He told the Archbishops of Canterbury and York: "They have a right to speak out as long as they don't mind when I speak pretty vigorously in defence of the excellent economic and social record of this government."
Nigel Morris