A further obstacle has been put in the way of Britain launching airstrikes on Syria after delegates at the Labour party conference in Brighton voted in favour of a motion to oppose military action without a UN resolution. 
The emergency motion ruled that a plan must be in place to deal with the growing refugee crisis engulfing Europe before any military campaigns can go ahead. 
The vote is not binding on Labour MPs but it is highly unlikely Jeremy Corbyn will defy the voice of party activists after promising to involve party membership in policy making. 
David Cameron is expected to bring a motion on military action in Syria to the House of Commons within weeks but the outcome could depend on how Labour MPs choose to vote. 
Responding to the Labour conference vote, the Prime Minister claimed that Labour under Mr Corbyn was "in danger of opting out of what is a vital debate about the safety of our world".
Speaking to reporters during a visit to Jamaica, he said: "I want to build the international alliance for taking action against Isil.
"But we have to be clear UN Security Council resolutions have been blocked time after time by Russia and so I feel Labour are in danger of opting out of what is a vital debate about the safety of our world.
"Time and again at this Labour conference what we're seeing is that you cannot trust Labour with the national security of the United Kingdom."
The motion at the Labour party conference was moved by Unite member Ivan Monckton who warned: "Now is not the time to blunder into a new war - another illegal war - with untold human casualties, more death, destruction and chaos creating more refugees."
No senior Labour figures took part in the brief debate but shadow chancellor John McDonnell and shadow foreign secretary Hilary Benn were in their seats on the front row.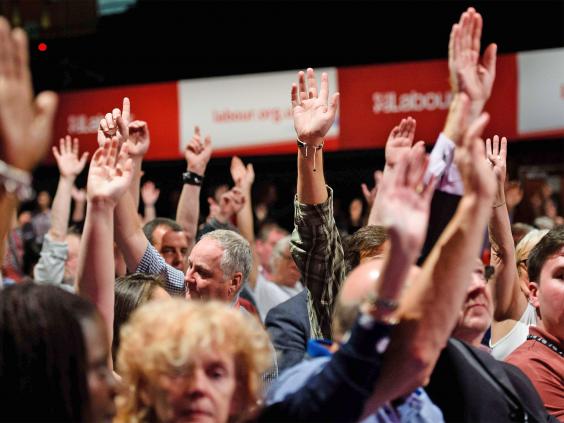 Mr Monckton continued: "Isis has no better recruiting sergeant than western intervention in the Middle East.
"Only strong, sovereign states with real popular support in Syria and Iraq can retake hearts, minds and territory from the barbarism of Isis.
"War, intervention and occupation in Afghanistan, Iraq and Libya has laid the foundations for the conflict, instability and humanitarian disaster we see now."
The motion recommended four criteria to Labour MPs before they back action - a "clear and unambiguous" UN resolution, a "comprehensive European Union-wide plan" for the increased refugee numbers bombing could create, rules of engagement restricting targets directly linked to Isis and military action being "subordinated" to renewed diplomatic efforts.
The motion said: "Conference believes only military action which meets all these objectives, and thus avoids the risk of repeating the disastrous consequences of the 2003 war in Iraq and 2011 air campaign intervention in Libya, can secure the assent of the British people."
Reuse content