One of the busiest buildings in Handsworth, west Birmingham, today, was the enormous Jobcentre Plus.
It sits on the edge of the city's Perry Barr constituency, which has the dubious record of having the highest unemployment rate in the country. George Osborne may have pledged to back "a Britain that saves", but there was little in his speech for people with nothing in their pockets — let alone bank accounts.
Nationally, unemployment is now at a low of 7.2 per cent, but in this north-western corner of Birmingham 27.4 per cent of the working age population are registered as unemployed.
Abdi Aismail, 19, from Handsworth was leaving an appointment with a job adviser as Mr Osborne finished his speech. He has been trying to find work for a year.
"I keep applying for jobs and hear nothing at all," he said. "I've tried for customer service, anything really. I finished my IT course in college a year ago but there are no IT jobs."
West Midlands Police and Crime Commissioner, Bob Jones, spoke out earlier this month about a huge rise in "poverty crime" shoplifting in Birmingham, where desperate people are stealing essentials such as nappies and food. Last year there were 29,104 shoplifting offences in the West Midlands — an increase of 11 per cent. Commissioner Jones said these crimes "could be put down to levels of unemployment, cuts to benefits and difficulties in coping with the cost of living."
Patricia White, manager of Central Birmingham Foodbank, which gives emergency supplies to people across the city, says the demand for help has soared.
"It used to be we would see about 25 referrals on an average shift but now we're seeing around 45," she explained. "Since welfare reforms in April 2013 we've seen a massive increase in people coming to the food bank. It especially seemed to be caused by harsher sanctions and people being changed from sickness benefits to job seekers' allowance.
"Going into the supermarket round here you can see security tags on fresh meat, even chicken thighs that are maybe two quid.
"People just can't afford meat or fresh fruit and veg. It doesn't feel like [the economy] has changed.
"It feels like things are getting worse here."
While the Chancellor boasted about capping the welfare bill "to bring Britain within its means", Terri, 28, sitting in the waiting room of the food bank, is already feeling the effects of a cap on her benefits. A single mother of two daughters under three, she is also the guardian of her two youngest sisters, aged eight and 11, following the death of her mother from a heart attack four years ago. Suddenly being a mother of four was enough of a struggle, but since the introduction of the benefit cap her income has been limited to £500 a week, to cover rent and living costs for her and the children.
"Before the cap it was hard enough but now it's impossible. I was getting guardianship allowance, income support and child tax credits but they've stopped my guardianship allowance now because they said I was getting too much money. Once I've bought food there's no money left at all."
She has come to the food bank with her aunt Dawn, 45, who recently escaped a violent relationship. Dawn's benefits have been sanctioned since August after she missed three work-focused interviews at the job centre because, she says, she was too scared to leave the house. Since then she and her two children have been living on just £43 a week.
Speaking about the Chancellor's attitude to those on benefits, Dawn said: "I don't think he cares. He thinks we're a load of scroungers and makes us feel like we should be begging."
The picture is not much better for many of those working in the constituency. Sahid Rahman, 30, is manager of Khan Carpets on Lozells road. There are only a handful of customers browsing the enormous rolls of carpet and he says that business  has plummeted.
"It doesn't feel like the recession is over here. It's very, very hard at the moment. We just don't see the customers; carpets are the last thing people want to buy if they don't have money."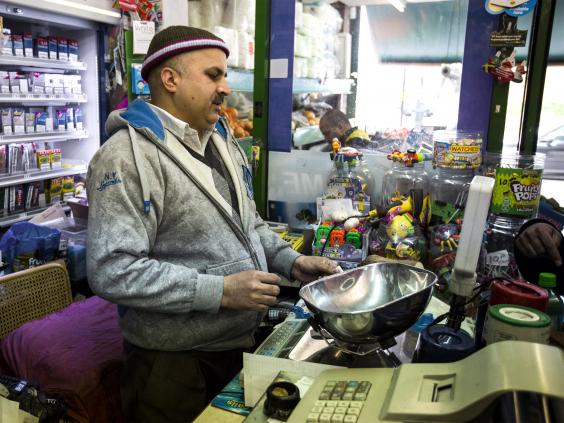 Opposite Khan Carpets is Mirpur Food Store, a greengrocers that has been run by Mohammed Nazir, 45, for almost 20 years.
He said: "George Osborne is wrong, the economy is not getting better, it's going bad.
"There's no business because the customers have no money.
"For the last three or four years it's been like that and day by day it's getting worse.
"I don't make a profit, I'm just working for free."
Reuse content